An in-Depth FTX Review – What Is FTX?
FTX is one of the mainstream crypto exchanges today. But before we proceed with this FTX review, what is FTX? Read on to discover everything you need to know.
The cryptocurrency market is growing at a rapid rate, and this has led to the occurrence of several cryptocurrency exchanges. FTX is one of the mainstream crypto exchanges today. But before we proceed with this FTX review, what is FTX? Read on to discover everything you need to know.
FTX is a cryptocurrency derivatives exchange that has speedily expanded to take its place in the crypto trading market. Currently, the exchange is generating a significant amount of positive reviews from the crypto trading community, with most people attracted to its features.
Since its launch in May 2019, FTX has exhibited increased volumes in trading, which is an impressive stunt since it has not been in the market for long. This FTX review will take a keen look at the features possessed by this exchange and establish the real reasons behind its successes. If this exchange continues to grow as fast as in this moment, it is possible to be as great as Binance or Kucoin.
FTX Review: What Is FTX?
FTX is a brainchild of Sam Bankman-Fried, who is currently its CEO and a former trader on Jane Street Capital's international ETF desk. Sam teamed up with his friend Gary Wang who previously worked as a Google software engineer. Since its launch, FTX has been providing its users with several innovating products that include leveraged tokens, Bitcoin options, prediction markets, and move contracts, among others.
Its product portfolio keeps getting better and more attractive to more investors. The FTX platform also provides OTC services to any of its users willing to make large crypto purchases. This FTX exchange review will be of immense help to those seeking to join the FTXs league of investors and engage in crypto trading. Numerous benefits are lurking within the platform for those willing to venture.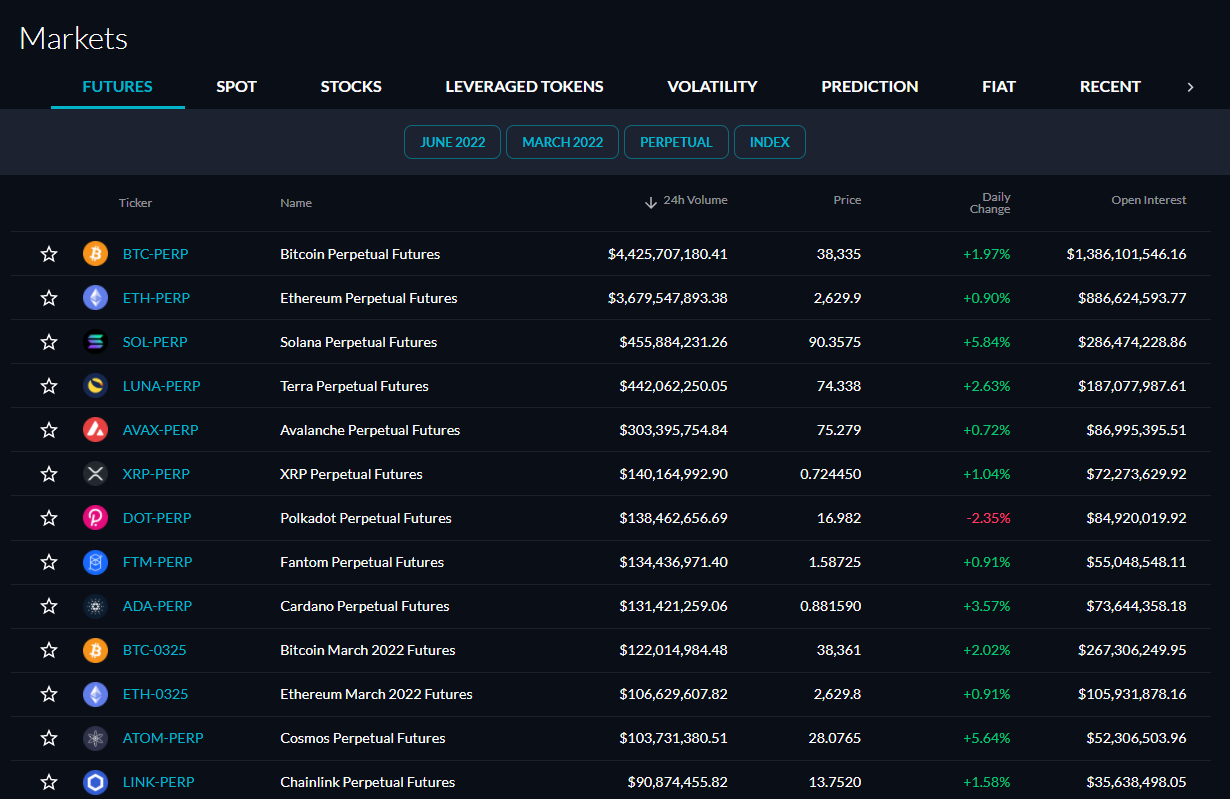 FTX Review | Features
Users have a lot to love when accessing FTX, and this FTX exchange review will show you some of its best features:
Currency Conversions
FTX allows its users to convert their currencies within their accounts easily and immediately use them in other trading activities. Currency conversion is one of the easiest ways to continue trading. Users who have BTC and wish to trade with USDT instead can utilize the CONVERT button, after which they will be required to fill the slot with the amount they want to convert. 
After they are satisfied with the conversion prices, they can go ahead and convert their currencies. The best part is that there are no fees associated with the conversion process.
Fiat Transfer
The other stunning feature is the Fiat deposit and withdrawals, which the FTX platform supports. FTX exchange is focused on allowing its users to perform wire transfers and to do this. They have been given the opportunity to make deposits and withdrawals that up to more than one million US dollars.
To improve the deal, the exchange also accepts credit card deposits, which is considered the most efficient way of currency transfer. It is, however, important to note that you need to be KYC Level 2 to deposit and withdraw Fiat currencies on FTX.
Lots of Crypto
There is a wide range of cryptocurrencies that FTX supports on its platform. There are more than 130 coins, which FTX users can utilize, and this can be considered a decent number when investing. It is also significant to note that FTX is in the process of adding more coins to improve its investment and trading capabilities.
Available Staking
FTX offers its users staking on a few coins, including RAY, SOL, and SRM. Users who stake their crypto will not sell or transfer them while staked because they will have them locked up on the FTX exchange. However, in the same way, that money earns interest in the bank, users with staked coins will receive crypto rewards in the coins that they had staked. For instance, users staking RAY coins will receive a reward of 20% of their staked value on an annual basis.
Cross Margin and Sub Account Feature
FTX allows its users to trade on all future products without really having to separate their funds. Traders just need to deposit any collateral of their choice on their wallets and go-ahead to trade whatever futures they prefer. In that sequence, FTX will automatically make use of the collateral to backstop all your positions.
Users will no longer be needed to manage several wallets or currencies at once, as their entire portfolio is consolidated. The sub-accounts feature comes into play for those who want to isolate their positions from each other. Since each sub-account has different collateral, the user would store funds for different positions in different sub-accounts.
FTX Token Benefits
To sweeten the deal for its users, FTX has its own coin known as FTT, which allows users to make purchases not only on their platform but on other crypto exchanges as well. Those staking FTT can gain several benefits, including trading fee discounts, waived blocked fees, as well as increased airdrop rewards.
Those who do not wish to stake their FTT coins are allowed to hold them, which in that case, they will receive trading fees discounts going as low as $100 worth of FTT.
FTX Reviews | How to Use FTX
Before anyone can use FTX, he/she will first have to open an account with his or her details. The immediate process is clicking on the REGISTER tab on the FTX Website. Once you have registered using your email address and password, you will confirm your account through the FTX confirmation mail sent to you.
Users can then secure their accounts using any of the options they prefer. You will then be required to deposit funds to begin your trading journey. Your withdrawal limit will be limited to $1000 until a KYC verification is complete, after which you will be allowed to unlock higher limits. FTX account owners will go on to enjoy the benefits outlined above in the FTX review, depending on their exchanges.
We also recommend: MoonPay Review
FTX Review | Conclusion
The growing cryptocurrency industry is calling upon those who wish to invest in the crypto world. FTX, on the other hand, is offering great opportunities to those who would wish to experience extraordinary crypto exchanges with numerous benefits in store for them.
For anyone who is already dealing with options and futures, as well as those having an understanding of leverages, FTX is a solid option for them. FTX cryptocurrency exchange is a perfect fit for anyone interested in advanced features at reduced prices.
No reviews left yet...
Be the first to review FTX!