What Is MoonPay? A Full MoonPay Review
With a billion-dollar valuation and over $2 billion in crypto delivered, MoonPay appears on a path that leads only to success. Find out everything about this crypto startup in our MoonPay review. 
Cryptocurrencies are all about giving people a greater choice, independence, and opportunity – MoonPay is all about helping adopters on their journey and the market to reach the next billion participants. MoonPay is a startup that builds crypto products that are simple, elegant, and secure with one simple aim: increase crypto adoption.
The startup set out to create a simple and secure solution that enables more people to jump on the crypto bandwagon. With a billion-dollar valuation and over $2 billion in crypto delivered, MoonPay appears on a path that leads only to success. Find out everything about this crypto startup in our MoonPay review.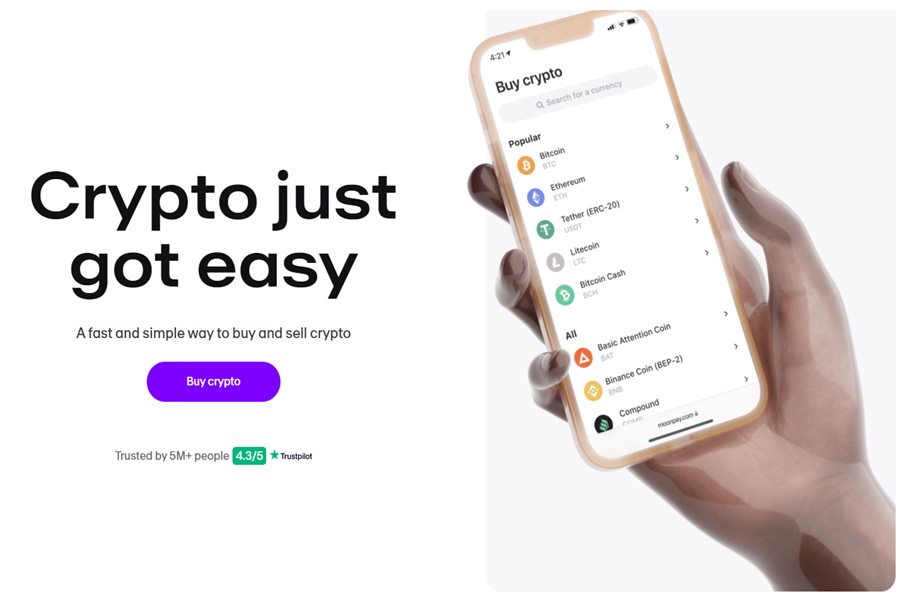 What Is MoonPay? MoonPay Review
MoonPay is a startup whose mission is to put cryptocurrencies in every wallet and purse on the globe. The firm is committed to earning and maintaining trust in crypto products. In order to do so, MoonPay has invested heavily in building sophisticated products, military-grade security, licensing, and compliance – all with a view of accelerating crypto adoption.
Established in 2019, MoonPay produces software solutions for people around the globe to participate in the digital revolution. MoonPay achieved tremendous success early on by initiating a redesign of how people buy and sell cryptocurrencies. It is crypto-made simple for the average Joe and Jane – MoonPay is a fast and simple way to adopt cryptocurrencies.
Towards the end of 2021, MoonPay secured Series A funding at over $500 million, which valued the startup at $3.4 billion. This round funding success meant MoonPay now holds the title of the largest and highest valued Series A of any crypto company. MoonPay is set to use the investment to venture further into the world by expanding its global presence and recruiting a world-class team.
Is MoonPay Safe?
Yes, let's see why in this MoonPay review. MoonPay delivers industry-leading security and legitimate services from day one. It has a strong commitment to preserving the potential and integrity of cryptocurrencies. Safety is at the heart of everything the company does. The company has a team numbering into the hundreds dedicated to working tirelessly in ensuring every customer has a safe and enjoyable experience.
The startup has gained recognition for adopting industry-leading practices to help protect its users from fraud and abuse, which are prominent within the market. That includes custom tools and enlisting third-party services to enhance scam detection and mitigation. Besides customer experience, MoonPay meet set regulatory standard.
From real-time monitoring to 360-degree risk management, MoonPay safeguards user assets with strict protocol and technical measures. Industry experts rank this exchange amount the most innovative crypto companies in the way it protects users they serve. So yes, MoonPay is a safe platform to use to get into crypto.
We also recommend: Gate.io Review
MoonPay Fees
The fee structure is exactly what you would expect from an industry leader. MoonPay is quite forthcoming with its pricing and fees since it follows a fee schedule that is readily available on the official website. The processing fee is variable and depends on the volume of a transaction being processed and the source of funds.
For transactions involving the purchase of cryptocurrencies through card payments, users will pay 4.5% of the transaction volume. However, MoonPay imposes a minimum fee of €3.99/£3.99/$3.99 or the currency equivalent. The fee for paying through bank transfer is 1% with a minimum fee payable of €3.99/£3.99/$3.99 or its currency equivalent.
That means a user looking to buy bitcoin through a credit card will incur a fee of 4.5 % or $/£3.99. The good thing is that MoonPay always displays the fees before you buy any cryptos. That way, you can see exactly how much you will end up spending to buy a crypto and how much it will cost you to sell the same coin. Let's move forward in our MoonPay review.
MoonPay Supported Countries
Cryptocurrency exchange services are currently available in more than 150 countries around the world – and MoonPay is investing in expanding its reach. MoonPay operates in the same number as any other crypto exchange with no unique additions or omissions from the list – it follows the same script as the industry.
MoonPay supports every country in North America and Europe. Some countries in South America and Asia are also supported according to its directory of supported countries. Most of the countries not listed on MoonPay are a result of restrictions occasioned by sanctions against the said countries, among other reasons.
Even though MoonPay offers its services to US-based users, the company is restricted to the services it can offer due to state laws and regulations concerning the buying and selling of cryptocurrencies. For instance, a user from Louisiana, New York, and Texas cannot buy BTC but can buy other cryptos such as ADA and ETH. 
MoonPay Review | Conclusion
At this point, you should have a clear view of what it's like to use MoonPay. A well-known cryptocurrency platform makes it easy for users to buy and sell cryptocurrencies. MoonPay makes buying and selling cryptos as easy as shopping online, complete with the same fee schedule as your favorite store.
The app is simple, elegant, and secure for crypto transactions. After an in-depth MoonPay review, it is safe to say this platform might be the best partner to have in the crypto market. With over 5 million satisfied customers, MoonPay is easily a go-to for new crypto adopters looking to make their first crypto purchases.