Sandia Casino – Discover Now This Place
The casino offers its guests a wide range of games, enough to keep both beginner and seasoned gamblers entertained for hours on end.
The casino offers its guests a wide range of games, enough to keep both beginner and seasoned gamblers entertained for hours on end. Gamblers can choose from Slots, Bingo, Poker, Pai Gow Poker, Blackjack, Roulette, Craps, and Mini-Baccarat.
Sandia Casino boasts over 1,750 slots and video machines which can be accessed with anywhere from a penny to $100. The slot games include the traditional stepper reel-type and video slot machines, video poker, roulette, and must-hit progress slot machines.
The Bingo sessions are designed to be as attractive as possible to a wide range of the population. For example, on Mondays, all women play for free, and on Tuesdays, the men play without paying. Friday is when any retired military personnel and their spouses can play for free.
Sandia Casino has over 15 tables of poker and promises some of the biggest jackpot payouts in the state. Guests can try their luck on games such as 2-4 or 4-8 limit Hold'em, 1-2 and 2-5 No-Limit Hold'em, and 4-8 Omaha Hi/Lo. The Pai Gow Poker is an interesting mix of an ancient Chinese game of Pai Gow and the American version of Poker.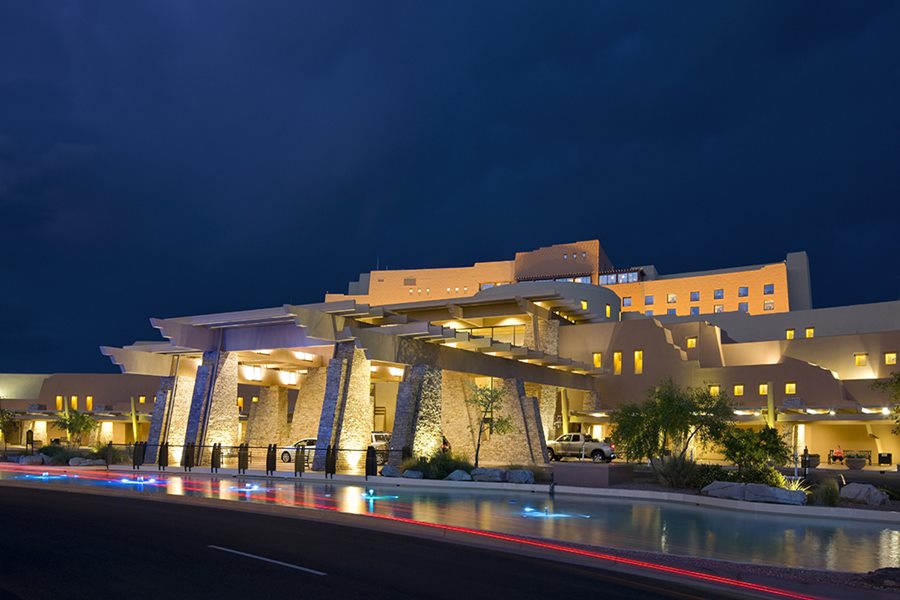 Blackjack at Sandia Casino promises to be a very entertaining game. Everyone plays against the dealer (the house). The game begins with the dealer dealing each player two cards and the house one card face-up and one card face-down. Kings and Queens count as 10 and Aces count as 1 or 11.
Roulette is a must-have for any casino. It's one of the easiest games to play, as the wheel is marked with numbers from 1 to 36. The numbers are alternately colored red and block. Wagers can be placed on individual numbers or groups of numbers on the betting layout.
Craps is just as entertaining. Players must place their bets, and one player is known as the "shooter." The shooter throws the dice, and all wagers must be placed before the shooter throws the dice. Finally, there's Baccarat, a game that involves eight decks shuffled together. Players can place wagers on either the bank or another player.
Sandia is on top of the best casinos, together with Casino de Sol and Masque: World Class Casino.
Other Amenities at Sandia Casino
Gambling can be a tedious and tiresome activity. Guests can take advantage of the excellent facilities provided by the all-encompassing resort such as multiple dining options, golfing, excellent spa services, and various other entertainment possibilities at the resort's amphitheater and a ballroom.
In terms of dining options, guests can either opt for the classic Room Service at the Hotel or opt for restaurants such as Bien Shur, the Council Room Restaurant, Thur Shan Buffet, P'A Shur Deli & Roadrunner Grill, and Kiva Koffee. There is a good variety of bars as well such as TlurPa Lounge, Bien Shur Lounge, Ba Shie Lounge, and Pool Bar & Grill.
Sandia Casino resort also boasts an award-winning golf course with a dramatic desert panorama and some stunning views of the Sandia Mountains. The spa facility is at world-class standards and provides the guests with a plethora of outstanding treatments, massages, massage enhancements, facials, soaks, and wraps.
Pros and Cons
Pros
Good geographical position;
Amazing views of the Sandia Mountains;
Top notch services;
A wide range of amenities;
World-class casino.
Cons
No children section, no dedicated arcade.
Featured image: Sandiacasino.com