What Is the Best AI Logo Generator? 
Discover the best AI logo generator tools for your branding needs. Explore the options to create the perfect logo effortlessly.
We all know that a brand's logo is an integral part of a company's visual identity and the first point of contact with potential customers.
As such, in this new digital era that we live in, you don't need to be a graphic designer or spend hundreds of dollars to access a customized brand logo – you can simply harness and benefit from Artificial Intelligence to create your own logo.
Whether you're on the verge of launching your new business or project, you need a killer logo representing your unique brand identity, and what better way of doing so than by using some of the best AI logo makers?
Even if you wish to get a second opinion from a professional brand designer, experimenting with an AI logo maker could offer critical insights about your future brand identity to benefit the overall project and strategy.
So, if you're interested in learning more and wish to experiment, read further and discover the best AI logo generators to help you step up your game.
What Is an AI Logo Generator, and How Does It Work?
First, let's learn what an AI (Artificial Intelligence) logo maker is and whether it is suitable for your business.
As such, an AI logo generator is a digital product that uses AI to create logos in minutes, often either a stand-alone or a web application.
All you need to do is input ideas further to trigger your desired outcome, such as brand name, color scheme, slogan (if it is well defined), and so on, so the AI platform can generate a custom logo design.
Additionally, the AI logo generator uses machine learning to analyze your chosen options to blend them, thus offering multiple logo styles that you can use and customize further.
Are AI Logo Generators a Game-Changer for Your Business?
Upon deciding if AI logo makers are an excellent fit for your business goals, let's take it step by step and understand some benefits and downsides that could impact your image.
Moreover, some contributing factors, such as time, budget, and originality, will impact your process either way.
Benefits of an AI Logo Generator 
Besides the two most practical benefits, cost-effectiveness and fast turnaround time, other advantages could jumpstart your business, such as:
You can enjoy a wide variety of logo variations;
Experiment with different ideas, concepts, color schemes, and fonts;
Quick customization, as it prompts you with the right tools.
Disadvantages of an AI Logo Maker
Yet, such applications lack the human touch, as brainstorming is often considered an incipient but essential cornerstone of collaborating with a professional branding designer. So, keep in mind:
Impersonal touch could be defined by the absence of a creative insight that a human designer can provide;
The limited customization could be the most significant disadvantage. SinceAI logo generators allow some customization, they are limited in creativity.
How Do You Select an AI Logo Maker?
Upon deciding on a platform to generate your future brand image, ensure you get a professional and unique logo that represents your brand effectively. Here are some guidelines to help you make an informed decision:
Budget – Compare pricing plans and understand the licensing terms. Some logo makers offer free basic designs but charge for high-resolution or vector file downloads, so ensure you know what you are paying for and that it fits your budget.
Ease of use – Opt for a user-friendly platform with an intuitive and easy-to-navigate interface, allowing you to experiment with distinctive design elements effortlessly. A simple drag-and-drop interface can significantly enhance your experience.
Customer support – A responsive and helpful support team can assist you if you encounter issues during the design process.
Number of Changes – Check if the platform allows you to edit and change your logo after the purchase.
File formats – Ensure the logo maker allows you to export your design in various forms, including high-resolution files suitable for printing and vector files (such as SVG or AI) for scalability without losing quality.
Additional tools – If you anticipate needing more design services (such as social media graphics, business cards, etc.), consider a platform that offers a suite of design tools, allowing you to maintain a consistent visual identity across various platforms.
We consider these to be the most critical aspects upon deciding on an AI logo maker, and of course, we recommend choosing what suits your business best at a fair price.
We invite you to discover some of the best AI logo generators that made the headlines and are based on other users' reviews.
1. Logo Master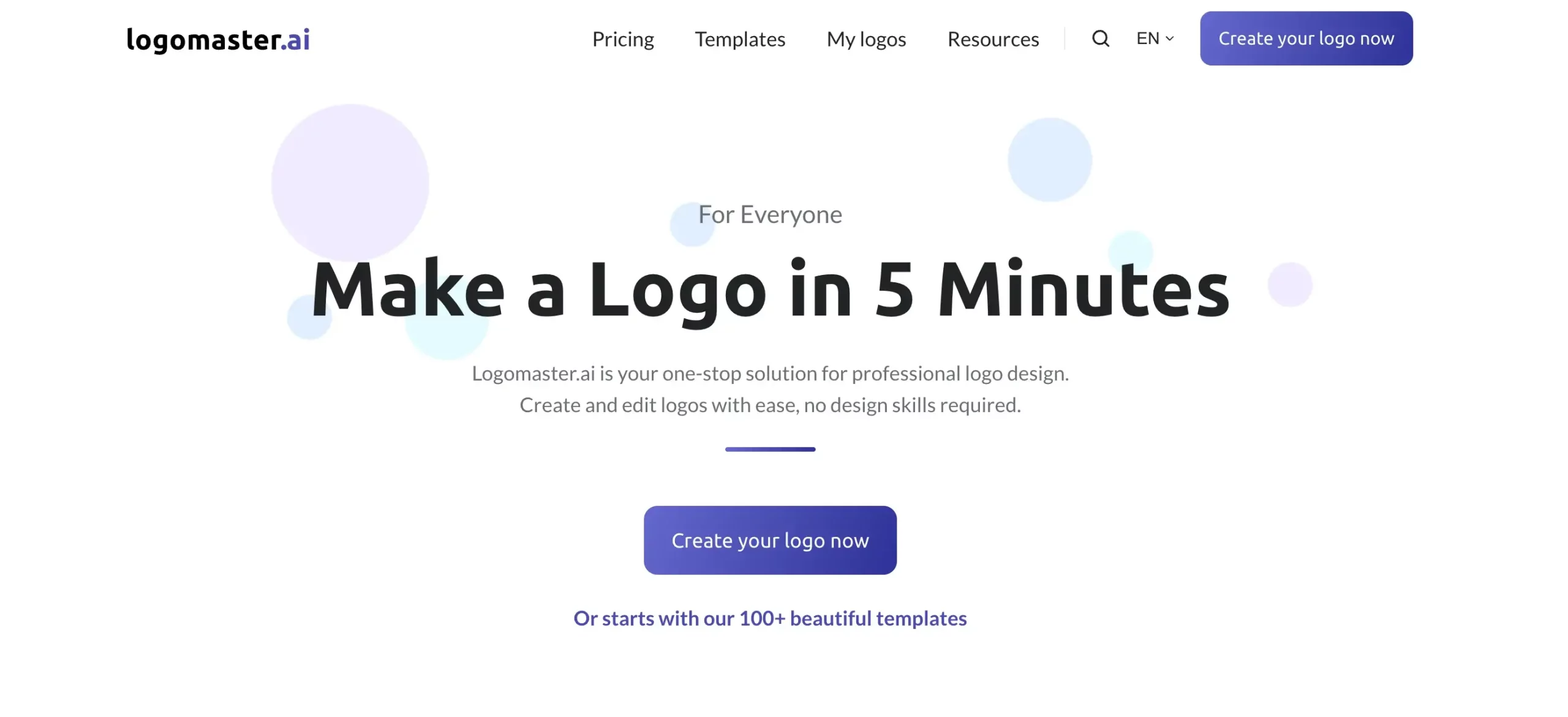 From our first impression, Logo Master is a versatile and easy-to-use platform that allows you to create your logo within minutes. Moreover, this AI generator is a one-stop shop for your logo design without needing any design skills.
Logo Master Features:
Professional logo package with web-ready, print-ready, and high-resolution files;
Royalty-free logo;
Make changes and re-download your design;
Logo Master Pricing: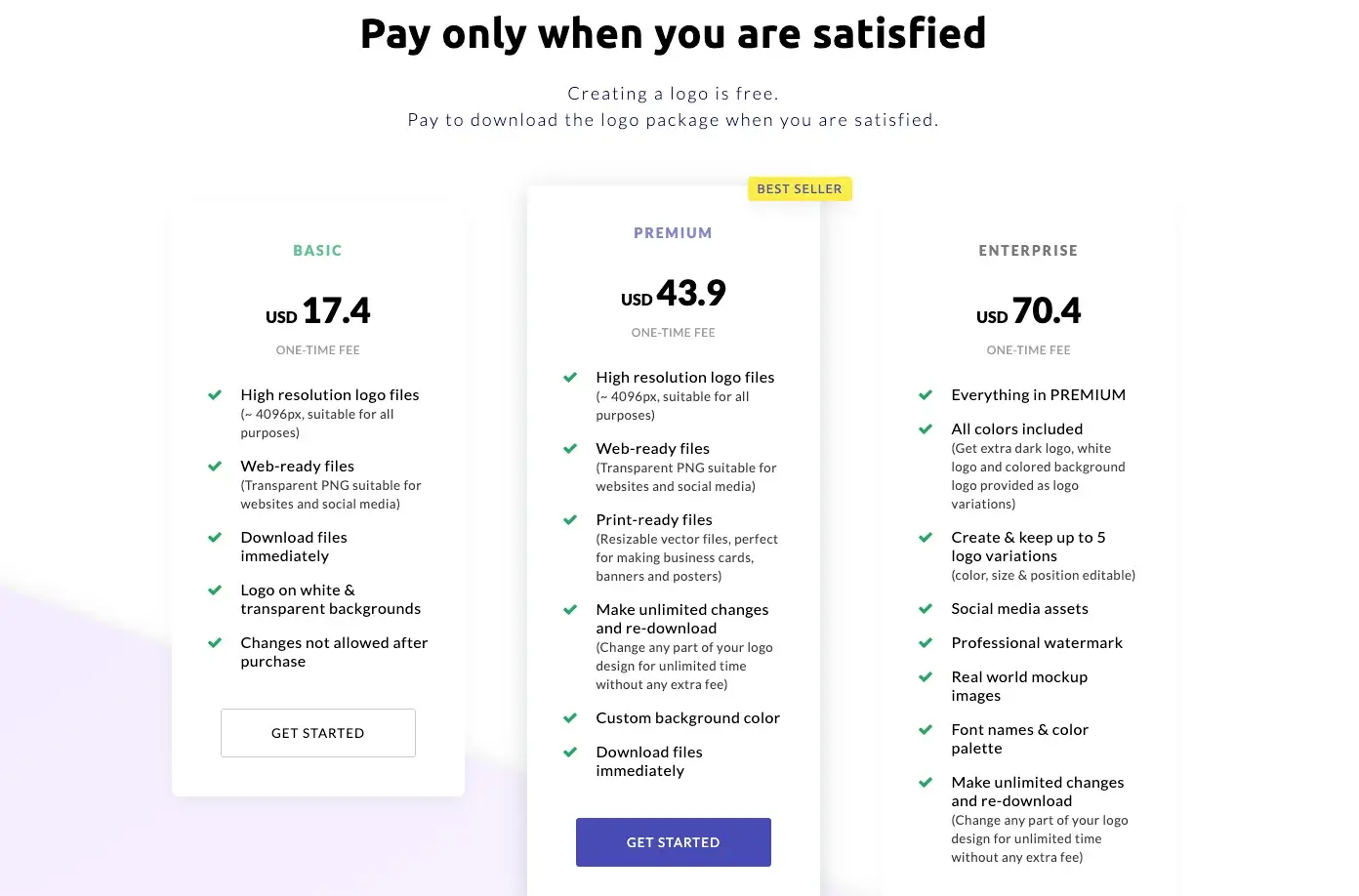 Basic package – $17.4/ One-time fee 
Includes high-resolution logo files,
Web-ready files, immediate download, logos on white and transparent backgrounds, but no changes allowed after purchase.
Premium package – $43.9/One-time fee 
Offers high-resolution logo files, web-ready files, and print-ready files.
You can make unlimited changes, re-download your files, choose a custom background color, and download your files immediately.
Enterprise package – $70.4/ One-time fee 
Includes all features of the Premium package.
Additionally, it provides all color variations, the ability to create and maintain up to 5 logo variations, social media assets, a professional watermark, real-world mockup images, font names, and a color palette.
You can make unlimited changes and re-download your files at any time.

2. Looka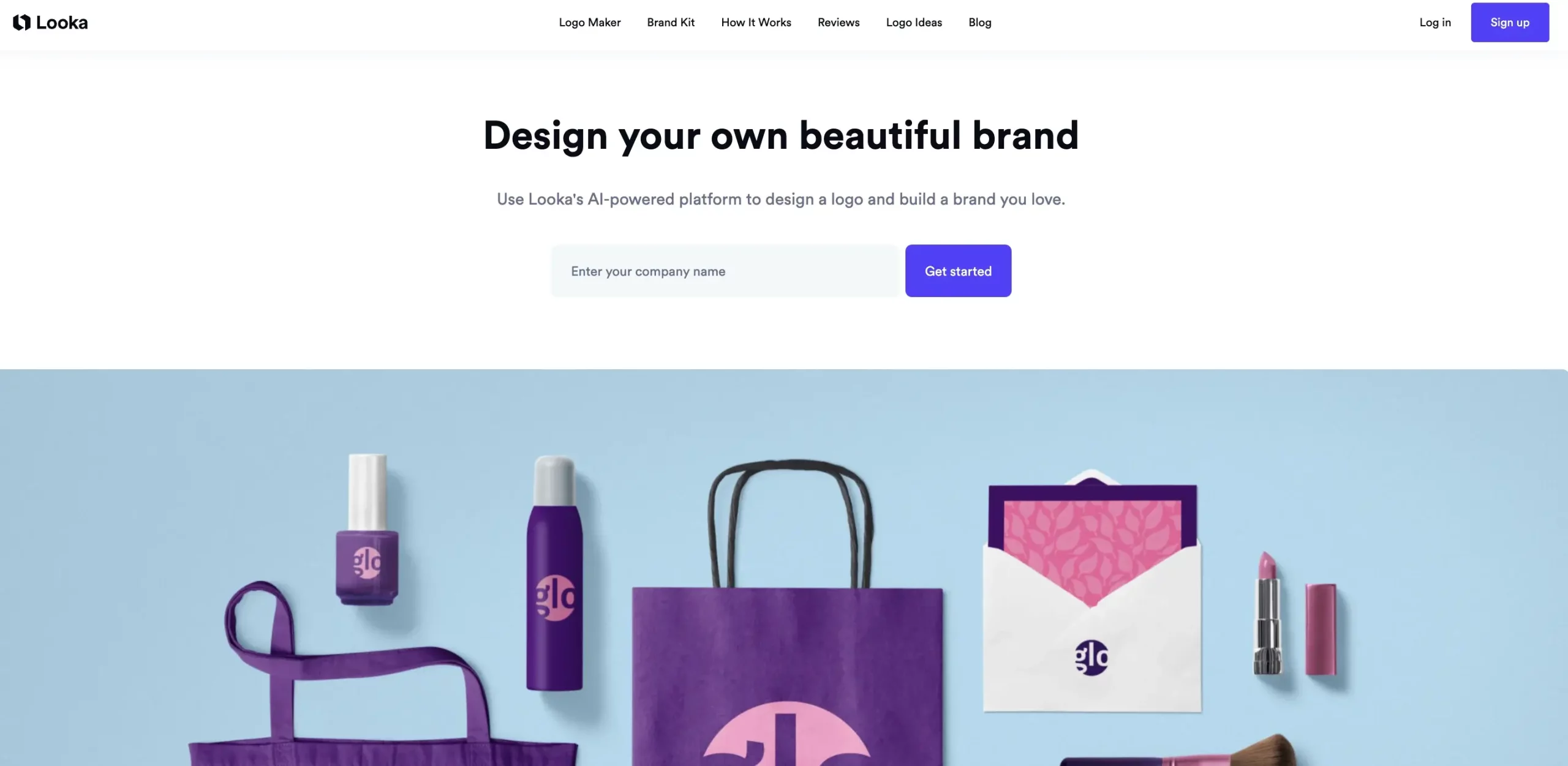 Besides the fact that you can create your logo quickly, Looka offers an extensive AI ecosystem that makes creating your branding kit seamless. It also provides social media mockups, business card designs, and other valuable deliverables to help you establish an impactful brand presence.
Looka Features:
High-resolution logos and vector files;
Color variations;
Business card designs;
Social media templates;
Brand information's;
Post-purchase changes;
Lifetime logo support;
Royalty-free logos;
Looka's pricing plans are divided into two categories, so you can get access to either creating a logo or benefit from the logo creation and the brand kit that helps you be consistent in the digital realm.
Logo and Brand Kit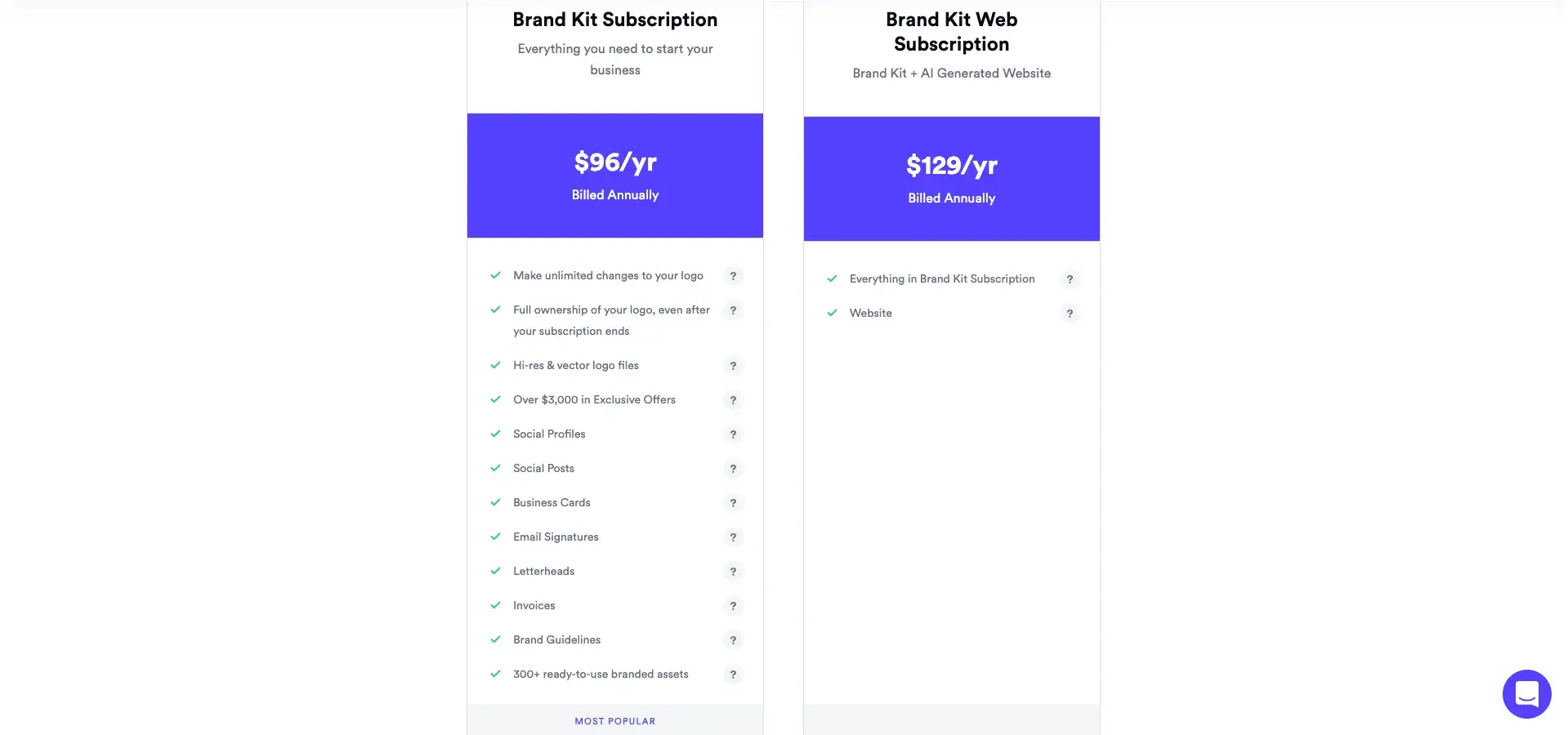 Subscription to Brand Kit: $96 per year
Enjoy limitless modifications to your logo;
Retain complete ownership of your logo, even after subscription expiration;
Receive high-resolution and vector logo files;
Access exclusive offers worth over $3,000;
Includes social media profiles, social posts, business cards, email signatures, letterheads, invoices, and brand guidelines;
Access 300+ pre-designed branded assets;
Web Subscription for Brand Kit: $129 per year
Includes all features of the Brand Kit Subscription;
It comes with a website;
Logo-Only Packages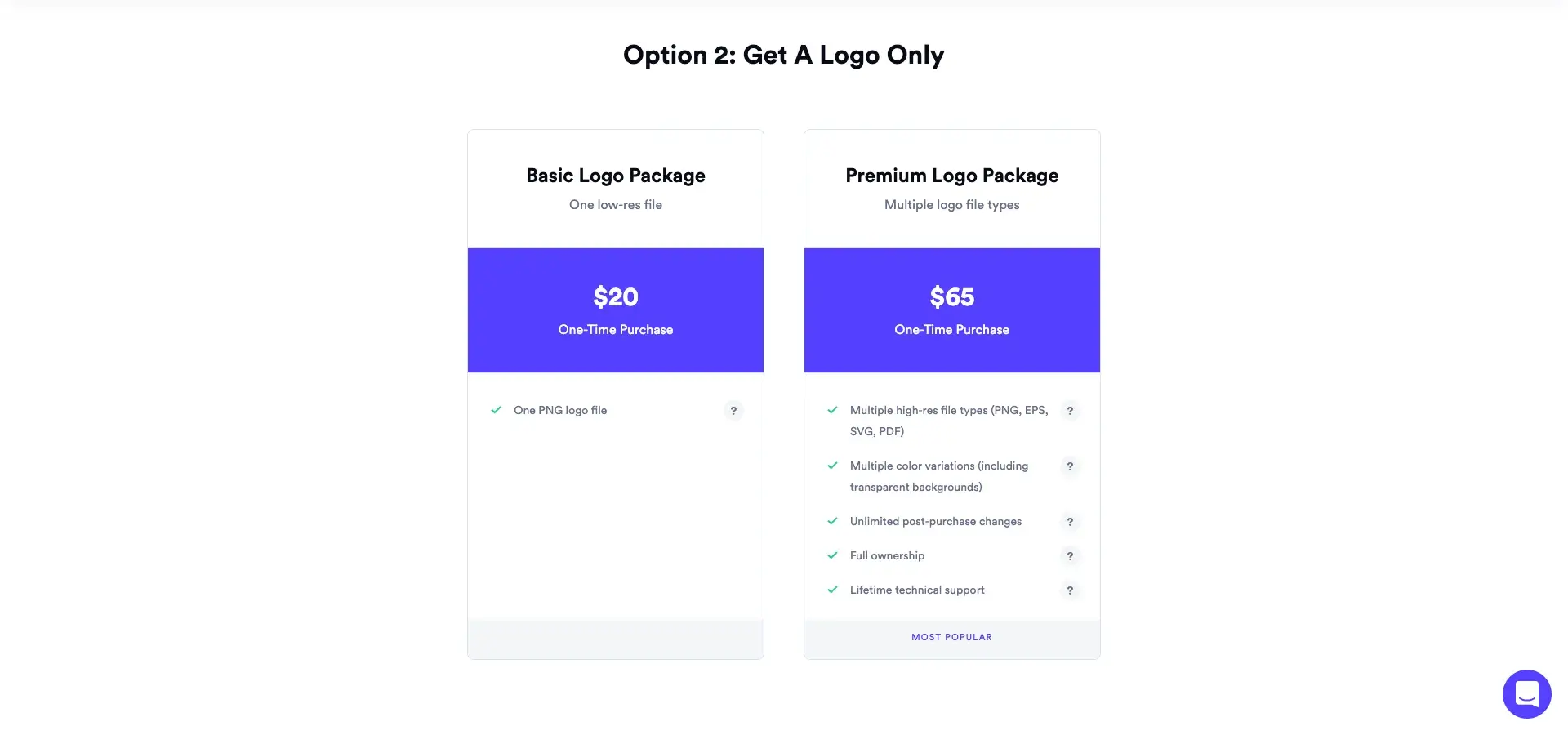 Basic Logo Package: One-time purchase at $20
Provides one low-resolution file and one PNG logo file;
Premium Logo Package: One-time purchase at $65
Includes multiple logo file types, high-resolution files (PNG, EPS, SVG, PDF), various color variations (including transparent backgrounds), unlimited post-purchase revisions, full ownership, and lifetime technical support.
3. Logo AI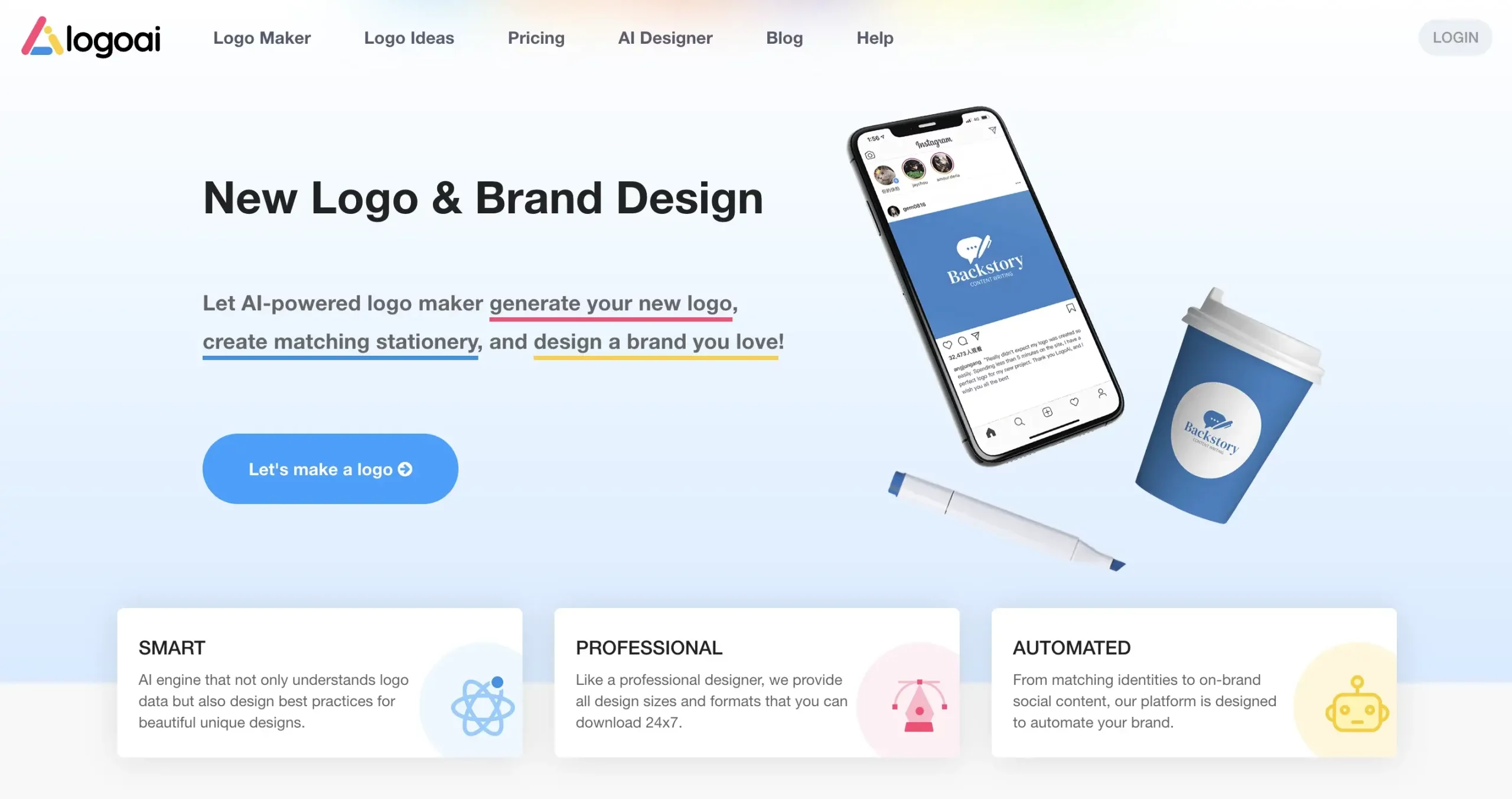 If you need to create your business logo with just a few clicks, check this platform, as it only requires your business' name, selecting your industry, and picking a font and color scheme.
Additionally, LogoAI offers other products besides logo creation: 
AI Designer;
Name Generator;
Icon Generator;
Email Signature.
Logo AI Features:
AI Logo: Benefits from the logo design engine so your logo will be beautiful and professional.
Visual Identities: Create everything your brand needs, from logo mockups to Word & PPT templates.
Brand Center: With just one click, you can access your brand center for more consistent visuals for all your branded content.
Business Card: Even though most businesses operate online, you still need a business card to tell your brand's business story.
Social Media: A well-crafted social media presence comes with high-quality deliverables. So, be sure to invest in your brand image and be consistent.
Poster/Flyers: Create, drag, and drop, edit, and enhance your brand's story through appealing visuals, such as posters and flyers.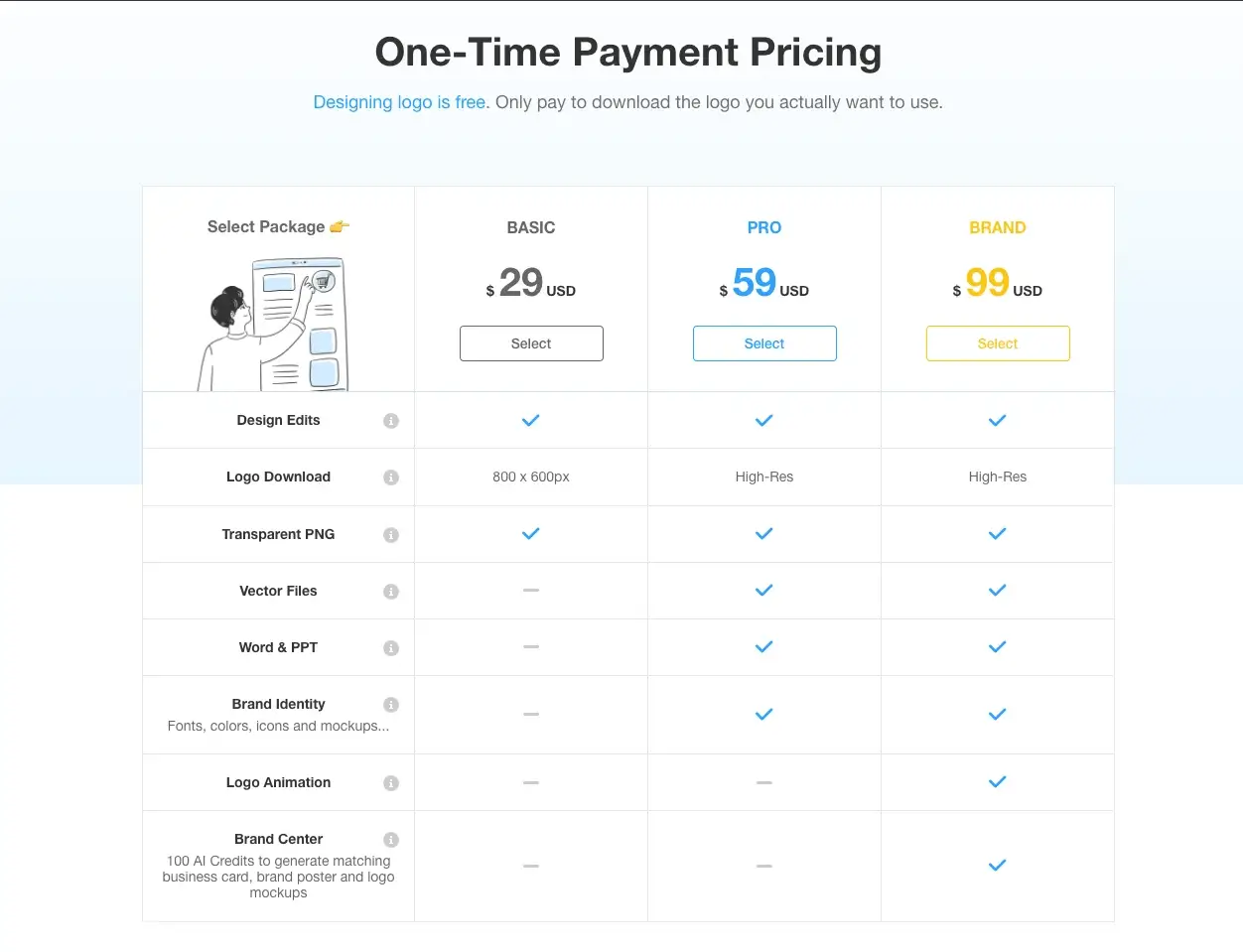 Basic Logo Package: $29/ One-Time Payment:
Design Edits;
Logo Download – 800 x 600px;
Transparent PNG;
Pro Logo Package: $59/ One-Time Payment:
Design Edits;
Logo Download – High-Resolution;
Transparent PNG;
Vector Files;
Word & PPT;
Brand Identity – fonts, color schemes, and mockups;
Brand Logo Package: $99/ One-Time Payment:
Design Edits;
Logo Download – High-Resolution;
Transparent PNG;
Vector Files;
Word & PPT;
Brand Identity – fonts, color schemes, and mockups;
Logo Animation;
Brand Center – business card, brand poster, and logo mockups;

4. Tailor Brands Logo Maker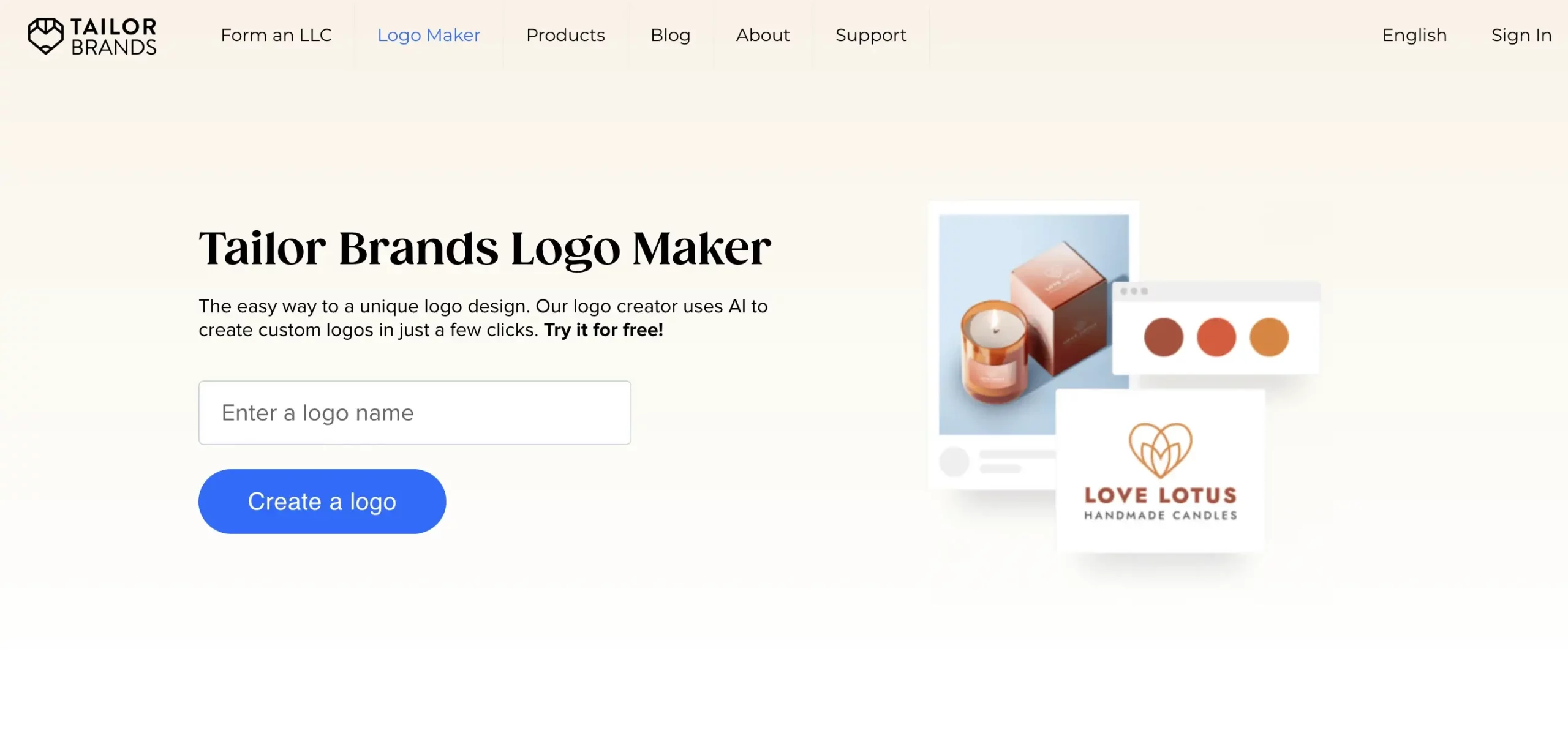 If you are designing more than your brand logo, you must try Tailor Brands Logo Maker. This AI-powered ecosystem will take your business from start to finish, meaning you can benefit from LLC formation, a website builder with domain, accounting assistance, and other mandatory aspect before running your own company, 
On the logo side, you can create your logo with just a few clicks, based on your preferences, and AI will take care of everything for you.
Tailor Brands Features:
LLC formation;
Trademark;
Employee Identification Number;
Sales tax permits;
Business licenses and permits;
Taxes and bookkeeping;
Business insurance;
Business bank account;
Logo;
Website;
Domain;
Digital business card;
Business mailbox;
Website experts;
Business cards;
Branded merchandise;
Basic Plan: $9.99/month
Get high-resolution logo files, a graphic design tool, and a mini website builder.
Standard Plan: $19.99/month
Besides the Basic Plan features, you get your vector logo files, branded business deck, and a complete website builder.
Premium Plan: $49.99/month
Enjoy the Standard Plan features; you get website eCommerce capabilities and more.

5. Logo.com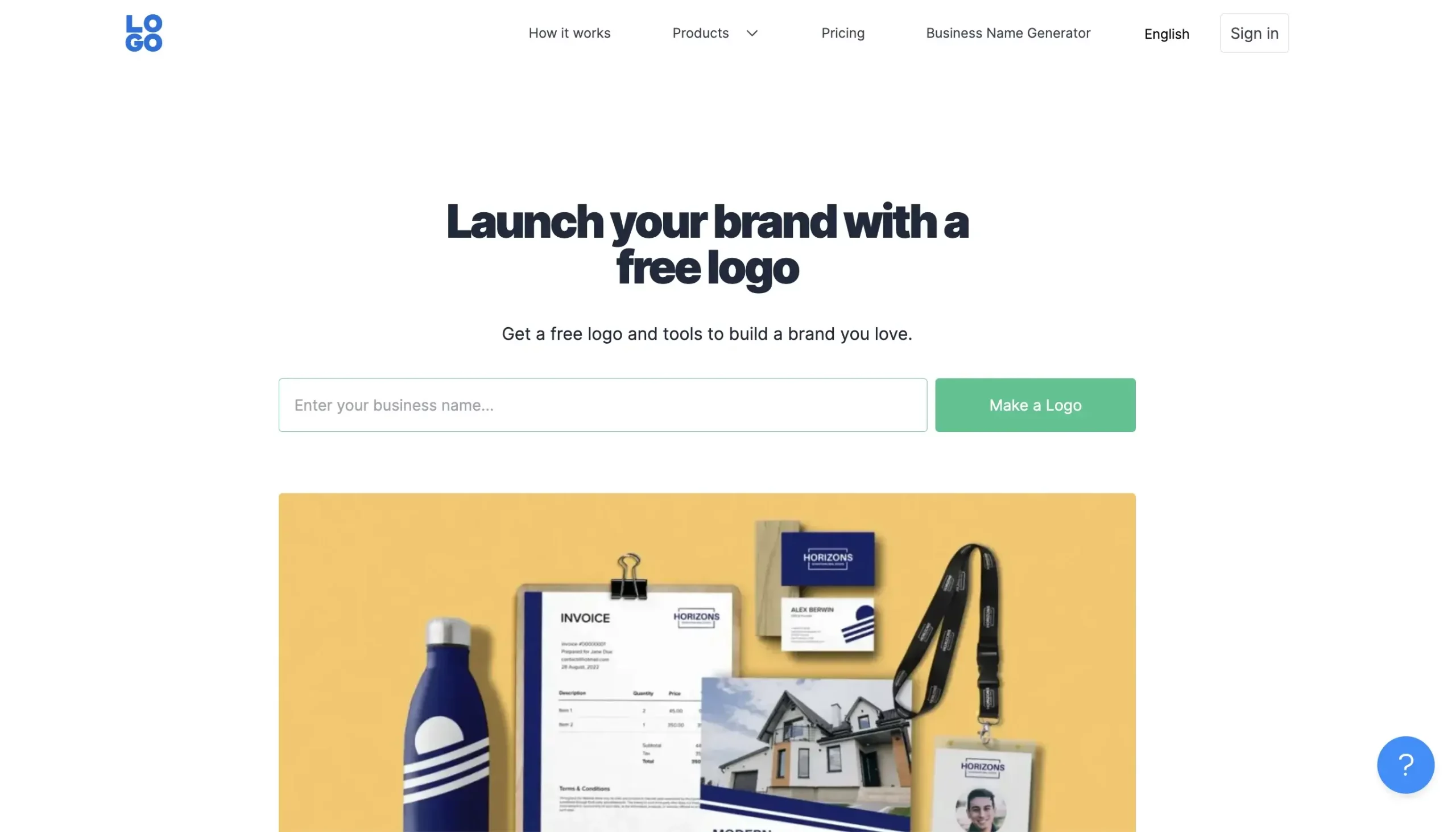 Until now, Logo.com seems to be the most praised AI-powered logo generator that offers many benefits to its customers. Draw inspiration from the vast available template library, enjoy creating your logo, and customize it further to align with your mission and vision. 
The best part about Logo.com is that it also offers a free logo maker, so if you are not sure whether you want to use the platform for multiple projects, you can decide while testing the free plan.
Moreover, you benefit from the branding services to fine-tune your logo or overall brand presence through killer visuals.
Logo.com Features:
Get unlimited logos;
Over 100 custom color palettes and themes;
User-friendly interface;
Domain and One pager;
Business email with email signature;
Design collaterals and social media graphics;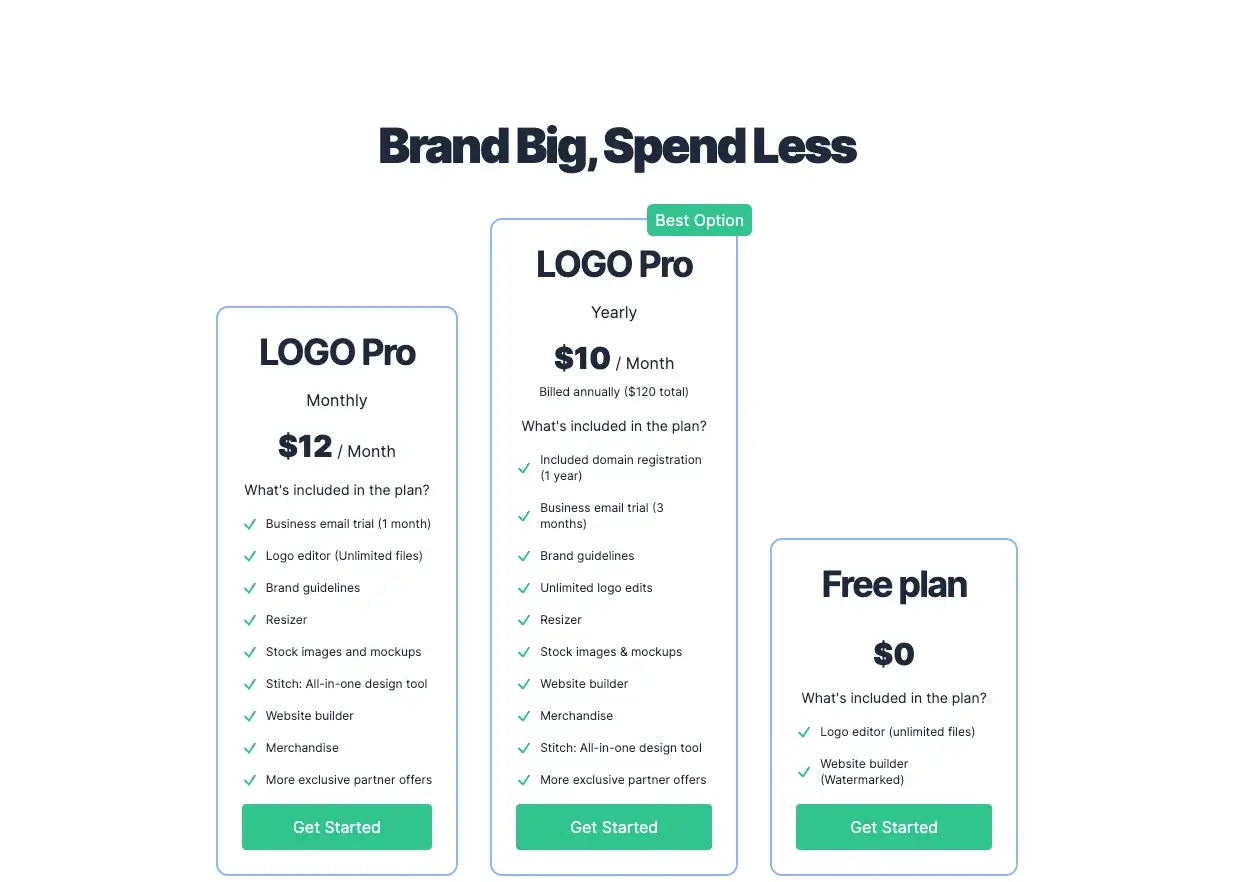 Free Plan:
Five free logo designs;
High-resolution logo files;
Brand board;
Logo Pro – $120/ Yearly:
Everything in the Free Plan;
25 logo designs;
Business card;
Email signature;
One-page site;
Invoice & letterhead templates;
Social media files;
A custom design tool;
Up to $9K in credits with other sites;
Agency Plan – $950/ Yearly:
Everything in Logo Pro;
250 logo designs;
One-page site per logo;

Final Thoughts
As the borders of logo design expanded and started to harness the power of Artificial Intelligence, the benefits are there to serve customers and fellow audiences.
As such, the best AI logo generators are democratizing the process, streamlining the logo design process, and offering businesses a way to create custom logo designs for a significant online presence without advanced skills.
As we have explored the realms that such AI tools offer, it's essential to understand the limitations of such platforms.
Indeed, they provide an excellent turnaround time at a cost-effective and competitive price, yet they may need more personalization and authenticity for your brand.
But, in the end, everything revolves around what feels best for you and your business. So, you can try solo one of the best AI logo generators or a mix of them and combine it with a professional designer; it's all up to you. You can also look for a free AI logo generator to learn how these platforms work and then decide on your plan.
As technology advances, striking a balance between human creativity and AI may pave the way for even more sophisticated and personalized logo design solutions.