10 Best AI Website Builders in 2023 and Beyond
Discover the 7 Best AI Website Builders of 2023 and Beyond. Streamline your website creation process with cutting-edge AI technology.
A thing is sure – history is doomed to repeat itself. In the glorious days of the '90s, the dot-com bubble surprised people and forced businesses to appear online to survive this digitalization process.
In 2023 and beyond, we have experienced another bubble – the AI revolution. This time, it implies an innovative technology with many implications and can be used for good and bad.
But, there's one thing in common in the above situations. In each case, your business needs to have an online presence to survive these harsh times, where the cancel culture is real, and Gen Zs hold the power of social media, exposure, and personal branding.
As a result, many tech companies have been utilizing the power of artificial intelligence to create, develop, and deploy web-based products to stay ahead of these times.
We could also state that gone are the days when a business owner needed to have proficient coding skills or to hire a costly programmer to appear on the dot-com side of the moon.
Many AI-driven online mediums offer a new, more feasible way of creating a compelling online presence, probably at half the cost and with a more significant deal of personalization. A study from Google Trends advises that the interest in AI website builders has grown 50% compared with the previous 12 months.   
Therefore, we will provide you with some of the best AI website builders that have been making the headlines and helping many small and medium businesses.
Read further and discover some of the most praised AI website builders!
What Is an AI Website Builder?
A website builder platform powered by Artificial Intelligence offers a feasible way to create a website in minutes or hours, thus allowing the coder to focus on integrating more customizable features instead of starting such a project from scratch.
How Does an AI Website Builder Work?
First, this website builder uses additional technologies besides AI to deliver a comprehensive website. We have generative AI, including ChatGPT or similar machine learning algorithms, to generate text, images, fonts, and color schemes, and it further automates the website development process.
How to Choose an AI Website Builder?
You should consider a couple of things before choosing, investing, and starting the creation process. As such, keep an eye on the features every website builder should integrate, and you can always learn more about the benefits of user-centered design and what it can offer you.
1. Seamless and User-Friendly Design Interface
How do you deliver a user-friendly UX if the construction site does not provide it? So, be sure to choose a platform that is easy to use, with clean and clear architectural information that can deliver the same result for your website.
You want your website to be clean, functional, and educational to build trust with your client through it. Additionally, the importance of a user-friendly website should be addressed, as it could significantly impact your other strategies. 
2. Adaptability
The chosen platform must offer you a great sense of adaptability, especially when performing A/B testing because you'll need to make additional changes in response to these reports.
3. Third-Party Integrations
Regardless of your domain of activity or industry, your website should be able to offer third-party integrations to track web metrics, especially concerning the A/B testing strategies discussed above. 
Also, you must integrate Google Analytics to monitor and take measures to increase traffic.
4. Customization and Scalability
These two features should be available to any AI website builder, as they offer the potential to grow your website simultaneously with your business.
Additionally, customization plays a vital role, not only from a marketing perspective, even though that is important also, but from a business maturing process.
How many businesses haven't gone into hibernation, only to be revamped and reborn with a new design, offering a more customized experience to its customers?
5. Cost-Effective Solutions
Lastly, an AI website builder should come at a significant cost since it competes with coders and programmers. Also, here comes the service-providing trilemma that brings to your attention three key aspects: performance, reliability, and cost.
So, to be safe and benefit more from your newly built website, check what features are advantageous and if the cost-quality report is beneficial. Now, it's time to move further and discover the best AI website builders.
1. GoDaddy AI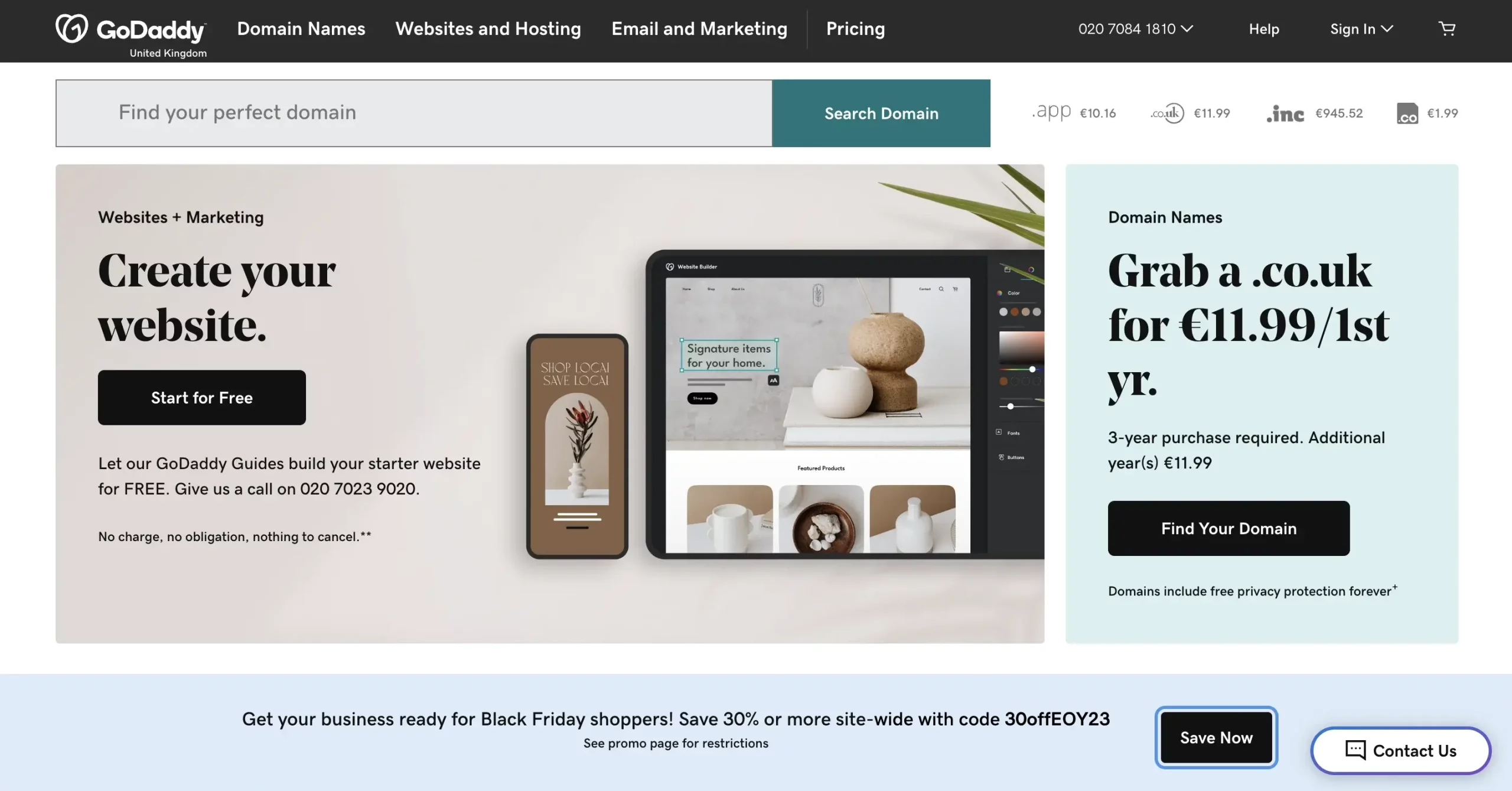 We all know that GoDaddy is the holy grail for small to medium-sized companies, as it offers domain registration services, besides hosting for your website and Microsoft email provider.
As such, the company took advantage of the power of AI to deliver more holistic and integral services to sustain its customers. As a result, GoDaddy offers us a powerful AI-powered website builder that allows you to create a responsive website that gives you improvement suggestions, whereby it is easily integrated with other GoDaddy services. 
GoDaddy Features:
Create a modern and professional website with zero coding skills;
Benefit from an extensive template library;
Track and check metrics with GoDaddy InSight, AI-powered guidance tailored to your business;
Get a seamless integration of other GoDaddy products, such as the SSL, hosting, email, and others;
AI-driven SEO suggestions to boost your website's presence in the digital realm;
Benefit from the customer support and drive growth with your newly built website.
GoDaddy Pricing:
The basic website, with basic marketing features and payments – €10.99 or $11,61 /month;
The standard plan has additional marketing tools to upskill your business – €13.99 or $14,78 /month;
The premium package takes it up a notch and allows you to integrate the online appointment feature – €19.99, or $21,12 /month;
If you wish to sell your crafts and products across the world, benefit from the E-commerce package – €26.99, or $28,51 /month.

2. Wix ADI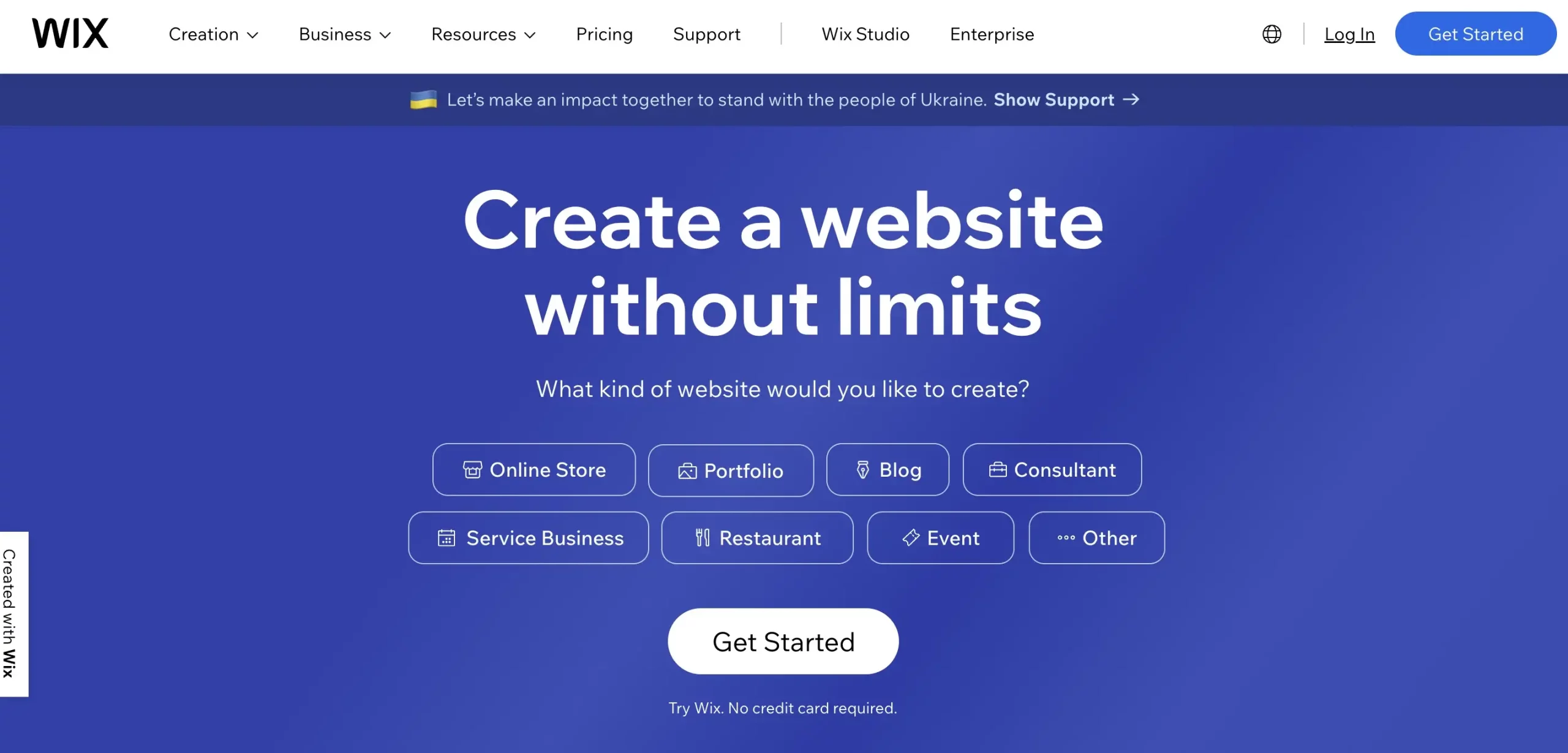 Indeed, WIX was one of the best places to go when needing website services, and as of today, it remains one of the most prominent players in the field. As a result, this AI integration is not surprising, yet its features speak for themselves.
Moreover, based on straightforward questions posed to the user, WIX ADI delivers a comprehensive website builder that further enhances your business online presence, offering you a unique medium.
WIX ADI Features:
Easy-to-use interface with drag and drop editor;
Advanced design capabilities, paired with a custom domain, brand logo, and other additional tools;
If in need of more experienced functionalities, benefit from WIXs full-stack web dev tools;
Benefit from WIXs engineering knowledge and technologies to get faster loading, protect visitors' data, built-in accessibility tools, and multi-cloud hosting;
Create your website with an SEO perspective, whereby WIX offers you the SEO capabilities to optimize your site for search visibility.
It's important to know that all the pricing plans include a custom domain with no WIX branding and benefit from 24/7 customer service.
Light package – € 10, or $ 10,56 /month
2 collaborators;
2 GB storage space;
Light marketing suite;
Free domain for 1 year.
Core package – € 20, or $ 21,11 /month
5 collaborators;
50 GB storage space;
Basic marketing suite;
Free domain for 1 year;
Basic site analytics;
Accept payments;
Basic eCommerce.
Business plan – € 29, or $ 30,61 /month
10 collaborators;
100 GB storage space;
Standard marketing suite;
Free domain for 1 year;
Standard site analytics;
Accept payments;
Standard eCommerce.
Business Elite – € 149 or $157,29 /month
15 collaborators;
Unlimited storage space;
Advanced marketing suite;
Free domain for 1 year;
Advanced site analytics;
Accept payments;
Advanced eCommerce;
Advanced developer platform.

3. Hostinger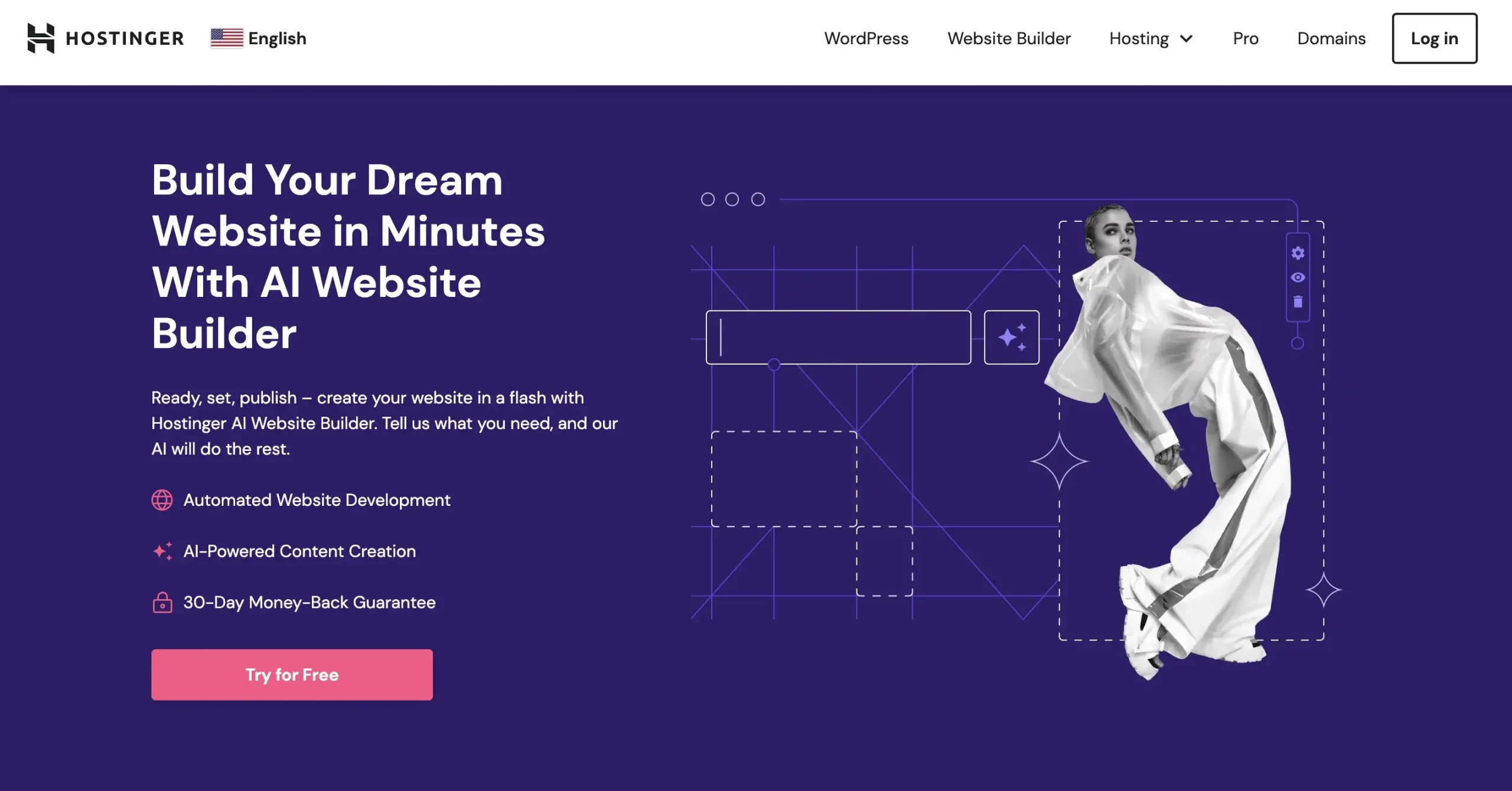 If you want to get one of the best drag-and-drop website builders using AI's power to deliver a comprehensive website, then Hostinger AI could be the way to go.
Also, Hostinger is an important player within the web hosting space, and this change towards offering a more complete solution came naturally. As such, you can also benefit from their domain purchasing services.
Be sure to check them out if you want the best deal that presents a cost-quality fair report, especially when they're having great deals with over 50% off for first-time buyers and three months for free.
Hostinger Features:
Automated website development;
Hostinger Website Builder;
Unmetered traffic (Unlimited GB);
Unlimited free SSL;
Web hosting included;
Free domain;
Free email;
eCommerce features;
Marketing integrations;
24/7 customer support.
Hostinger Pricing:
For this time frame, Hostinger offers a deal with 77% off, whereby from $12.99, you get it with $2.99 and 3 months for free. The renewal price is set at $ 6.99/month.

4. CodeDesign AI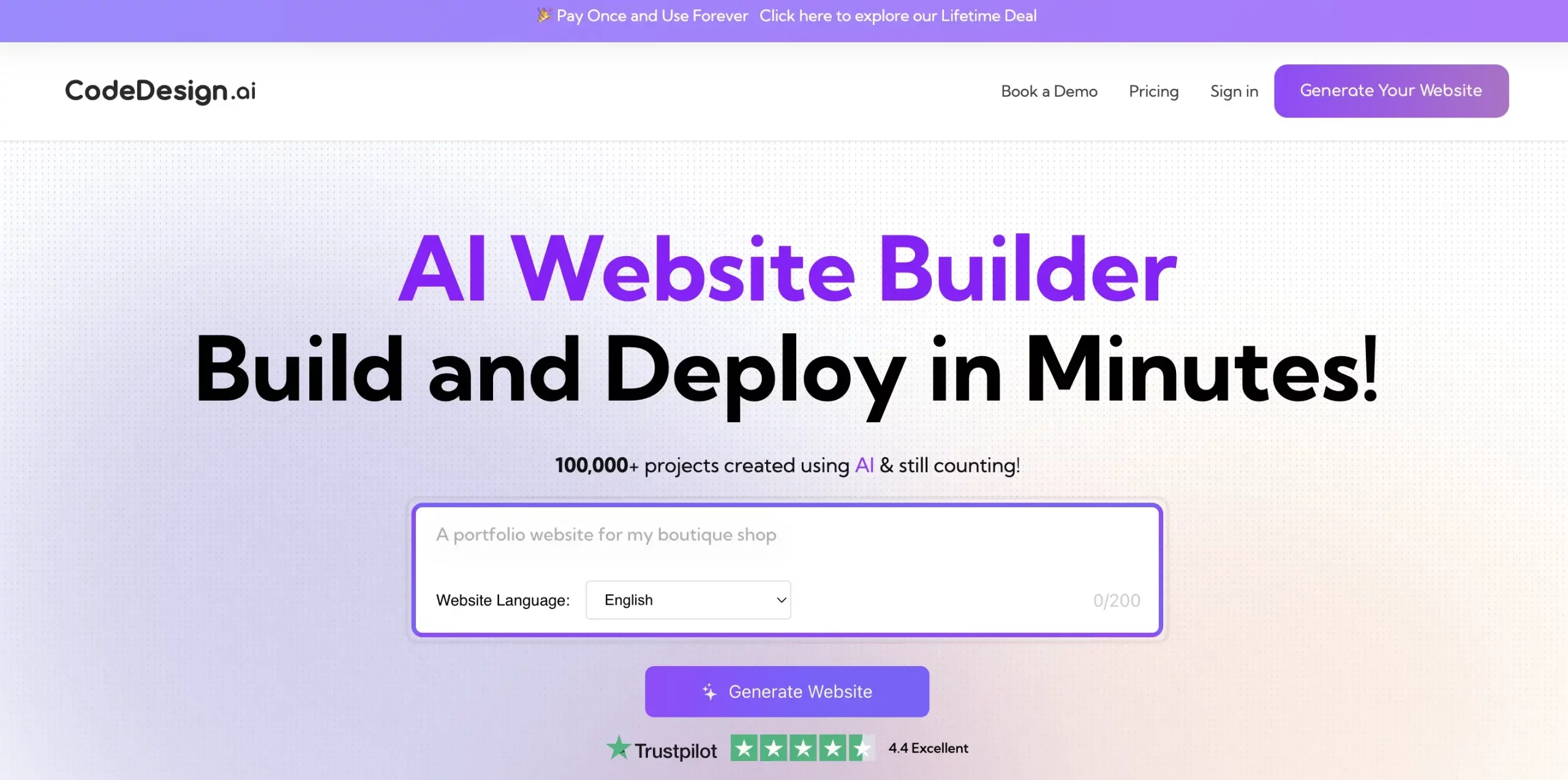 If you're looking for an AI-powered website builder that is cost-effective, user-friendly and offers great flexibility, then CodeDesign could be one of the best solutions the market offers.
CodeDesign knows that long gone are the days when HTML, CSS, and JavaScript were needed to create a robust website. As such, they enabled the power of AI to deliver a versatile website builder, allowing owners to focus on providing high-quality and educational contact, establishing trust with their customers.
CodeDesign Features:
Benefit from the available Cloud hosting to store your digital assets securely;
Your website will be built with the SEO strategy in mind;
Get access to the relational database so that you can just leave the stress away;
Even though your website will be built with a website builder, it's thoughtful to know that your online medium is ready for developers as well;
This AI website builder offers access to the past versions of your work so that you won't lose anything. We all know when a creative flow comes, but at the last minute, you remember that you haven't made a backup, right?
CodeDesign Pricing:
Basic plan – $15,06/month;
Standard plan – $29,07/month;
Growth plan – $49,01/month.

5. Jimdo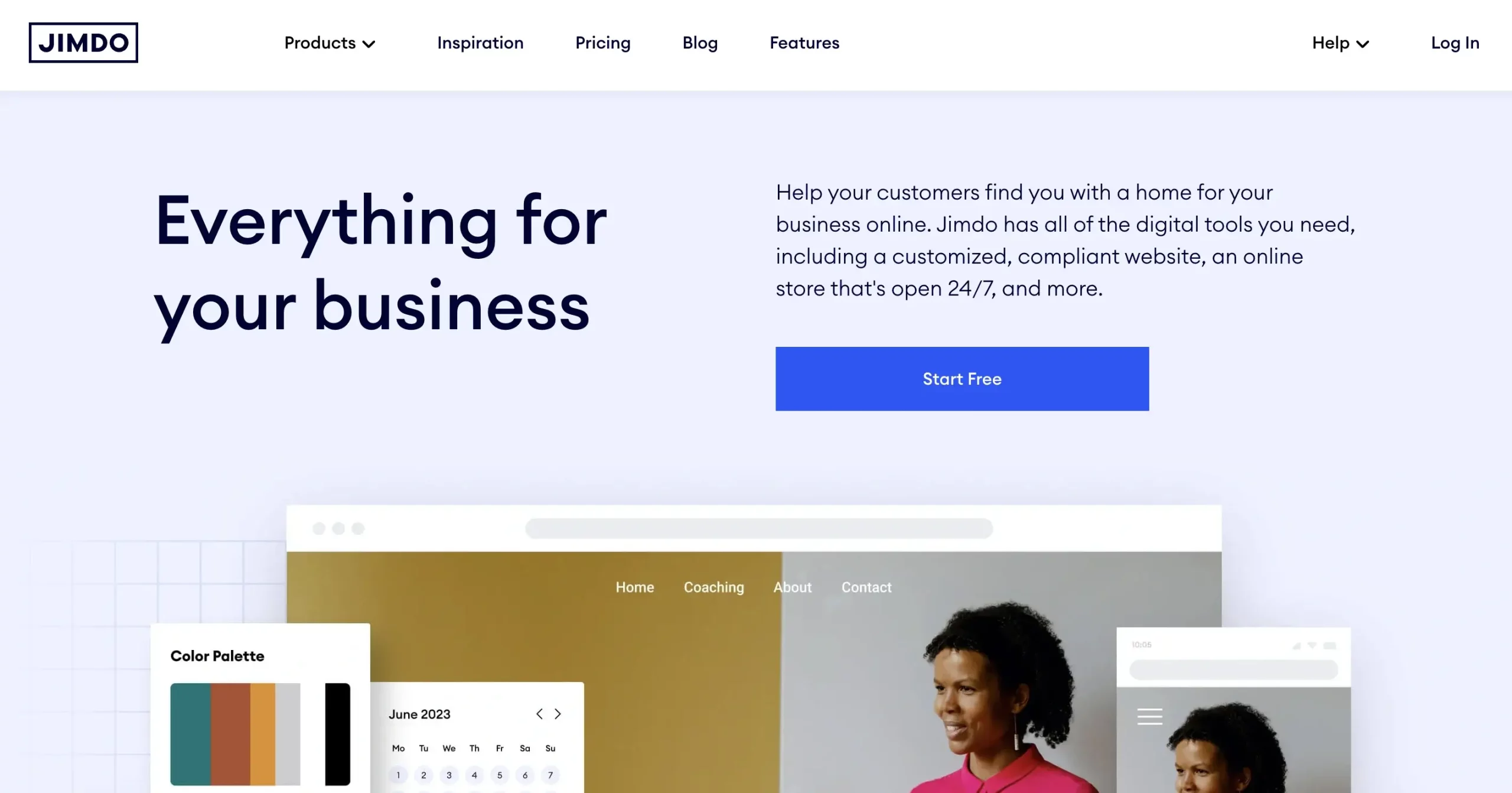 The AI website builder market is growing constantly, so staying relative and actual requires creativity. As a result, Jimdo manages to leverage the power of Artificial Intelligence to develop a great tool that quickly optimizes it for different devices.
We could not 100% advocate for their design offerings, compared to its competitors, yet CodeDesign makes it up with its ecosystem tools. As such, you can benefit from integrating with Google Analytics, managing business listings, and even designing logos.
Jimdo Features:
AI-generated website builder optimized for multiple devices;
Benefit from the powerful tool that uses AI to scrape publicly available business information for content generation;
Third-party integrations;
Customizable features, such as color palettes, fonts, and others.
Play package – $0;
Start package – €9 or $ 9,48/ month;
Grow plan – €15 or $15,80/month;
Unlimited plan – €39 or $41,08/ month.

6. Site123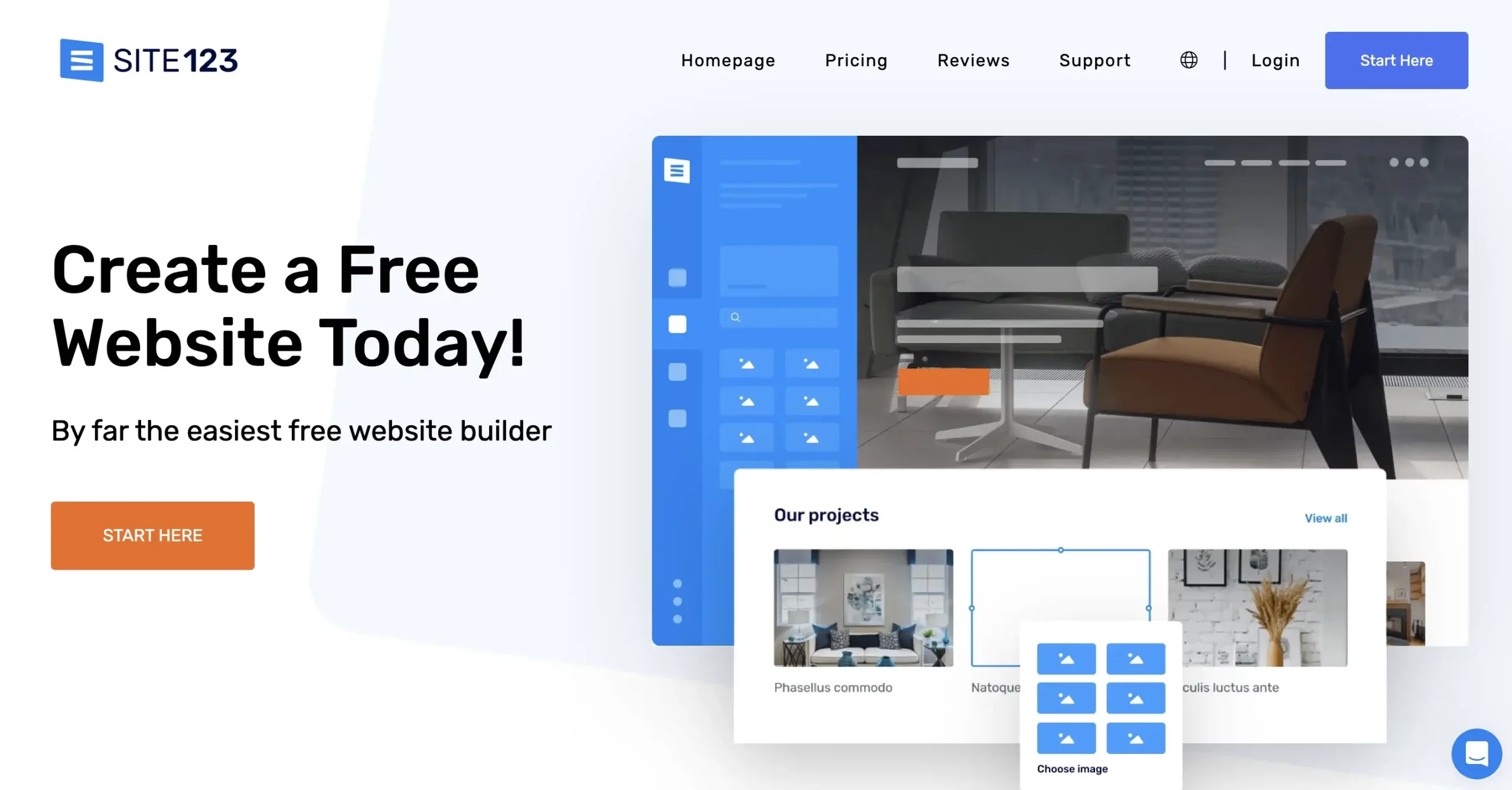 If you're looking for a quick way to create your website, we recommend you try the Site123 platform. Browse through their project templates, choose what best fits your business, and let AI do the work for you.
Indeed, Site123 only offers a few AI-enhanced features. Yet, its robust plugin sections, along with the price, make this medium a promising choice. As a result, it could be a good fit for those who've just started their business journey and wish for a quick, clean, and secure website.
Site123 Features:
Benefit from an intuitive website editor with access to templates;
Want a responsive design and website? Site123 is your friend;
Site123 has you covered; there is no need for external hosting services;
Access the SEO tools to ensure a well-established position on search engines;
Any brand needs a domain, so why not use Site123s' free domain registration?
Now, selling your products online with the online store templates and features is easier.
Free plan – $0 /month
250 MB Storage;
250 MB Bandwidth;
Subdomain.
Premium plan – $7.80 /month
Free domain for 1 year;
3GB storage;
3GB bandwidth;
Remove SITE123 Floating Tag;
Connect Your Domain;
Store.

7. 10Web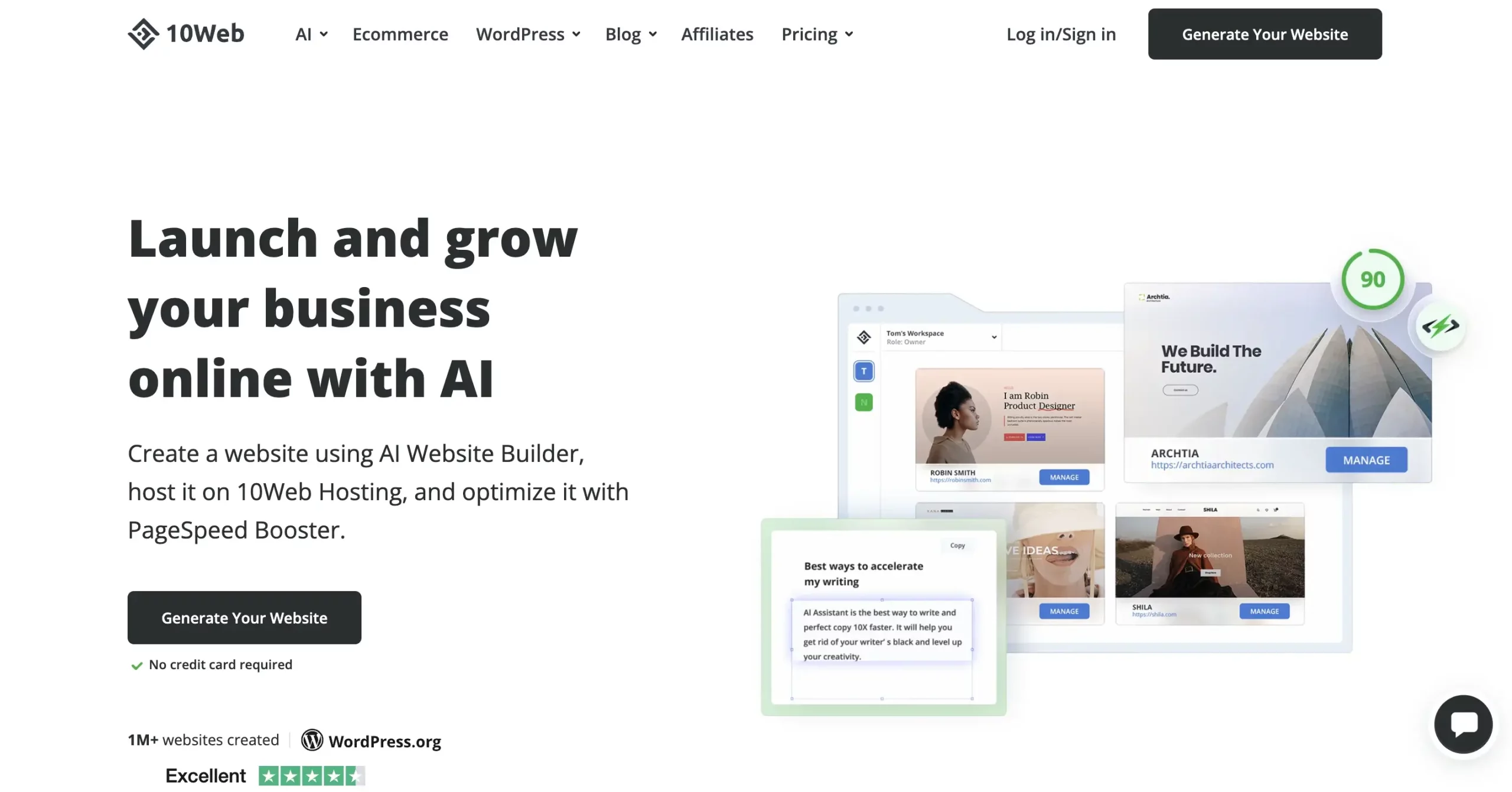 Here's another platform that could be your tech aid for getting started to launch your business online. 10Web brings innovation and sustainability together to deliver a robust platform that streamlines the web design experience.
A striking and significant differentiator is that it uses an automated page speed booster with Cloudflare CDN and is a Google Cloud Partner.
10Web Features:
Get your AI website builder or AI e-commerce website up and running;
Access the automated hosting;
Optimize your website speed with the Page Speed Booster feature;
Scale your business with the help of AI;
Naming? 10Web got you covered with the AI business name generator;
Use AI marketing strategy generator for better results;
Are you an old-school fan? WordPress AI assistant is at your disposal.
Business Investment Plan:
AI Starter – $10 /month;
AI Premium – $15 /month;
AI Ultimate – $23 /month.
E-commerce Investment Package:
AI E-commerce Starter – $15 /month;
AI E-commerce Premium – $38 /month;
Dedicated Hosting – $175 /month.
Agency (2+ websites) Development Plan:
Agency Starter – $24 /month;
Agency Premium – $60 /month.
8. Mixo

Mixo is one of the top choices when it comes to AI-generated websites. The platform is extremely user-friendly and has contributed to the creation of over 2 million websites, which is a truly surprising number.
With Mixo, the website creation process takes just a few minutes, and the results can meet your expectations as long as you carefully offer the details about what you want your new website to look like.
Mixo AI Features:
Integrated Artificial Intelligence;
Scalable site hosting;
Customizable URL;
Free SSL certificate;
Mobile-first responsive design;
Access to free stock images;
Embed video content;
Search engine optimization;
Unlimited subscribers;
Social sharing ready;
Integrated analytics.
Basic Site – $9/month
Single-page website;
Site hosting included;
SSL certificate included;
Customizable URL.
Growth Site – $19/month
Up to 5-page website;
Generate additional pages with AI tools;
Site hosting included;
SSL certificate included;
Customizable URL;
Improved AI.
Premium Site – $39/month
p. to50-page website;
Generate additional pages with AI;
Site hosting included;
SSL certificate included;
Customizable URL;
Improved AI tools;
Priority AI processing.

9. Hocoos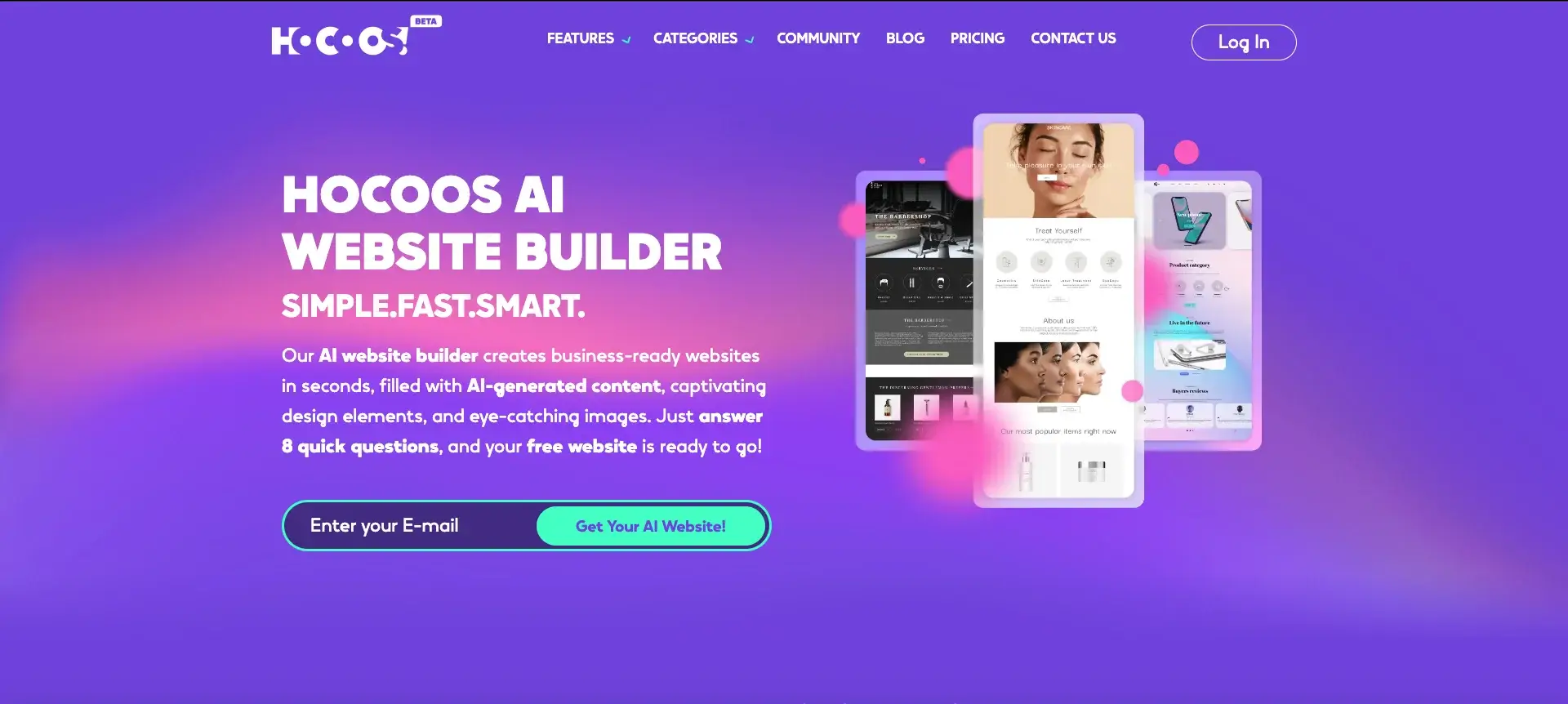 Hocoos is one of the AI website builders that surprise users with remarkable usability. The platform allows users to create business-ready websites in just a few minutes, and the features it offers can contribute to a way easier website-building process.
Hocoos Features:
AI tool kit;
AI website;
AI blog;
Online store.
Free Plan
Free website hosting;
Booking system (limited);
Blog (no AI blogging);
15 image uploads;
AI content generation.
Premium Plan – $15/month / $150/year
1 free custom domain name (yearly price plan gift);
Free website hosting;
Online payments;
600,000+ stock images;
Marketing integrations;
Unlimited image upload;
Massive amounts of AI;
Custom email;
Email marketing.

10. TeleportHQ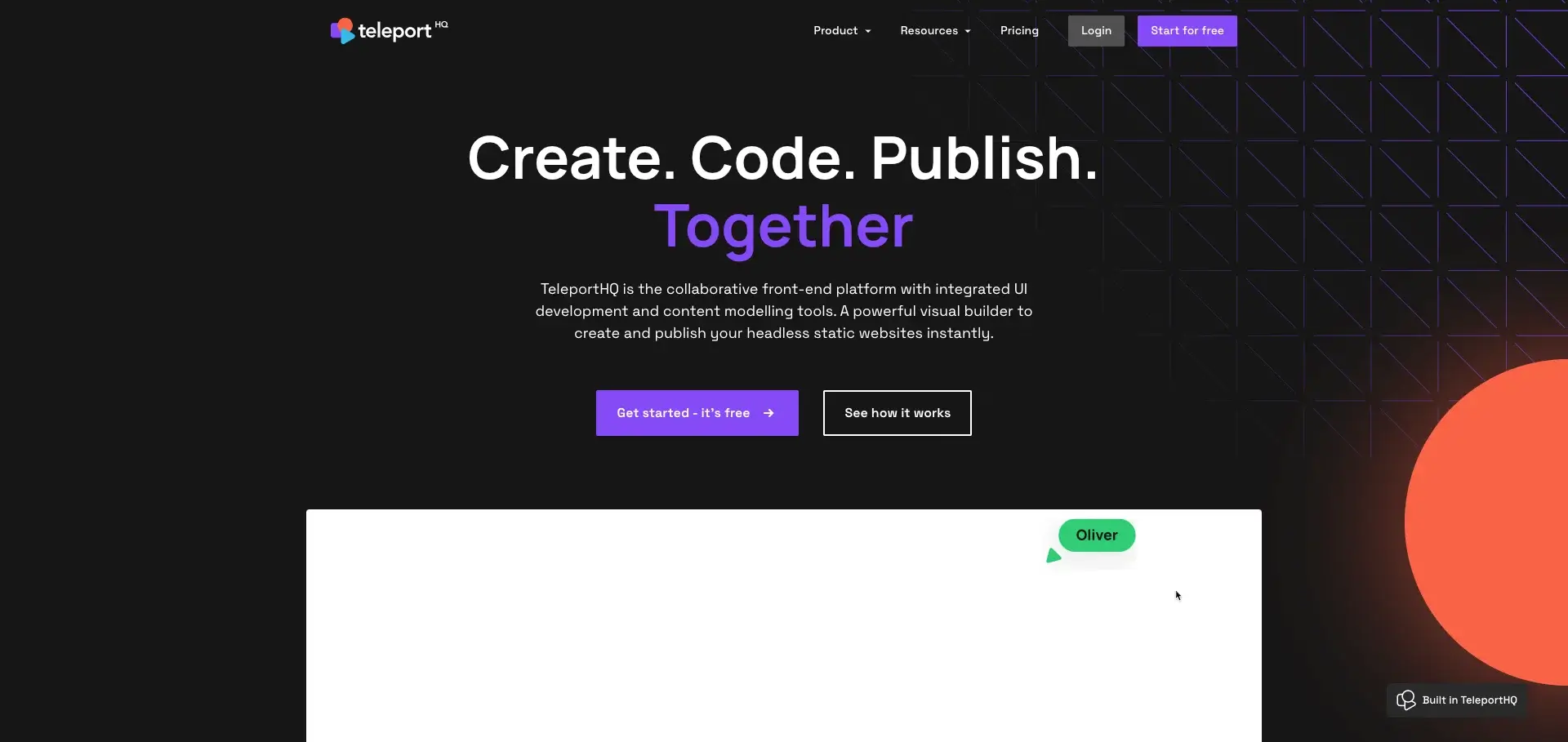 TeleportHQ is one of the most popular AI website builders, with numerous users choosing it to create user-friendly websites in no time. The project is a collaborative front-end platform that provides UI and content modeling tools. On TeleportHQ, developers can generate static websites, e-commerce platforms, component libraries, and product prototypes.
TeleportHQ Products:
Professional website builder;
Static website templates;
Low-code development;
AI website builder;
Code collaboration;
Code generator;
Figma plugin.
TeleportHQ Pricing:
Free Plan
1 project;
Unlimited collaborators;
Real-time collaboration;
Free ready-made templates;
Free code export;
Community support;
Hosting under TeleportHQ;
5 MB of assets/project;
Limited bandwidth.
Professional Plan – $15/editor/month
Unlimited projects;
Unlimited view-only collaborators;
Shared components library (coming soon);
Upload videos;
Private projects;
Dedicated customer support;
Includes publishing on 3 custom domains;
1 GB of assets/project;
200 GB bandwidth/month;
Integration with Vercel.
Agency Plan – Contact TeleportHQ
Unlimited projects;
Unlimited view-only collaborators;
Shared components library (coming soon);
Upload videos;
Private projects;
Dedicated customer support;
Includes publishing on 10+ custom domains;
Custom storage options;
Custom bandwidth on demand;
Integration with Vercel.

FAQ
Can I create a website through AI?
Yes, you can use AI to create a comprehensive website! Using one of the best AI website builders, you have all the right tools.
What is the best free AI to create a website?
It depends, as each AI-enhanced website builder provides different features to get you started, but you can browse between GoDaddy AI, WIX ADI, Hostinger, CodeDesign, Jimdo, Site123, or 10Web.
Is there an AI that can create a website for free?
Try Site123 or Jimdo, as they offer free AI website builder options. However, please understand their limited capabilities since it's a free plan.
Final Thoughts
It's no wonder AI's power marks a transformative shift. As a result, many businesses have more access to building an online presence and navigating through the complexities of the 21st century.
At this point, it is no wonder that AI-enhanced website builders provide innovative tools that have become indispensable for entrepreneurs and small-medium businesses.
In conclusion, these AI website builders have irrevocably altered the landscape of online business. Embracing the AI revolution is not just a choice; it's a strategic imperative for thriving in the competitive landscapes of today and tomorrow.