Voice.ai Review – Is Voice.ai a Tool Worth Considering?
Voice.ai Review: One of the most popular AI platforms at the moment. We will describe its main features, how it works, and how to use it.   
It is crystal clear that AI (Artificial Intelligence) is progressing surprisingly well, and the platforms developed can change so many things we once thought were impossible. From generating images, a realistic AI voice, voice cloning, and interacting with chatbots to cars, healthcare, and many more, AI is slowly but surely becoming part of our lives.
And when it comes to AI, all we can do is get used to it and start researching the best tools we can use to find out more about this concept and how it can help us. Learning more about artificial intelligence as soon as possible can significantly help you in the future as you will already know how AI works in times when others will still try to manage how to use it to their advantage.
So, in this article, we will talk about Voice.ai, one of the most popular AI platforms at the moment. We will describe its main features, how it works, and how to use it.
About Voice.ai

Voice.ai is an AI voice generator, changer, and editor platform that uses AI to help users improve or even replace their voices in no time and even for free. The platform was founded by Heath Ahrens, who has also developed iSpeech.org (2007), DriveSafe.ly (2009), and iSpeech Home (2012).
Voice.ai's mission is to make AI accessible to everyone, empowering creativity and allowing communities to redefine how users express themselves through audio. The main belief of the company is that "AI should be accessible, it should be open to everyone, and it should be fun."
Voice.ai Affiliate Program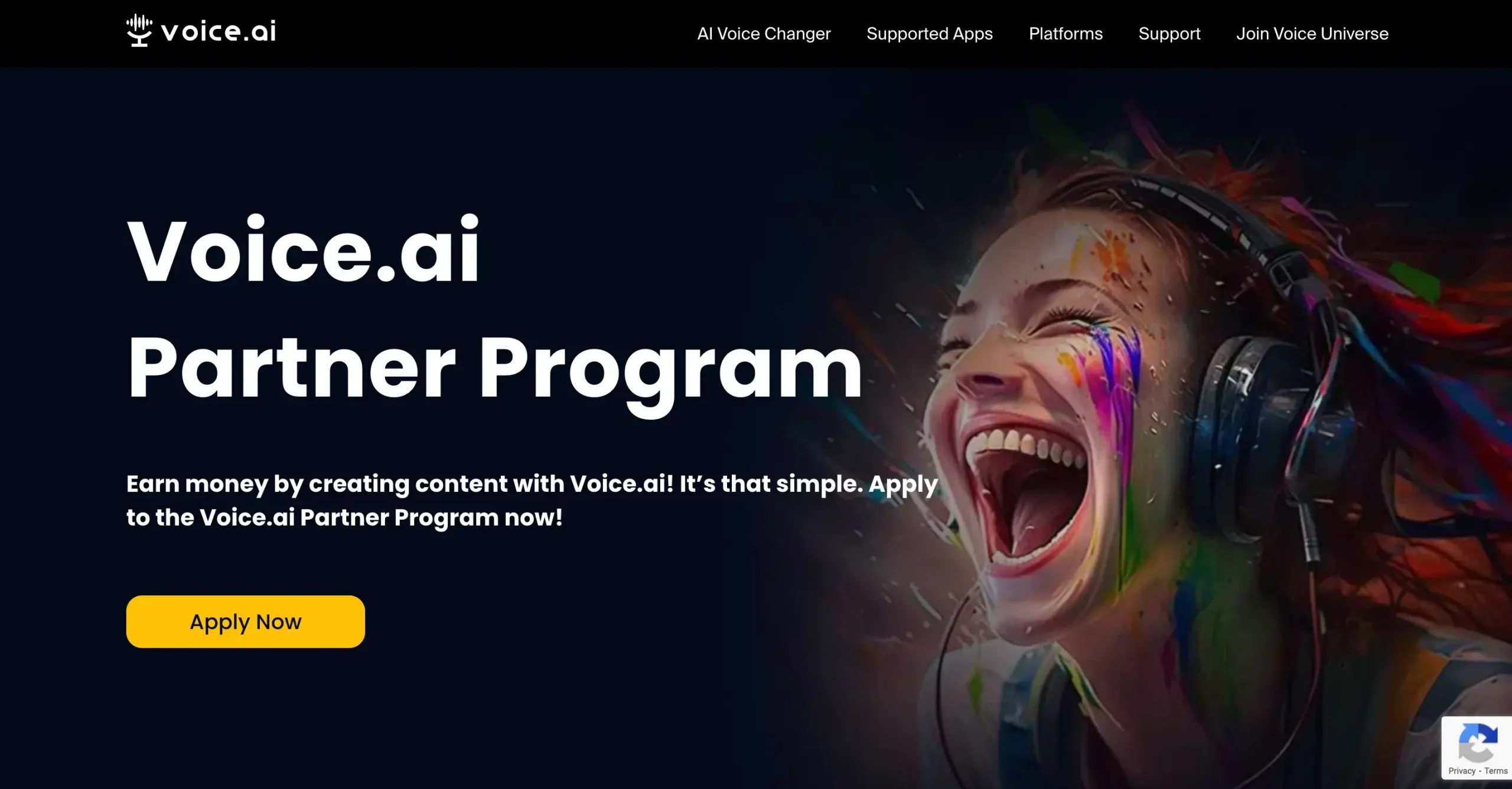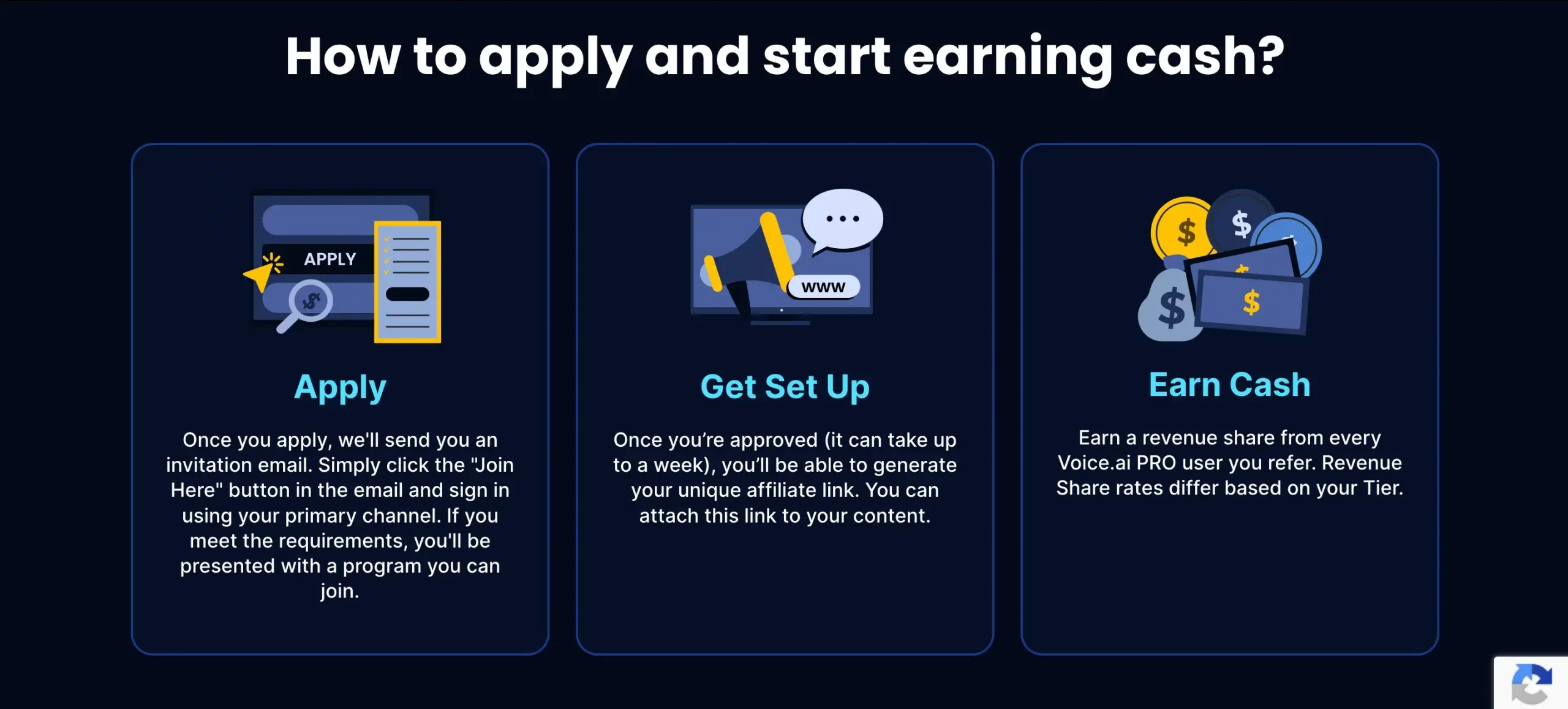 The company has also developed an affiliate program for content creators. Although there are some requirements from each of the 3 tiers, users can receive rewards for each PRO user they refer.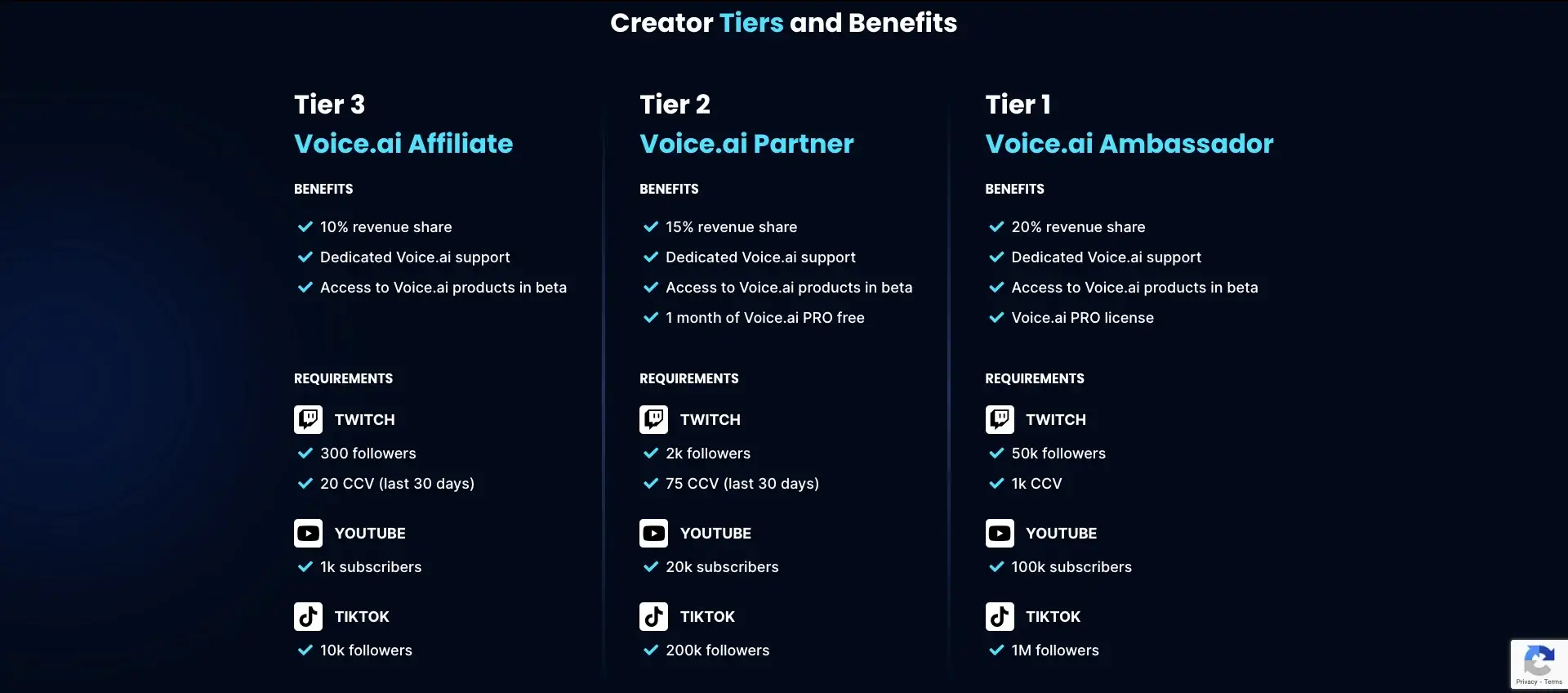 Tier 3 – Voice.ai Affiliate
| | |
| --- | --- |
| Requirements | Benefits |
| Twitch At least 300 followers; At least 20 CCV (last 30 days). | 10% revenue share |
| YouTube At least 1,000 subscribers. | Dedicated Voice.ai support |
| TikTok At least 10,000 followers. | Access to Voice.ai products in beta |
Tier 2 – Voice.ai Partner
| | |
| --- | --- |
| Requirements | Benefits |
| Twitch At least 2,000 followers; At least 75 CCV (last 30 days); | 15% revenue share |
| YouTube At least 20,000 subscribers. | Dedicated Voice.ai support |
| TikTok At least 200,000 followers. | Access to Voice.ai products in beta |
| | 1 month of Voice.ai PRO free |
Tier 1 – Voice.ai Ambassador
| | |
| --- | --- |
| Requirements | Benefits |
| Twitch At least 50,000 followers; At least 1,000 CCV. | 20% revenue share |
| YouTube At least 100,000 subscribers. | Dedicated Voice.ai support |
| TikTok At least 1,000,000 followers. | Access to Voice.ai products in beta |
| | Voice.ai PRO license |
Voice.ai Features

Voice.ai provides over 1,000 AI-generated voices to all its users and also allows them to create realistic AI voices if they want them to be unique. The technology offered by Voice.ai can contribute to plenty of activities, including gaming and live streaming, where users can change their voices to intrigue their friends or followers even more.
Voice.ai's voice changer functions in real-time, meaning that users can instantly modify their voices while performing an activity. So, if you're a gamer and want to change your own voice, you simply have to connect Voice.ai to the game, and your voice will change while you speak.
Besides, Voice.ai allows users to clone their voice or create a new one with many customization options. If you want to create a soundboard for your voice, the platform will also help you with various sound effects and the possibility of uploading sound clips.
Furthermore, it is essential to note that the mission of Voice.ai was achieved, considering that the app is extremely user-friendly, and you don't need extensive knowledge in the field to use it. The voice changer software is intuitive and compatible with most Windows, Android, iOS, and MacOS devices.
How Does Voice.ai Perform?
Currently, there are 6 main tools offered by Voice AI, and we decided to test each of them in the free version offered by the platform and rate them from 1 to 5.
To do this, we had to choose an audio file that is extremely popular and is suitable for actually testing the Voice.ai tools (voice changer, vocal remover, echo remover, stem splitter, key and BPM finder, and reverb remover). After analyzing all the tools, we decided that the audio file should:
Have both vocal and instrumental parts;
Have high levels of echo and reverb;
Have multiple instruments recorded (e.g., guitar, piano, drums, strings);
Have a clear and well-defined voice recording (a vibrato would be a plus).
To add a little bit of cheer, considering the time of writing this article, we chose a Christmas-themed song. And what could be better than the one song that has been stealing a place in the tops for the past 19 years? We think you get what we're talking about, right? It's "All I Want for Christmas Is You" by Mariah Carey!
However, we don't want to bore you, so we only cut the intro part of the song. And to have a starting point, we'll provide the original version of the song intro: 
To be as impartial as possible, we aim to look at various details, some of them also being the basic characteristics of a sound: 
The overall accuracy of the sound – there are no frequency or timing distortions when compared to the original sound;
The wavelength – how well it is maintained;
The amplitude of the sound;
The pitch – how well it is maintained.
Online Voice Changer
The online voice changer is the most popular AI tool provided by Voice.ai. If you choose to use it online and without a paid subscription, you will only have 2 voices available: "Pop Star" and "Politician."
However, if you want to try out and use multiple voices, you can download the app, which is available on numerous devices.
For this review, we tried to work with both the Pop Star and Politician voices. The results were generated in approximately 6 seconds.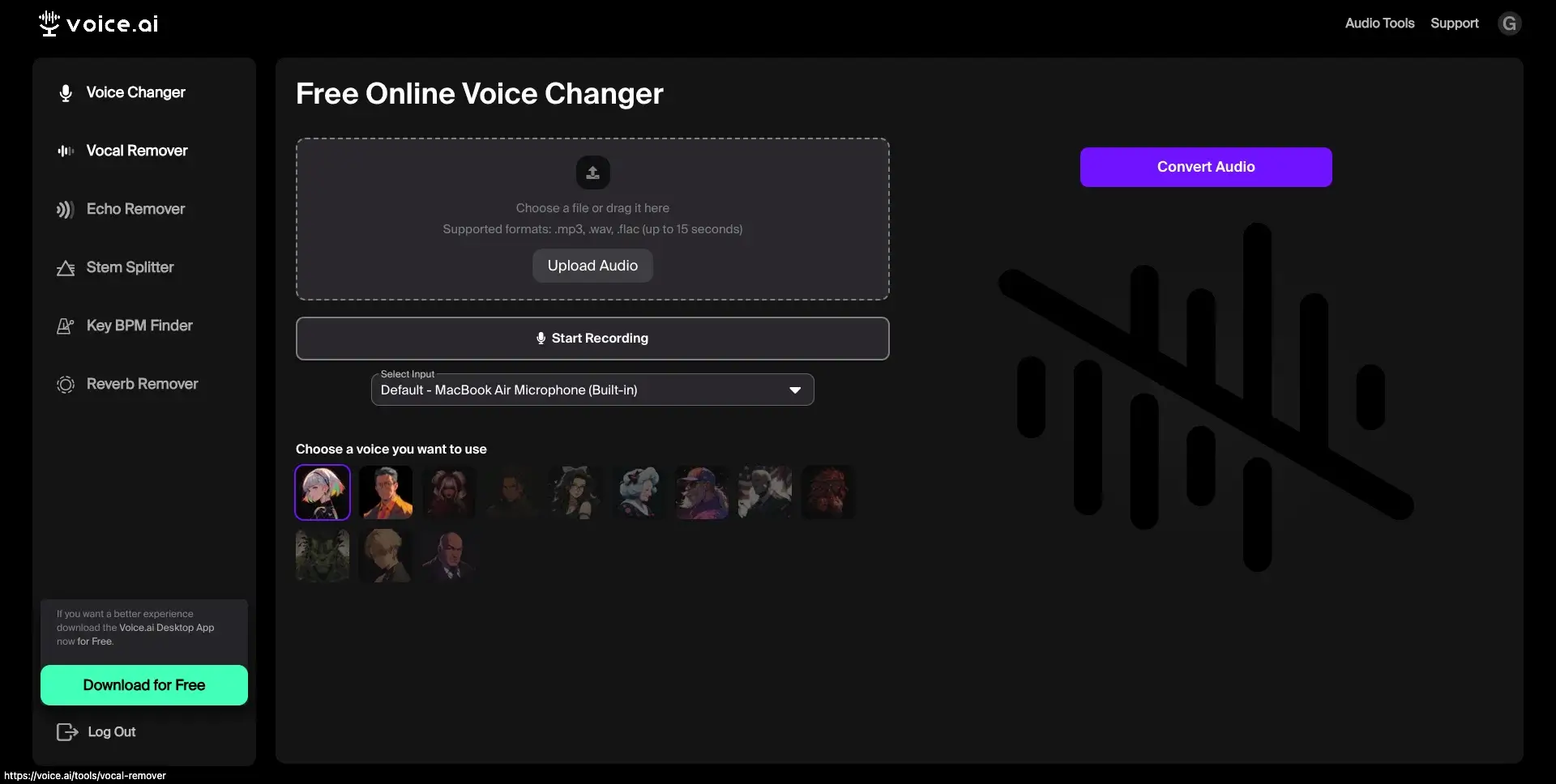 However, we will offer the "Pop Star" version only. Although we also analyzed the "Politician" version, the quality of the result was too low. On top of things, we found that the audio file chosen could not work with a politician's voice. Now, let's answer one of the top questions: How does an AI-generated voice sound?
In our opinion, Voice.ai could do a little bit better. The original audio is pretty high quality; you can easily understand what the voice says and what instruments are there in the back.
However, in the version provided by the Voice.ai voice changer, things get a little messy. You can't even find a clear BPM, and this should not change. Furthermore, the pitch was a little affected, and the sound seemed to have a slightly lower amplitude. In terms of wavelength, it seems to be preserved quite well.
For this tool, we will give the platform 2/5, because the voices it offers are intriguing and may be useful in other situations.
Online Vocal Remover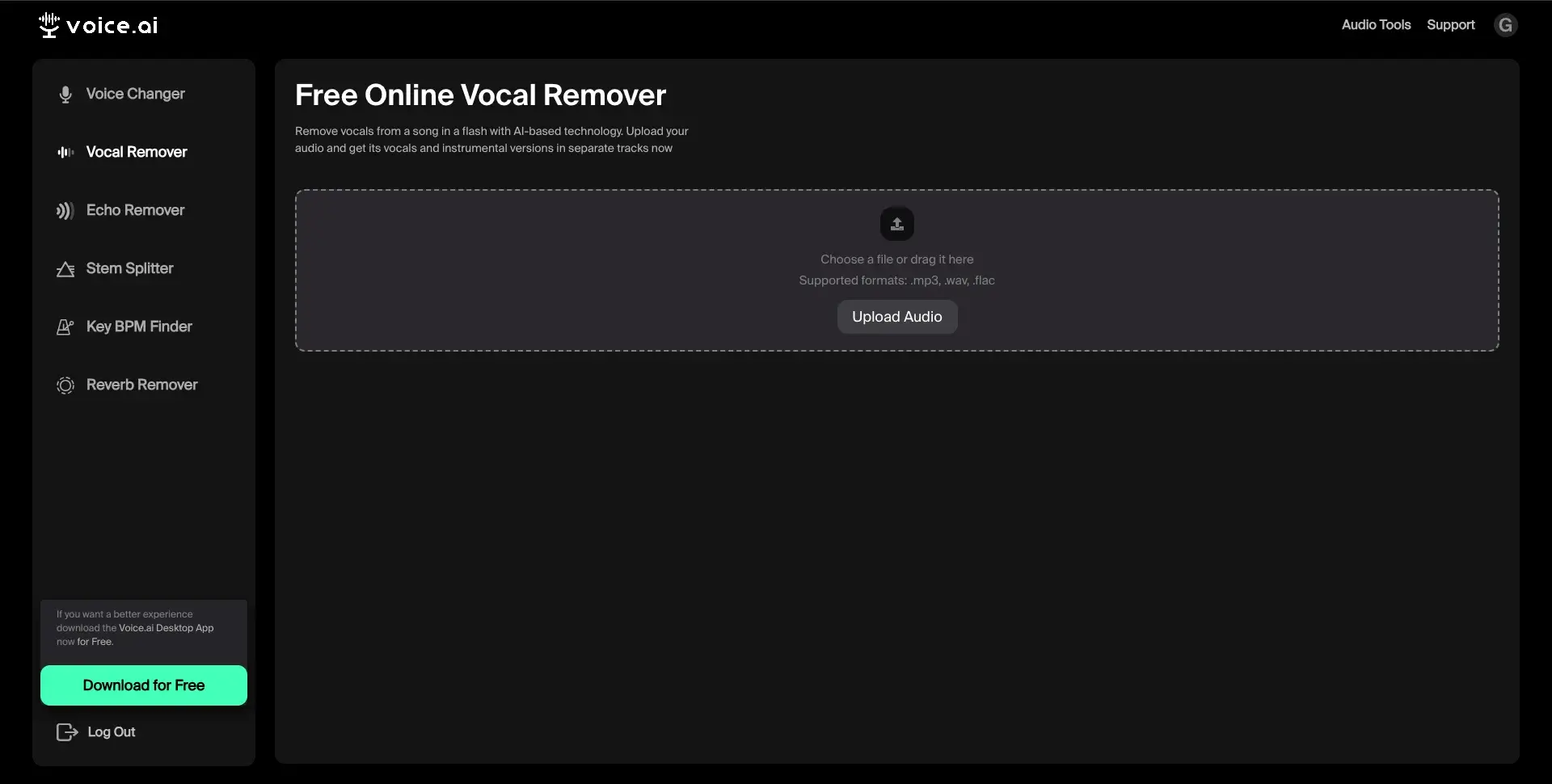 A vocal remover tool can be extremely useful. For instance, let's say you are a bass player and want to learn a song played by System of a Down.
In many of their songs, the voice happens to cover some key parts of what the instruments are playing, and if you want it to get it just right, you need to go behind the voice to understand what Shavo Odadjian (the bassist of System of a Down) plays in the background. This is why you might need a vocal remover.
The vocal remover developed by Voice.ai is quick and provides 2 audio files: the vocal and the instrumental parts. In our case, the results were generated in approximately 15 seconds: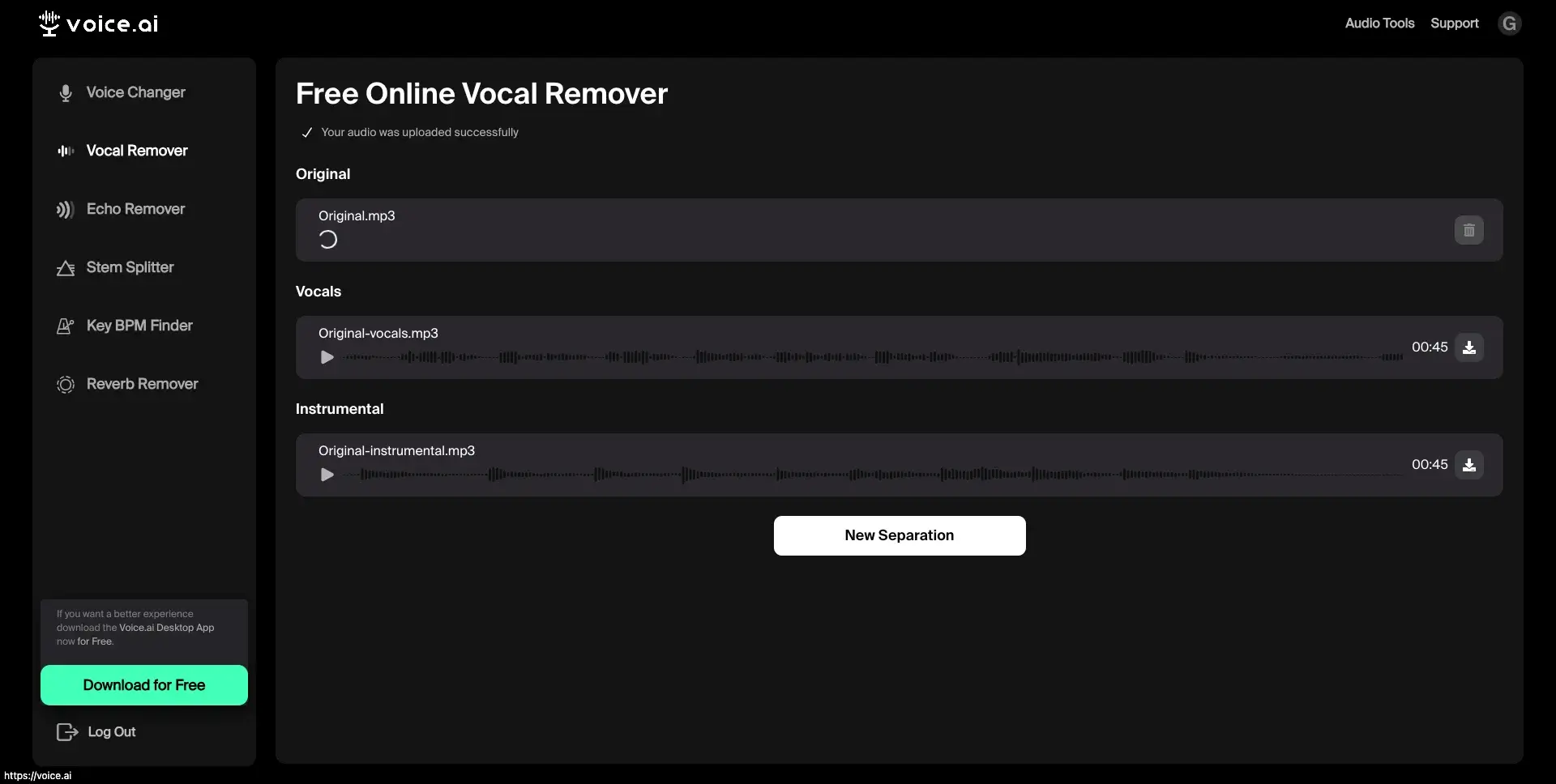 In both files, we noticed that the sound accuracy was affected a little. It felt like Voice.ai added an effect, and the quality of the files dropped significantly.
First, we thought that it was the effects added to the original track that made the AI-generated file have a decreased quality, but in our opinion, it could not be the original effects' fault in this situation, as all the tool had to do was divide the track intro a vocal and an instrumental part.
Still, we should give credit where credit's due, and Voice.ai did a good job regarding dividing the track. The pitch and amplitude were maintained, and the wavelength was not altered.
So, for the vocal remover tool, Voice.ai will get 3 out of 5.
Echo Remover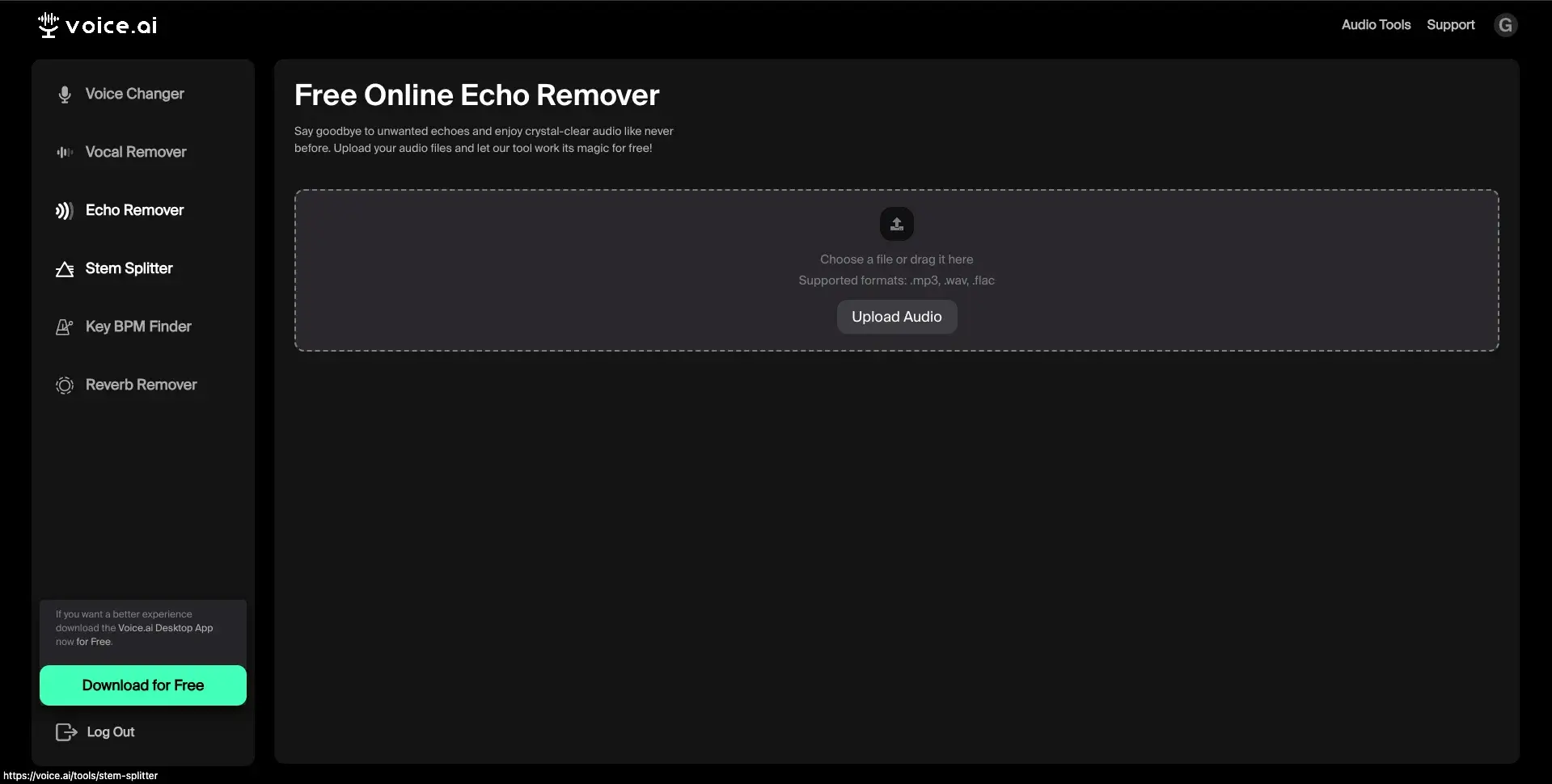 The echo remover can help you edit a vocal track to get back as close as possible to the unedited version. And as we mentioned earlier, "All I Want for Christmas Is You" is "rich" when it comes to echo and reverb.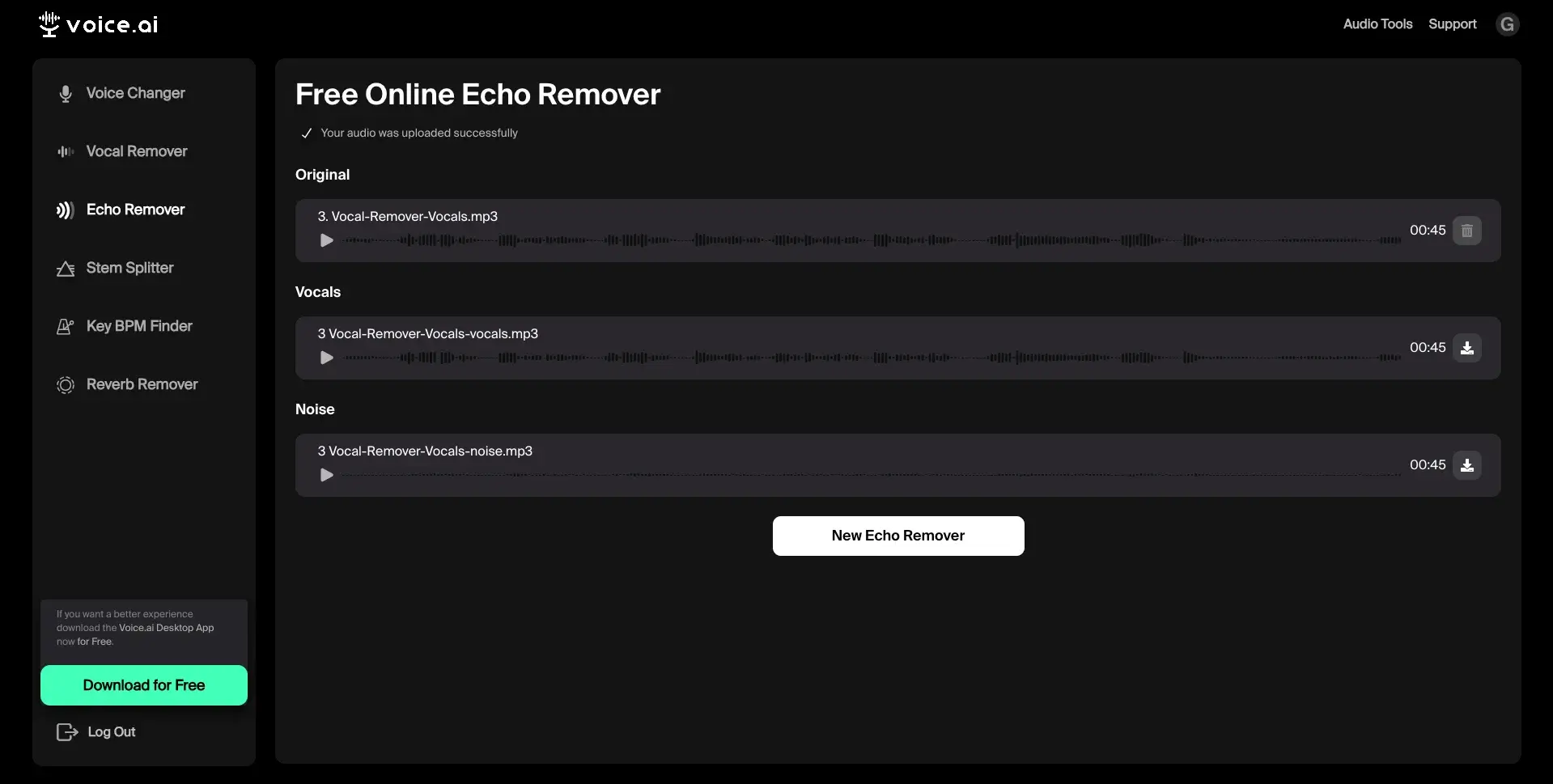 After 17 seconds (a bit long, but not too bad), the results were generated:
Just as Voice.ai did in the vocal remover's case, it provided 2 tracks: "Vocal" and "Noise."
In our opinion, the noise track is not necessary, but it's a great way to see where it all comes from. When it comes to the vocal track, all we can say is that the Voice.ai echo remover could generate higher-quality audio files.
The tool eliminated the echo or at least most of it. However, the parts that are left are combined with the reverb, and this is why it might have left them. Besides, the sound accuracy changed a little, and this should not happen. Still, it did its job and removed the echo, and for this, we have to give it 3 out of 5.
AI Stem Splitter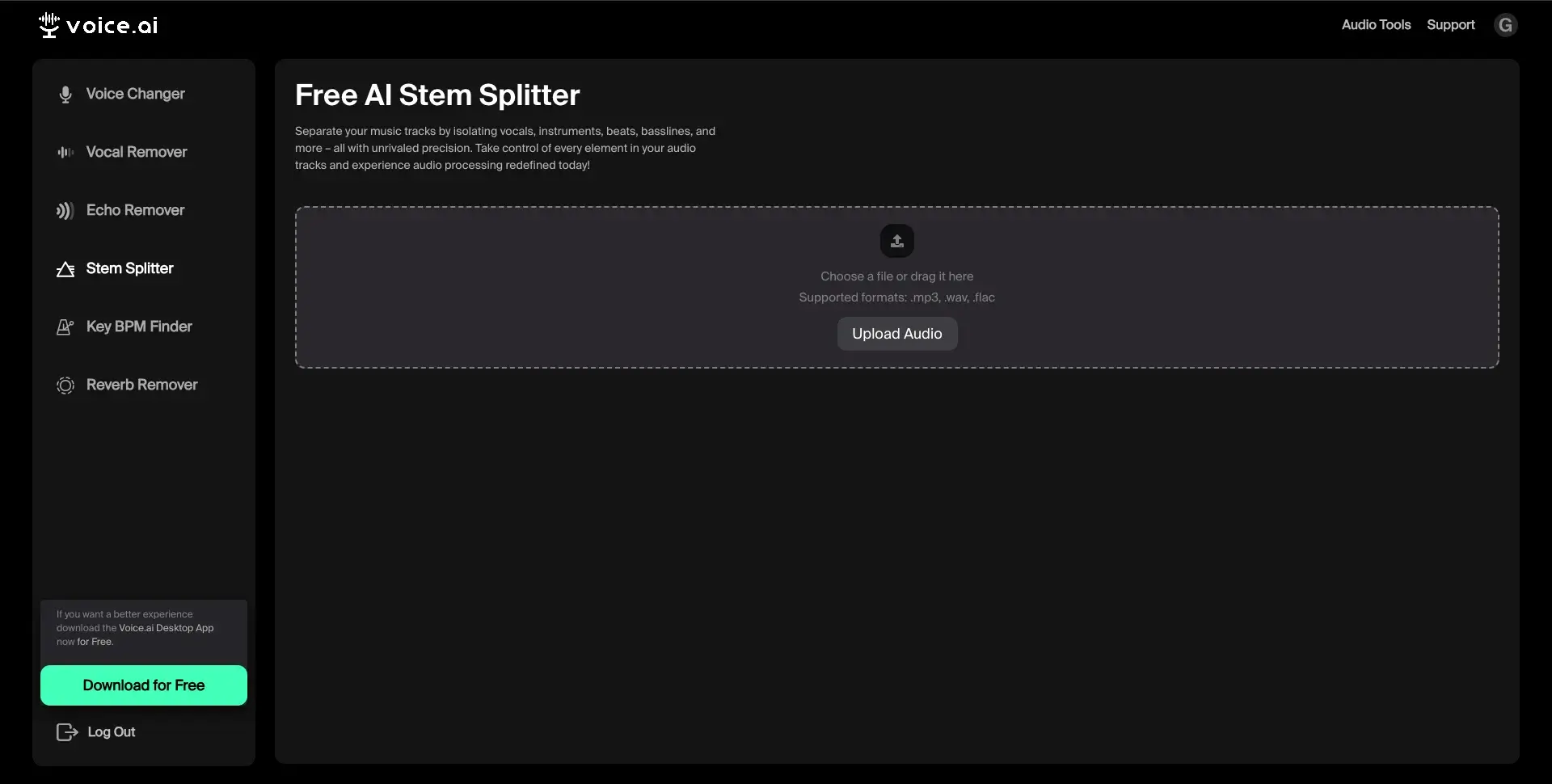 If it's a bit unclear what a stem splitter is, we're here to help. Basically, it is a tool that allows users to separate tracks from an audio file that is already mixed. Such tools use multiple concepts, including AI and a technology that allows them to distinguish various frequencies, to offer users separate tracks for each stem.
Until this moment, we're sure you know the process. We uploaded the original audio, and after waiting for 1 minute and 22 seconds (which might seem too much, but it's a more complex process), the stem splitter separated the file into 6 tracks: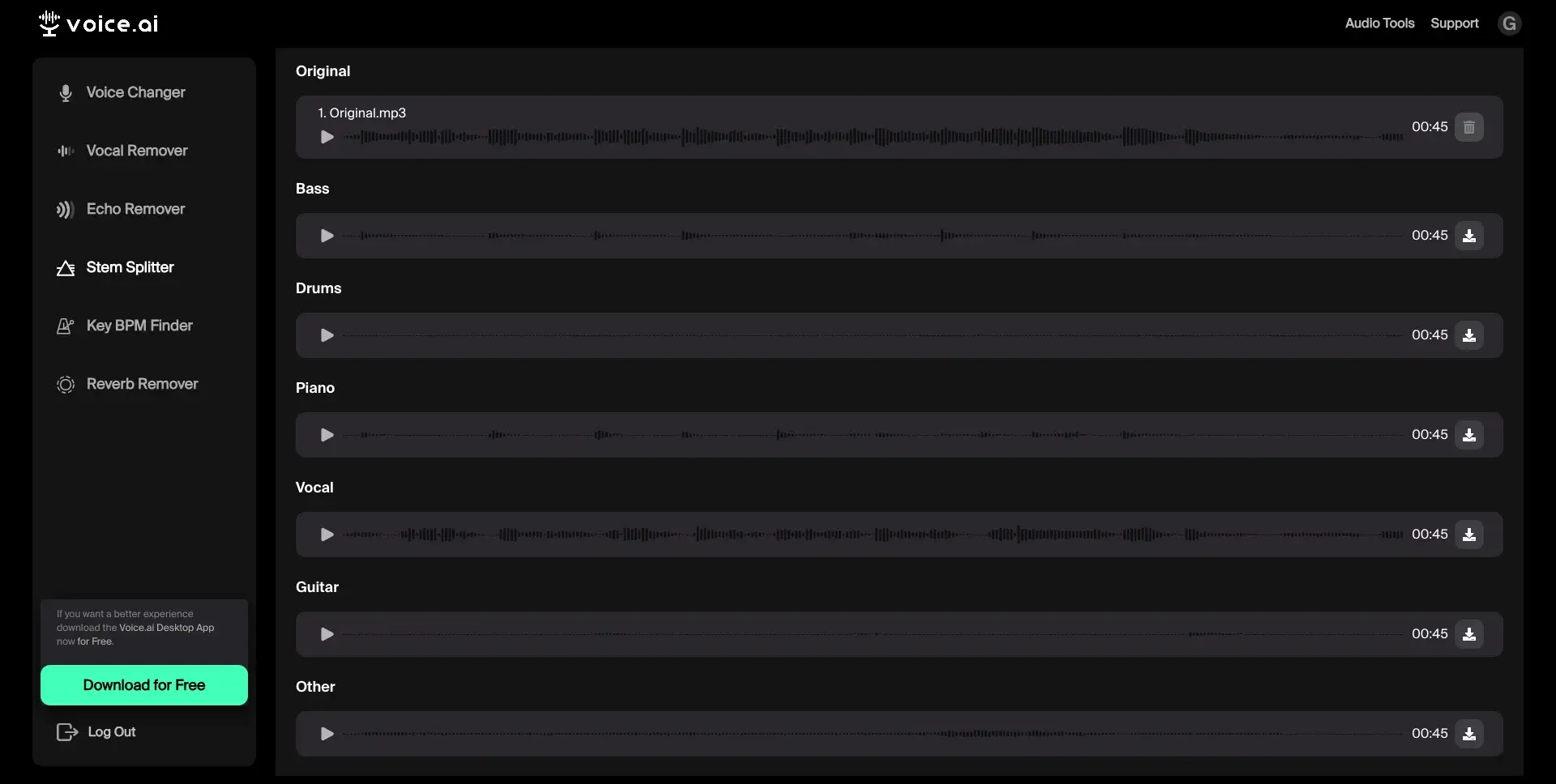 The verdict? Voice.ai did a decent job. The tracks are trying their best to maintain the original quality, even though separating a mixed track is quite hard. We were expecting the tool to find the strings in the song, but we thought that it was only developed to distinguish guitar, piano, bass, drums, and voices, and all the other instruments are part of the "Others" section.
Let's analyze one track at a time.
Bass
You can hear the bass and how long each string vibrates accurately. In the middle of the track, there is a note that is a little out of tune, but we're talking about a few commas. However, if you're listening carefully, you can hear the voice in the back, but just a little;
Drums
In the intro of the song, the drums do not have a clear beat. There are just some cymbals hit repeatedly to emphasize the vocals. The tool was not able to separate the drums completely, so you will hear other instruments in this track, too;
Piano
The piano part is a bit messy. The sound is not clear, and you can also notice the voice;
Vocal
The stem splitter did a better job than the vocal remover. The voice is clearer, on pitch, and the instruments behind are so low that you almost don't notice them;
Guitar
The guitar track probably has the lowest quality, but we should not blame it on the tool only. You can't distinguish the guitar from the other instruments so well in this intro;
Others (Strings)
This track surprised us. Although the accuracy of the sound could be improved, the stem splitter separated the strings pretty well.
Overall, the stem splitter is truly intriguing. As a rating, we would give it 4 out of 5. Separating stems is no easy task, and for a free version of the AI tool, Voice.ai did pretty well.
Song & Key BPM Finder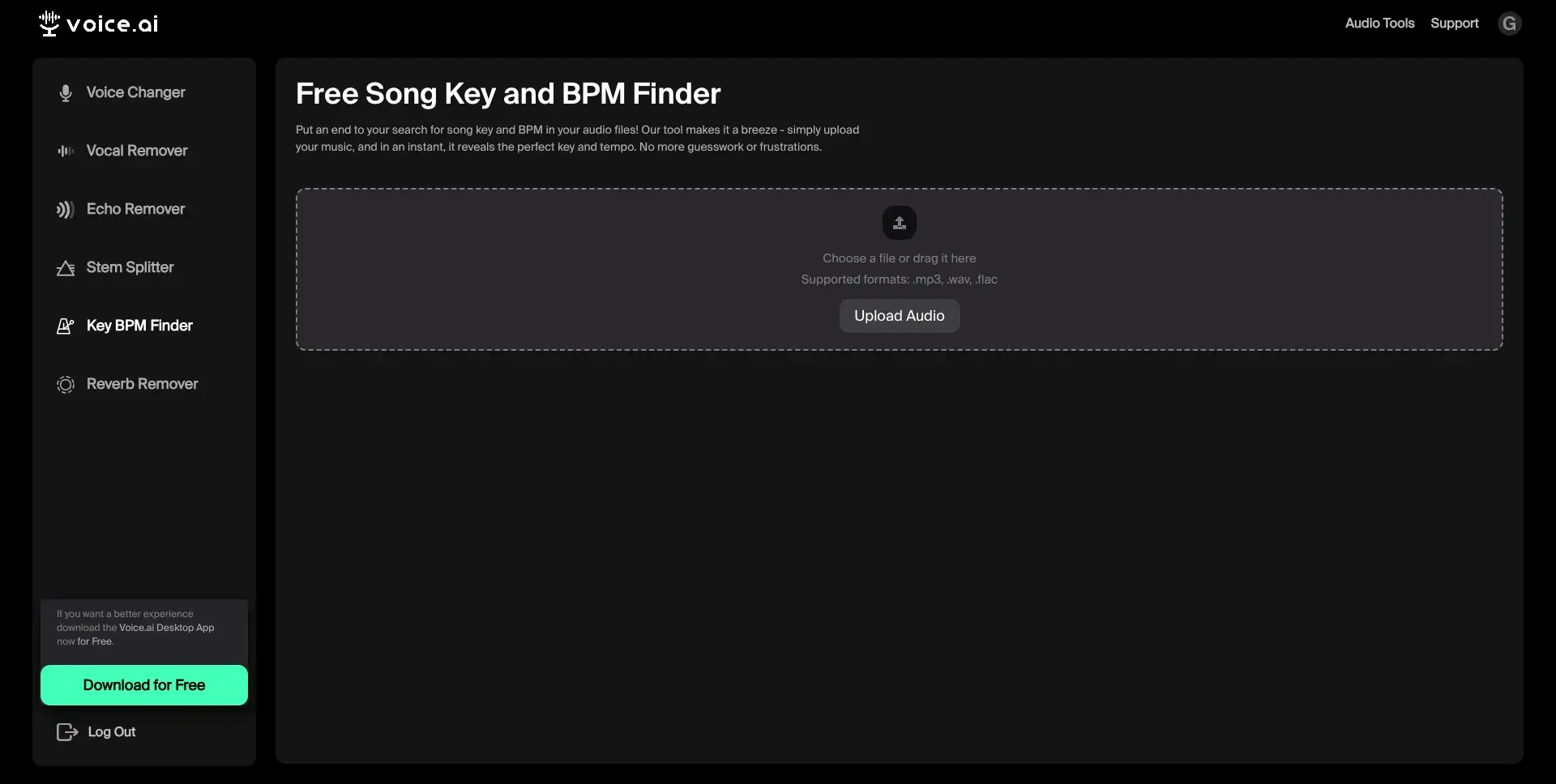 The first thing that surprised us when trying the key and BPM finder was its speed. In less than 1 second, the tool offered the information required. Furthermore, it was right. "All I Want for Christmas Is You" is played in G major, there is no doubt.
Regarding the BPM, we understand that it was hard for the AI tool to decide on a result, as the intro is sung and played in a rubato mode (which does not have a clear rhythm). But in our opinion, the tool was extremely close.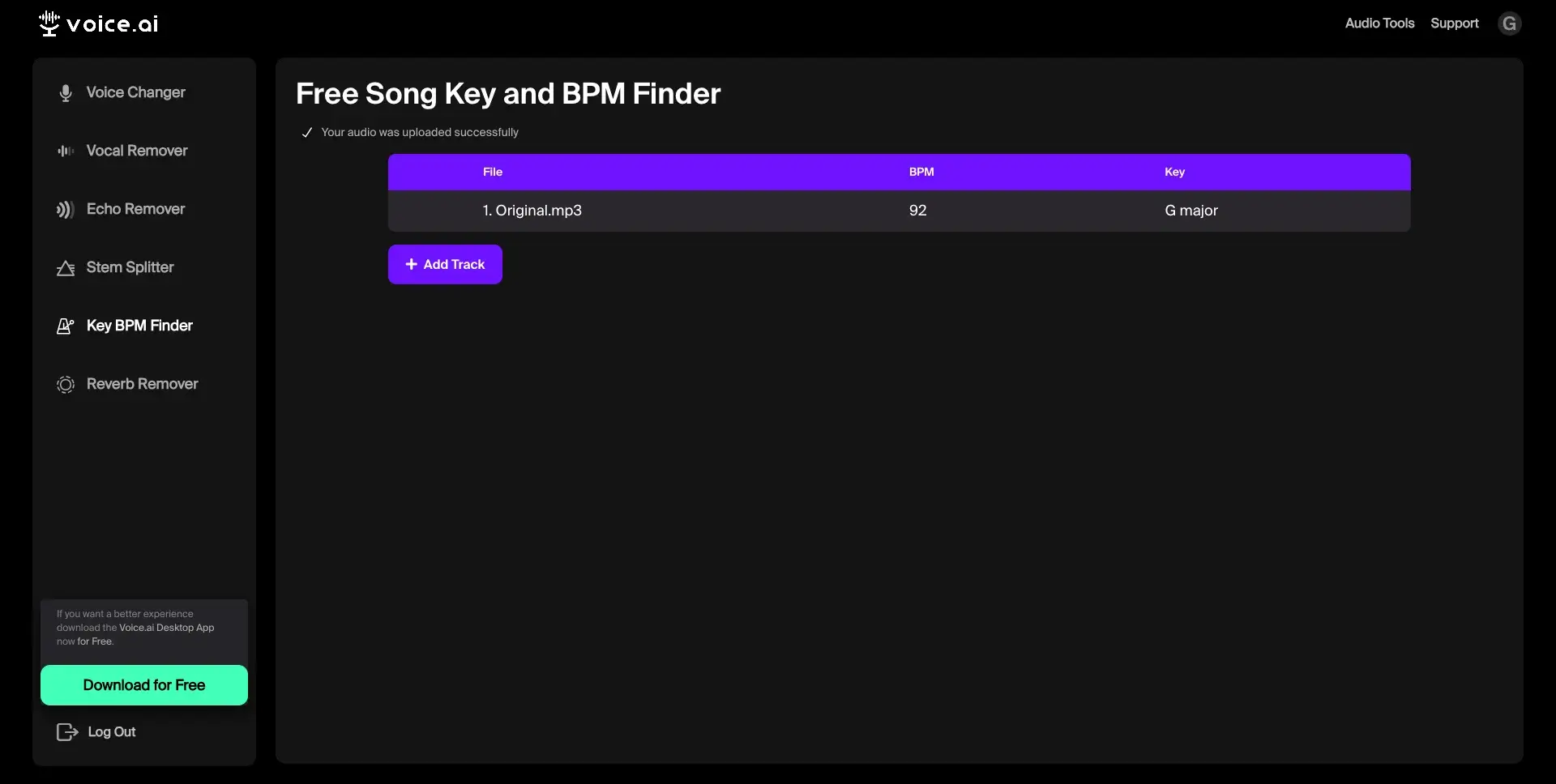 The key and BPM finder should get a high rating, right? It was on point, so let's give it 4/5.
Online Reverb Remover
Just like in the echo remover's case, a reverb remover tool can be pretty useful. You can go back to a cleaner version of a track, at least regarding the added effects.
Now, what can we say? Voice.ai was right one more time. It provided 2 tracks again after around 21 seconds:
Vocal
Noise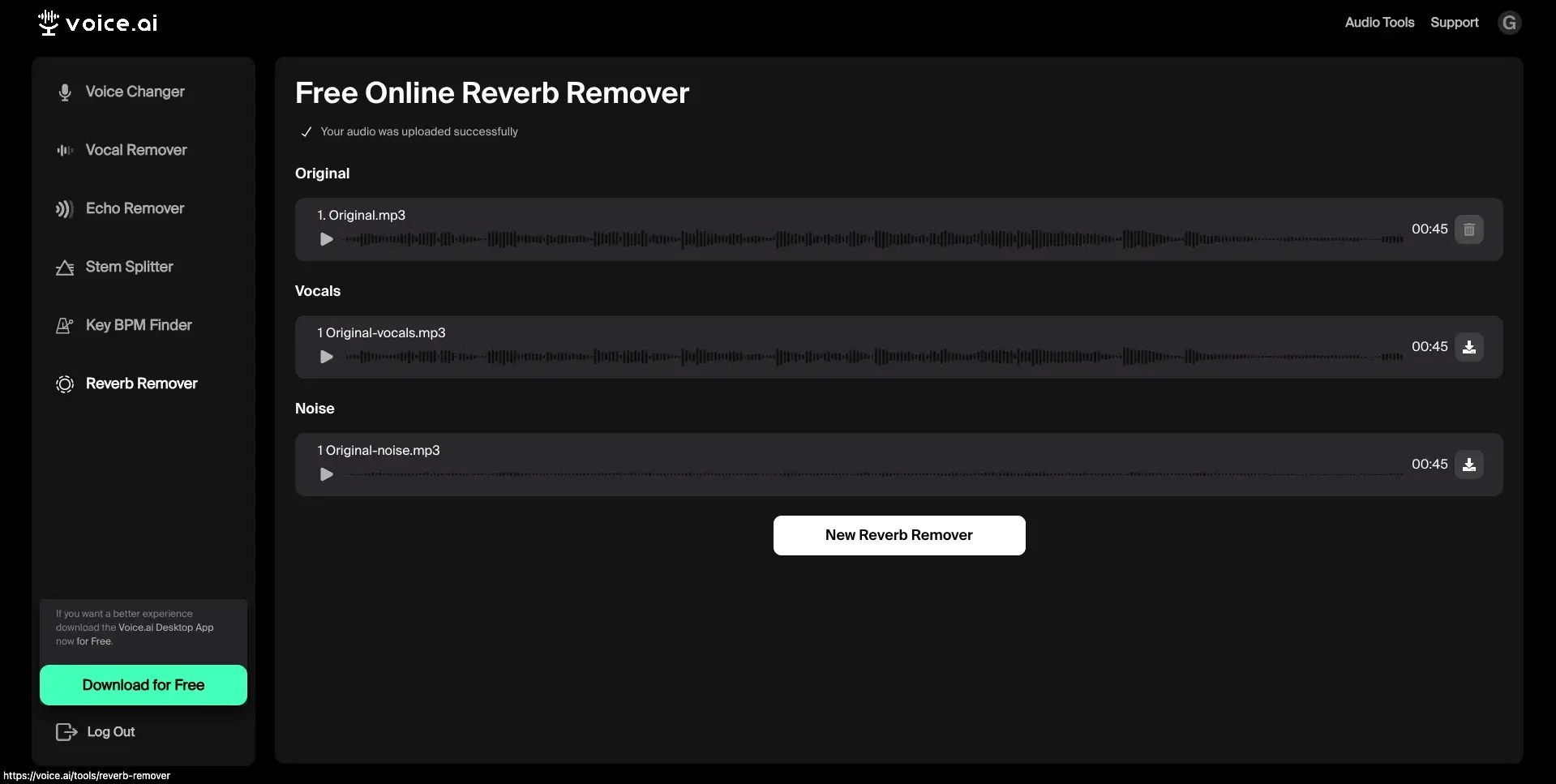 The results were high-quality. We're not going to analyze the "Noise" track, as we don't consider that it has to be taken into consideration. However, the vocal track is accurate, the amplitude, wavelength, and pitch are preserved, and the reverb is gone almost 100%. Congrats', Voice.ai, it's a 5 out of 5.
Supported Apps and Games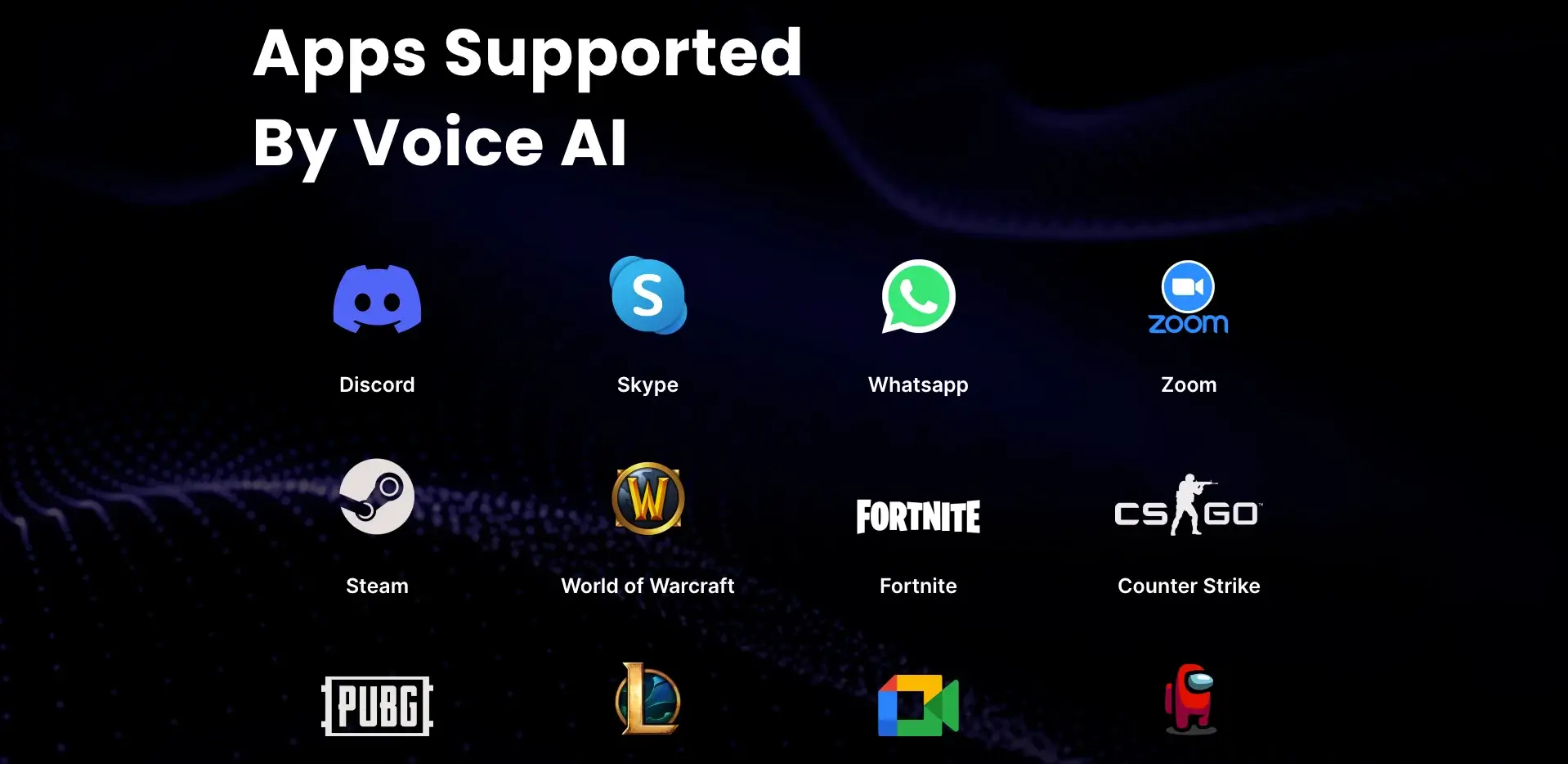 It is a sure thing that Voice.ai plans to become the top choice for worldwide users. And to do that, it has to support as many platforms as possible. At the moment, the apps supported by the AI voice changer include:
Discord;
Skype;
WhatsApp;
Zoom;
Google Meet;
Viber;
TeamSpeak;
Twitch;
OBS Studio;
Messenger;
Telegram.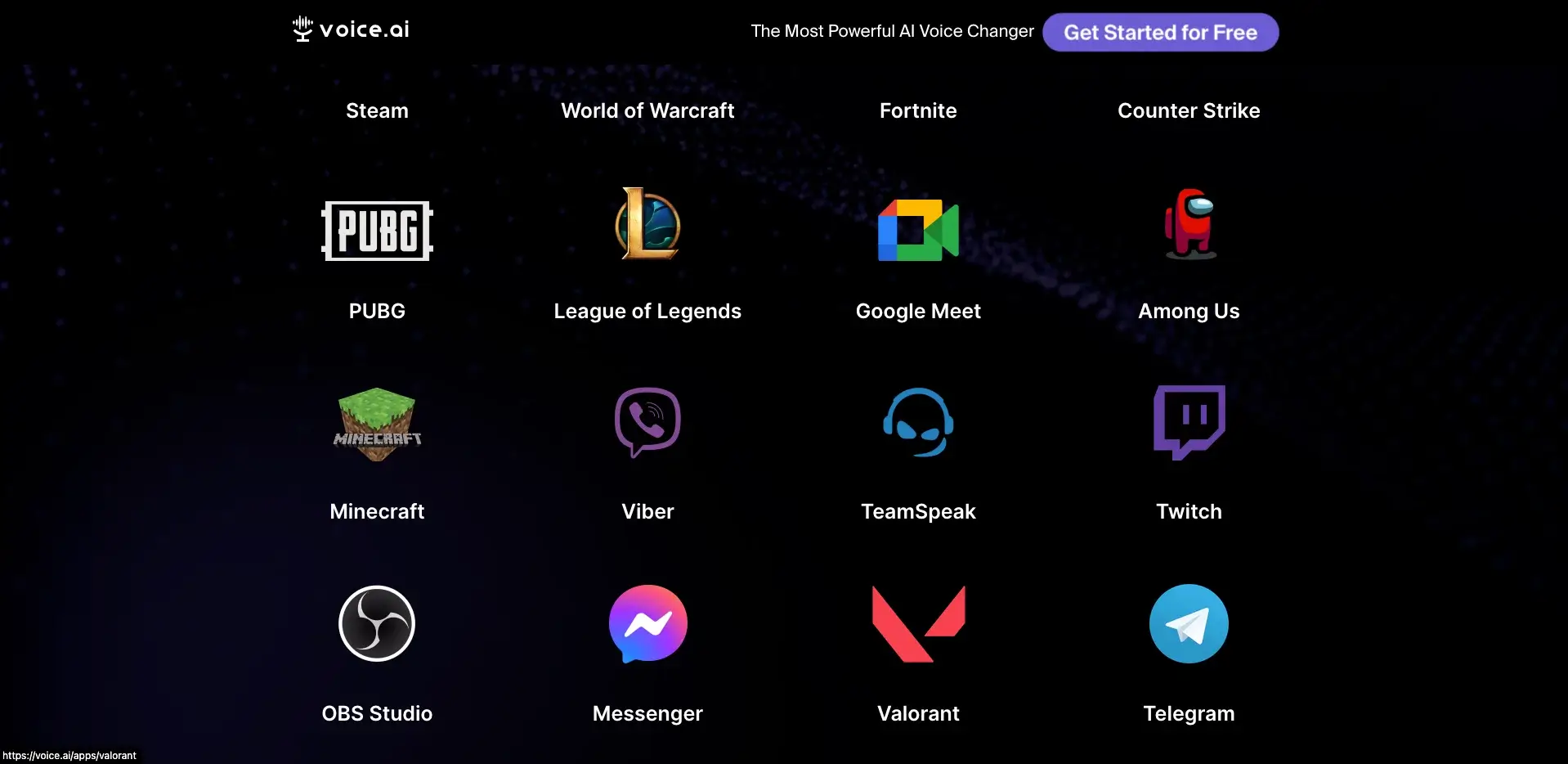 The games supported by Voice.ai are among the most popular at the moment. The platform supports:
Steam;
World of Warcraft;
Fortnite;
Counter-Strike;
PUBG;
League of Legends;
Among Us;
Minecraft;
Valorant.
It is to see if Voice.ai will diversify the apps and games supported, but the voice changer already supports some of the most widely used platforms, which is surely promising.
Customer Support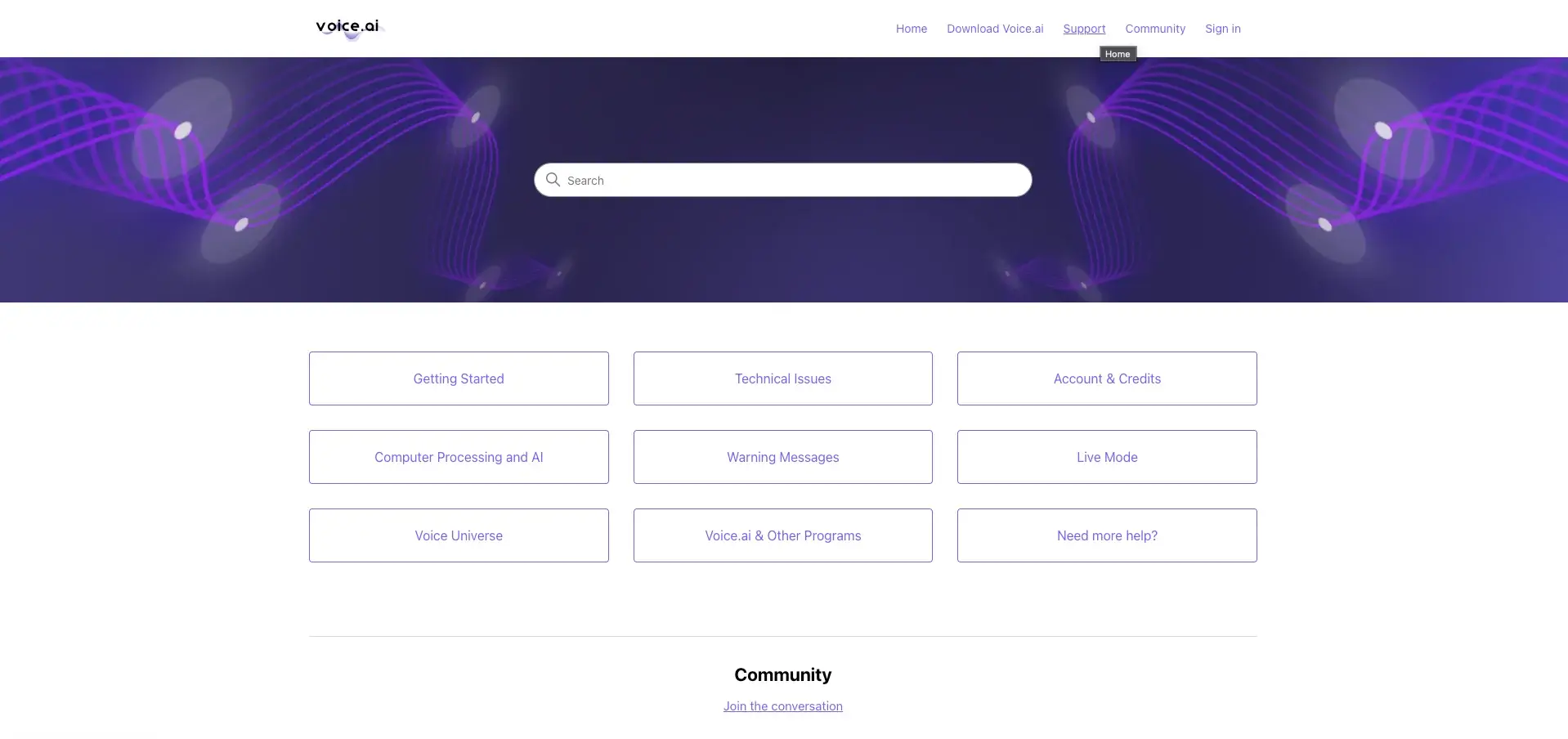 Since AI is still a new concept, it is possible to have some questions regarding Voice.ai and its features. If you do, you can always contact the customer support team. Besides, you can connect with the online community where more experienced users can answer at least some of your questions.
Furthermore, if you access the Voice.ai help center, you will notice a "Recent activity" section where users' issues receive comments from other community members or the Voice.ai team members.
Pricing
The intriguing thing about Voice.ai is that you can use it for free without too many limitations. Of course, if you are going to use the platform constantly, you can choose from 2 main pricing plans:
Starter Basic: $29/month;
Starter Pro: $89/month.
How to Use Voice.ai?
As we mentioned earlier, using Voice.ai is extremely simple. To use it, you will first have to sign up on the official Voice.ai website. Click on "Join Voice Universe."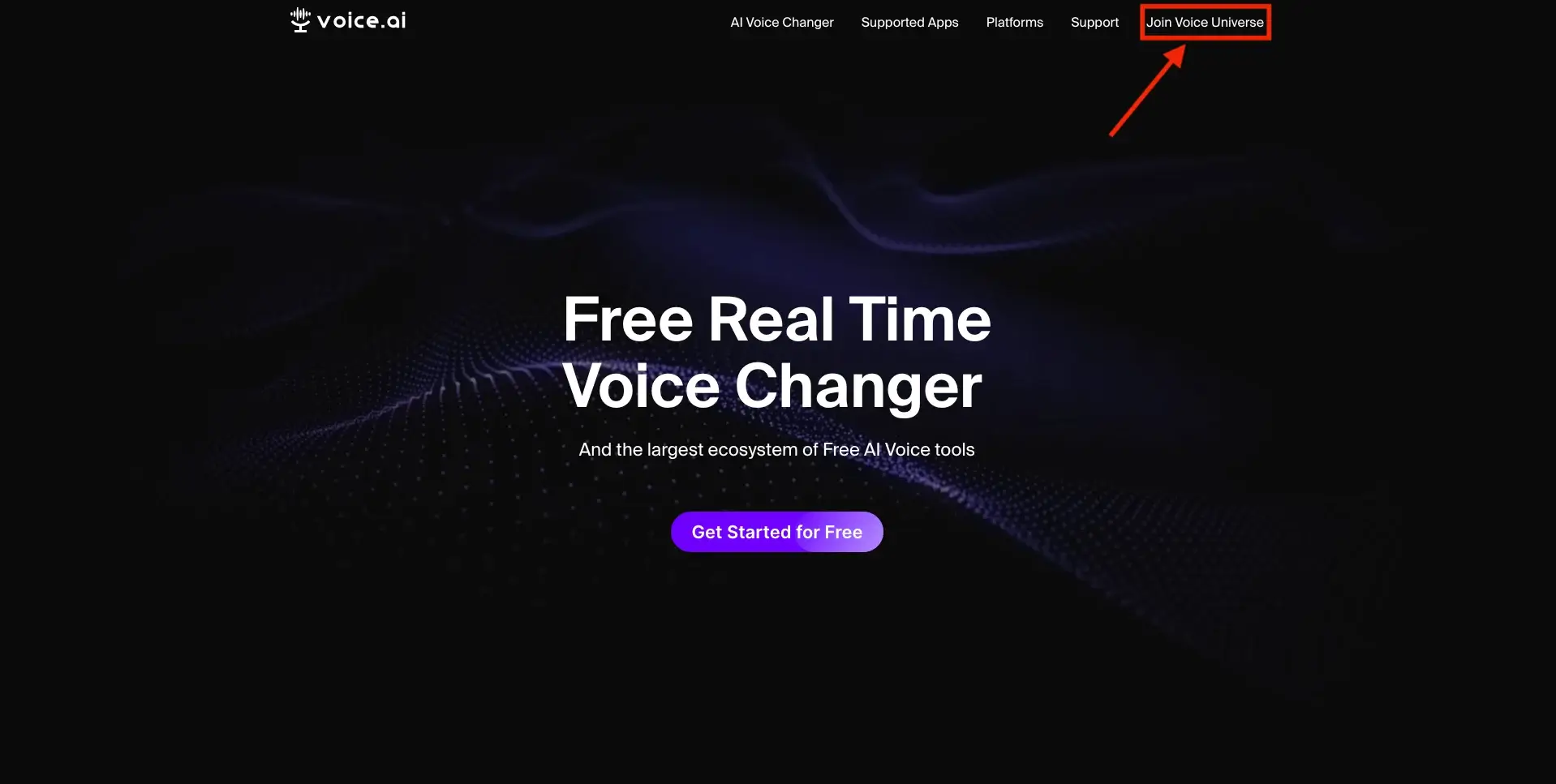 Then, you will have 2 main buttons: "Login" and "Sign Up." Considering that you don't have an account, you should click on the latter.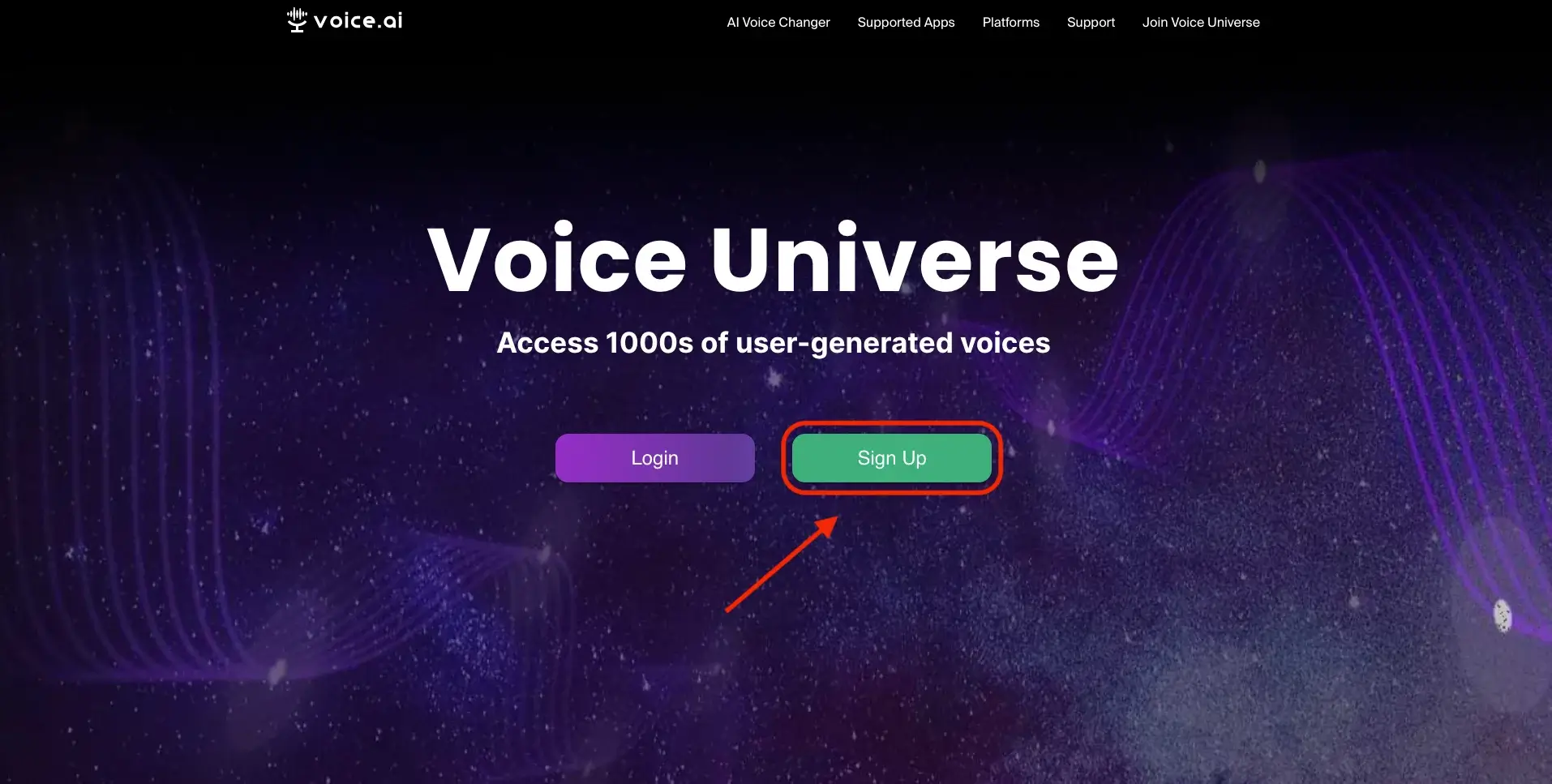 Here, you can choose from signing up with an email or an account you already have (Google, Discord, or Twitch).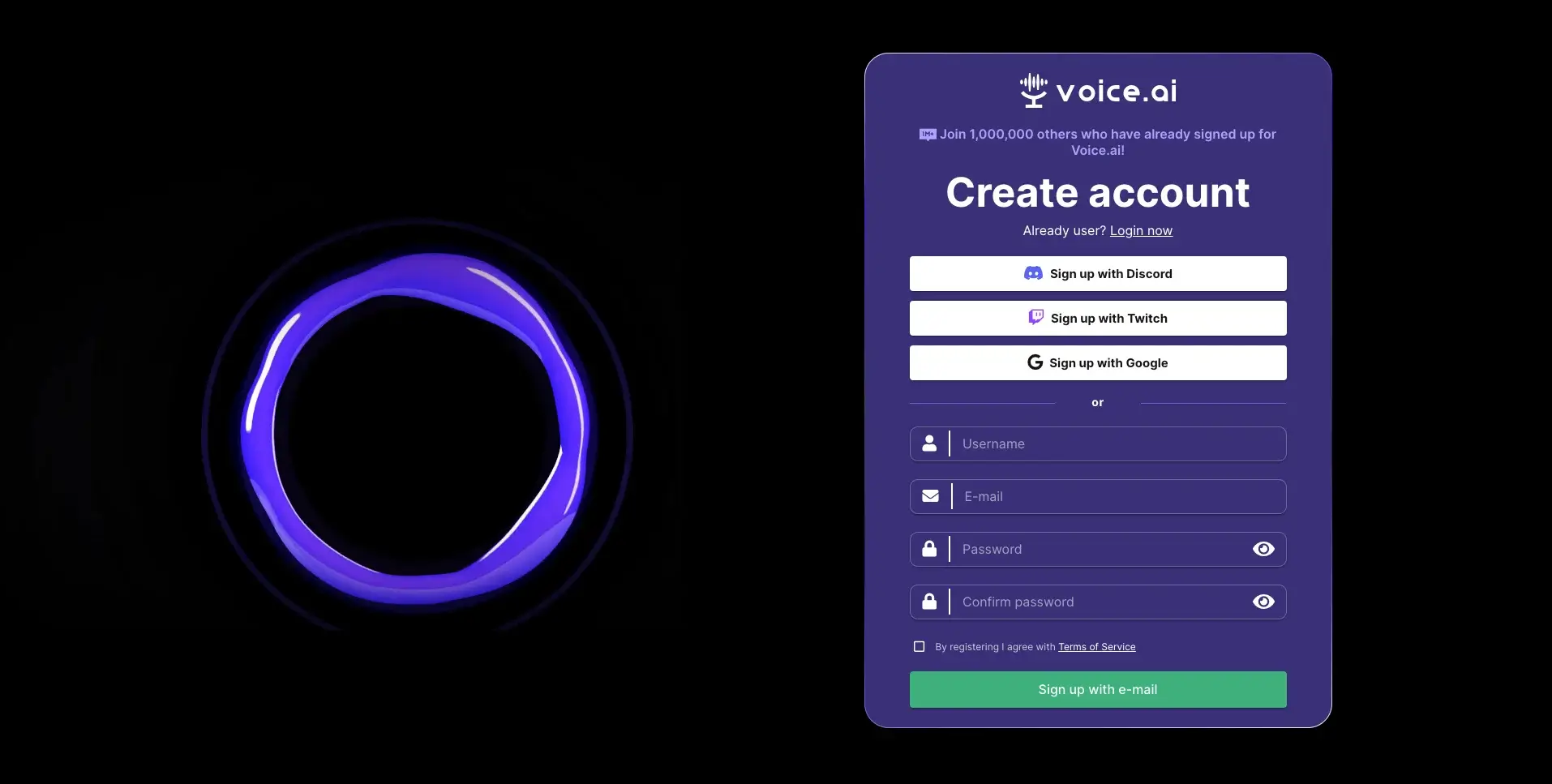 Once you complete the sign-up process, you can explore the Voice.ai interface and start changing your voice with existing ones or those you create and clone.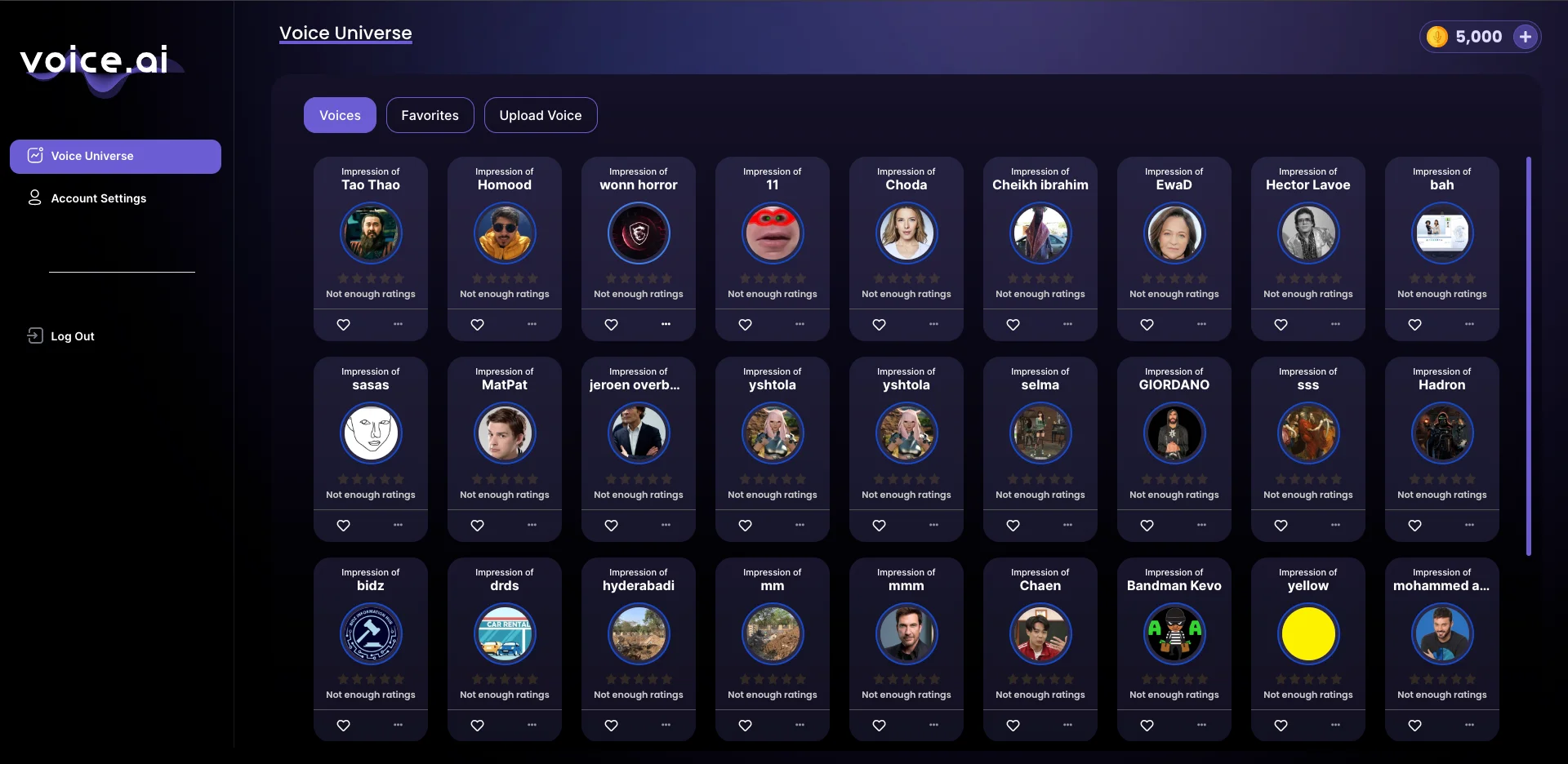 Verdict – Voice.ai Review
If you are interested in technology, you probably have noticed how popular AI has become. Among the platforms available, you can find chatbots, image generators, AI voice generators, AI text-to-speech tools, platforms for voice-overs, and many more. But among all these tools, AI voice generation seems to be one of the most popular concepts.
Voice.ai can be named the best AI voice generator, especially considering that it is available for free. It allows you to change a human voice with options generated with the help of professional voice actors, create different voices with multiple customization options, or even try out voice cloning.
The platform is easy to use and does not require users to have extensive AI knowledge. Furthermore, the available voices sound natural, and you can easily find the perfect voice for your files in the library provided by Voice.ai.
And in what concerns how much we rated it, Voice.ai got a decent 3.5 out of 5. What is your rating for this generative voice AI tool?
No reviews left yet...
Be the first to review Voice.ai!