Find a Perfect No Lag VPN for You
In this editorial, you will find the perfect no lag VPN for your computer, so that you can carry out your activities in optimal conditions.
March 29, 2022 at 1:21 pm in
VPN
Tired of having trouble with your computer when using a poor VPN? You can easily solve this problem by choosing a quality VPN. The new VPN series on the market works easily, without overloading the processor capacity. In this editorial, you will find the perfect VPN for your computer without delay, so that you can carry out your activities in optimal conditions.
What Is the Importance of a No Lag VPN?
By building a private network from a public internet connection, VPN provides online privacy and anonymity. Your internet protocol (IP) address is hidden behind a VPN, making your online activities virtually untraceable. A VPN is very important when you want to hide your IP address. If you want to use various applications that you do not have access to, a VPN can help.
When you browse the web or conduct business on an unprotected Wi-Fi network, you risk exposing your personal information and browsing history. That's why everyone concerned about their online security and privacy should invest in a virtual private network or VPN.
Unfortunately, it's difficult to find the best free no lag VPN for gaming. If you're looking for a perfect no lag VPN for you, here are our top picks: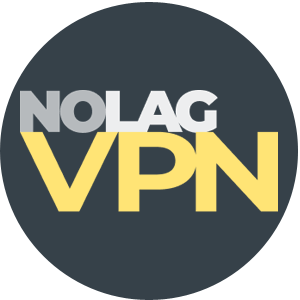 1. NoLag VPN
Using a VPN comes with several advantages, especially when used to play the Warzone game. In addition to utilizing Skill Based Match Making (SBMM), users can reach several areas and play on various servers with the lowest ping possible. All these are possible because the NoLag VPN can mask an IP address.
Besides, a player can use a VPN to connect to a particular server in a location where Warzone is less popular compared to other games. This provides further protection. By hiding the IP address using the NoLag VPN, a user can get an extra layer of protection and limit the chances of DDoS assault.
NoLag is a new kid in the block that has been gaining traction in the world of VPNs. Since its launch in the second half of 2021, it has maintained a steady ranking up the ladder similar to that of the double XP weekend. But what exactly is NoLag VPN? How can you get the best free VPN for gaming? Keep reading this review to get the answers to these questions and much more.
First, NoLag VPN is primarily linked to the game Call of Duty: Warzone. This VPN is downloadable so users can install it to fix gaming lag. Importantly, it ensures high speed without causing any packet loss. As stated on its official website, this VPN is available at affordable prices compared to its peers. It's only $4.99 per month, which is a cost-effective rate for a lag-free Warzone experience.
2. Express VPN Review
Express VPN allows you to connect reliably from any location to any location of your choice. The VPN embraces a network of high-speed servers in 94 countries. This allows users to be in control. With Express VPN, users have a safer internet in just a click, where they can go online without being exposed.
Whether you shop from your desk or connect at a café, this no lag VPN allows you to keep your personal information discreet and secure. You can read more about this in a genuine Express VPN review. With stronger data protection, you are in control of your online privacy and security with the best encryption.
Most importantly, Express VPN covers every device including your phone, computer, tablet, or router, regardless of your location or the type of devices you use. With just a single Express VPN subscription, you're covered. And just in case of any mishap, you can count on the 30-day moneyback guarantee.
3. Nord VPN Review
Nord VPN is another option to consider if you want a perfect no lag VPN for your browser. According to a Nord VPN review, this VPN comes with an impressive list of features including thousands of ultra-fast VPN servers. It delivers virtually unbreakable security for your internet connection, making it one of the best VPNs available today.
With bulletproof security and total privacy, you can browse with confidence using this secure VPN that offers unbeatable AES-256-bit encryption. This technology ensures that no other third parties can snoop on your browsing activities. Additionally, by connecting to Nord VPN, you can hide your IP address and prevent others from tracking where you are.
How is Nord VPN when it comes to privacy? According to one genuine Nord VPN review, the company takes your online security and privacy very seriously. For that reason, Nord VPN comes with a strict, no-logs policy reviewed by PricewaterhouseCoopers. This means they don't collect your data. They don't show anything regarding your online activities to anyone.
4. Proton No Lag VPN Review
According to a Proton VPN review, it's a community-driven VPN service. As stated on their official website, they listen carefully to their customers and modify their product according to their needs. Proton VPN stands out as one of the best no lag VPNs available today, thanks to its strong encryption protocols.
Their apps are linked to the OpenVPN and IKEv2, which are secure VPN protocols implemented at their strongest encryption settings. For instance, both OpenVPN and IKEv2 deliver the following security features:
It comes with an AES-256, a NIST-approved cipher that shields your actual data, which the US government uses to secure top-secret information.
It contains the RSA-4096 cipher that secures the TLS key exchange used to launch a secure connection between your device and the VPN servers. This combination is the most secure encryption.
Additionally, it includes forward secrecy that generates new keys for each VPN session. This implies that should one session be compromised, no other session will be compromised again because the keys rotate regularly within each session.
5. Cyberghost VPN Review
The manufacturers of Cyberghost believe that data is the new gold in the digital era, which is characterized by privacy invasion and tracker exploitation. They have built a tool that provides anonymity and privacy while browsing online. Cyberghost protects your privacy, expands your freedom, and increases your safety online.
The company stands behind its product with a free trial, so users can trust them fully. As revealed in a Cyberghost VPN review, the product comes with top features that keep you out of snooper's reach. It operates on a NoSpy data center that keeps it from mass surveillance and out of third-party interference.
Additionally, the servers feature 256-bit AES encryption. Most importantly, they are located in Romania where they're out of the jurisdiction of the 14 eyes. The no lag VPN embraces the no-logs policy, which is your warrant against spying or recording of your online activities.
The VPN operates independently at the highest security standards. Only the CyberGhost team has access to the NoSpy servers to control and operate them. This significantly lowers the risk of exposure and snooping from external factors. Additionally, servers are insulated from any form of compromise because the product's team manages them from end to end.
6. Hola VPN Review
Hola VPN claims to put power back in your hands by offering instant protection to enhance your online privacy. This means you can browse the internet safely and anonymously. It allows you to access your favorite TV shows, games, or favorite movies in more than 190 countries.
According to the official website, this VPN delivers fast speeds from local servers while unblocking Netflix and several other streaming services. You can open Netflix, Prime, Hulu, HBO, BBC, iPlayer, and more using this no lag VPN. Importantly, you can do all these even with the free version.
In addition to a 30-day moneyback guarantee, this VPN comes with top security and privacy features including end-to-end encryption and a no-logs policy. Additionally, Hola VPN can support multiple devices and up to ten simultaneous connections without diluting the stability of the connectivity. Most importantly, Hola VPN offers a free and paid subscription. If you are interested in this VPN, you can check more information on our Hola VPN review.
No Lag VPN – Conclusion
Using a VPN can help you secure your personal data and protect your privacy online. If you're looking for a perfect no lag VPN, this list can help get you started. It's always important to get a VPN from a trusted source.
Featured image: Unsplash.com