ProtonVPN Review – Features, Security, and Usability
In this ProtonVPN review, we give deep scrutiny of the ProtonVPN free trial and an analysis of whether ProtonVPN is safe.
April 13, 2022 at 8:16 am in
VPN
Looking for a ProtonVPN review? You have come to the right place. It is common for VPN providers to assure their digital consumers that they are the experts when providing them with the privacy they deserve. However, ProtonVPN promises and ensures that its users have the best secure internet connection.
In this ProtonVPN review, we give deep scrutiny of the ProtonVPN free trial and an analysis of whether ProtonVPN is safe. It should be noted that ProtonVPN is hosted by a company with a superb track record to affirm its privacy. This Swiss-based company is also the brain behind ProtonMail, one of the most secure email services with end-to-end encryption.

ProtonVPN Review – Introduction
ProtonVPN is a highly established VPN service with 1685+ servers in over 60 countries. This company, established in 2014, has made it its goal to provide its users with the needed top security on their online escapades.
Proton headquarters are located in Geneva, Switzerland, one of the countries in the world with extreme privacy laws. However, through ProtonVPN, users have the chance to achieve internet privacy with a company that has a long track record of security.
Proton Features
Here are essential features of Proton:
Streaming and Unblocking Capabilities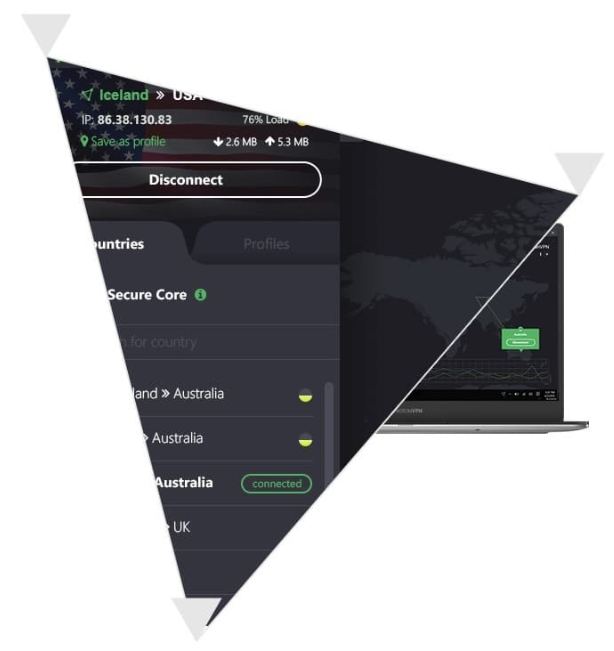 ProtonVPN is a powerful VPN in the streaming and unblocking arena. When using ProtonVPN, you are most likely to unblock several platforms without any issue. However, it should be noted that long loads might eventually cause a strain on the streaming experience.
ProtonVPN provides its users with Ultra HD (4K) videos quickly without any buffering in streaming. In addition, users can easily unblock and stream Netflix content through the help of ProtonVPN. However, those using ProtonVPN free trial will lack the opportunity to access these unblocking premium features. Therefore, those wishing to enjoy this content should purchase premium ProtonVPN.
Speeds
ProtonVPN gives its users very decent speeds on all of its servers. When using the OpenVPN(UDP) protocol, the speeds are more likely to be faster than other protocols. However, the speeds begin to slow down at long distances, but they remain manageable.
Netshield Feature
Netshield is an adblocker feature by ProtonVPN. It protects all its users from websites, hosts ads, and other malware that may track user information. In addition, ads, malware, and trackers will be blocked from loading, giving users the security they need. Unfortunately, speeds will also increase significantly when the Netshield feature is in place. Let's see other features from this ProtonVPN review.
Kill Switch Feature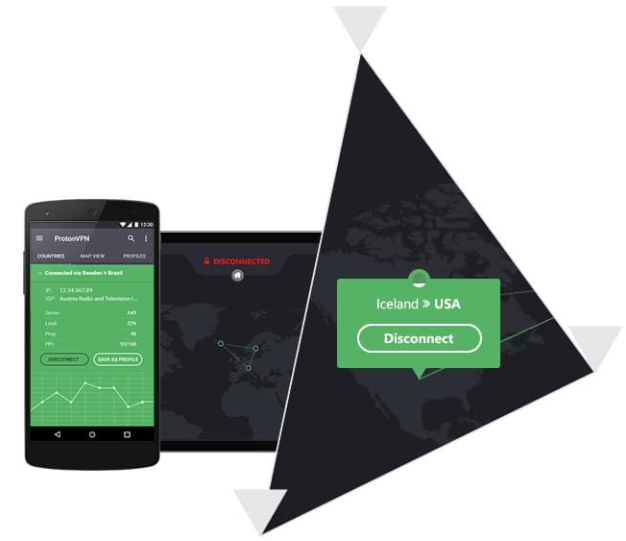 The kill switch feature is an important feature that every VPN should have. This feature is meant to disconnect users from their network traffic when the connection with ProtonVPN is lost. In that case, their network information will not leak to third parties.
However, to ensure that users have an easy time reconnecting when the network connection is back, ProtonVPN introduced an Always-on feature that reconnects the user back to the server. This ensures reliability as well as privacy.
Physical Security Measures: Is ProtonVPN Safe?
ProtonVPN offers military-grade protection to all its users using AES-256 encryption. However, ProtonVPN has extra physical features to ensure constant security. Its critical infrastructure is located in Switzerland is 1000 meters below the surface. Their servers in Sweden and Iceland are located on either Military bases or underground, making their access hard to reach.
Secure Core
The final feature in this ProtonVPN review is the certain core features that route its users' internet traffic through multiple servers before it is connected to the internet. When connecting to the internet, your IP address will be bounced back from several servers, thereby hiding it from third parties, protecting your privacy.
Is ProtonVPN Safe?
Based on the security features that ProtonVPN has in place, it is clear that this VPN is safe to use. Its users have been protected from everything that could inhibit them from achieving the needed internet privacy. For example, ads, trackers, and malware have been blocked, and their IP address is channeled through several servers before connection. In that case, ProtonVPN is a highly secure VPN that guarantees its users the needed security.
How to Use Proton
Using the ProtonVPN is a simple task that everyone can do with little effort. All you need to do is first decide on the plan you will be using for the VPN. While ProtonVPN offers its users a free plan, the paid versions have more elite features that would significantly improve the privacy experience. Once you have an account set up with ProtonVPN, here is all you need to do:
Step 1: Log in to your ProtonVPN account with your unique username and passphrase.
Step 2: Click the CONNECT button located on the top left side of the screen. Users who wish to connect to a random server in a specific country will choose from the list of countries and click on their choice. The ProtonVPN will automatically create a connection with the fastest profiles.
Step 3: For those who wish to connect on a specific server in a specific country. They will click on the arrow at the end of the country, and it will show you all the servers available in that country. Users will then be able to find out the features of those servers by clicking on the green, yellow, or red circles present on the servers.
Once these steps are followed, users can easily enjoy the privacy they need until they choose to disconnect the VPN.
ProtonVPN Review- What Else Do You Need to Know
Those willing to use ProtonVPN to maintain their internet privacy should use three necessary plans. This ProtonVPN review features them. The basic plan provides its users with over 450 servers spread in over 40 countries.
ProtonVPN users will have two connections with high speeds charged at €4 a month and billed at €48 yearly. Users will also access blocked content, have the Adblocker(Netshield) feature, and P2P/BitTorrent support. On the other hand, the Plus plan gives ProtonVPN users access to 1600+ servers distributed in 63 countries and will have ten high-speed VPN connections.
Other features added to this package include streaming service support, secure Core VPN, and Tor over VPN. ProtonVPN also offers its users the Visionary plan at €24 a month, billed at €288 yearly. This will feature the entire Plus plan with an additional ProtonMail visionary account.

Related articles: WinZip Review | Windscribe VPN Review | Free VPN Germany
ProtonVPN Review – Conclusion
Through this ProtonVPN review, it is clear that this VPN is best suited for individuals and businesses. The security protocols integrated with this VPN are top tier, and therefore, ProtonVPN users will always be protected. Additionally, unlike many other VPNs, ProtonVPN has taken an extra step to secure its VPN servers.
They also have proper plans for everybody ranging from the free version to the visionary plan. The visionary plan is well suited for businesses since it also offers secure mail services. However, it should be noted that the pricing of ProtonVPN is quite steep, and therefore, if the price is a significant factor, users will need to find other options.