Apple Books App Review – Everything You Need to Know
If you're a book lover, you'll certainly love the Apple Books app. It's one of the best platforms if you want access to all kinds of texts. It's known to have a great interface and boasts a futuristic design, specific to the Apple brand. So, if you're interested, keep reading our Apple books app review […]
If you're a book lover, you'll certainly love the Apple Books app. It's one of the best platforms if you want access to all kinds of texts. It's known to have a great interface and boasts a futuristic design, specific to the Apple brand. So, if you're interested, keep reading our Apple books app review as we'll be taking a look at Apple's leap into the E-book industry.
Apple Books app not for You? Try Blinkist Instead!
Our Pick
Blinkist
The biggest advantage of having a Blinkist membership is that you have access to summaries of the world's best nonfiction books. This is great if you're a student who has to write a report for school or university and need a quick summary of a certain text.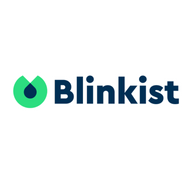 Apple Books Review – At A Glance
If you want a library with a wide range of titles, Apple Books app is for you. Now, it wasn't always called this. In fact, the site used to be called iBooks, reminiscent of many of Apple's products. It was released as an app in 2010, along with the iPhone and iPad as a vision of Steve Jobs.
Over time, it progressed along with its tech counterparts, getting updated with each rendition of the iPhone. As of 2018, it took the leap and rebranded itself as the Apple Books app.
Although it could only be used as an app, in 2013 it ventured into the world of computers, giving MacOS users to access it. As of now, it's exclusive to Apple devices, and can only be accessed by the iPod, iPad, iPhone, and Mac computers.
We can expect the Apple books app to keep updating, as new technology is introduced. And possibly, it'll be available to Windows users and android phones in the new future. But for now, let's see what this Apple Books Review has prepared for us.
The Pros
We've run through everything you need to know about the service. Now, let's dive into some of Apple Book's many pros.
It's Free
All IOS users have free access to Apple Books app. The moment you switch your device on, you'll see it installed on your phone, so you don't have to pay to get used to its services. If you happen to uninstall it you can always get it back for free from the Apple store whenever you want.
As you can see, it's not a subscription service. So many users would find this appealing.
Audiobooks
Unfortunately, it's not a site exclusive to audiobooks. Instead, everything in its library is an e-book. However, users who want to enjoy an audiobook can still use the app as all its texts can be read from page to page with the voice feature. This way, texts can be transformed into an audiobook with the flick of a button.
Free Books?
If you have an IOS device, you will have access to a number of free books with the Apple Books app. This is because the brand has partnered with many organizations, so its library is filled with all sorts of free texts. What's best about this is that the free titles are what content readers love; they're best sellers and other acclaimed works.
You may think the selection of free books is small, but it's not. Apple has at least 30,000 free titles for users to choose from, all from Project Gutenberg. With time, you can expect them to roll out more free texts.
Are You A Fan Of Oprah?
Everyone loves Oprah Winfrey, who is a modern-day icon. If you are a fan too, you'll love using Apple Books app for your audiobook needs. The service has partnered with Miss Winfrey herself and will notify users about releases of her favorite books every month. Thus, you'll be a part of Oprah's exclusive book club!
It Supports All Kinds Of Texts
Apple Books app isn't just for novels. Its interface is designed to support all kinds of texts, except for those in the Kindle format. Because of this, you can get books, pdf files, and other documents in its library.
Download Anything You Want
As mentioned, the library supports various files. So, you can find anything you want. Once you get hold of what you want, you can download it on your phone. It will be saved on to Apple iCloud, and you can access it whenever you want.
It Looks Great
Apple devices are known for their sleek designs. You can expect a similar futuristic feel with this service too. Users have noted that it's very chic and is possibly the easiest interface to run through. Hence, you can easily listen or read your favorite titles without getting confused.
This ease translates to your account as well, allowing you to create a library to stock your selection. Further, you adjust and customize it whenever you want.
Another bonus feature is that the interface recommends titles that are similar to books you've read.
The Cons
Now let's discuss in this Apple Books app review some of the cons of using the service.
It's Only Available On IOS
If you like how it sounds so far, you might be keen to get an Apple Book account. Unfortunately, this is not possible for everyone as it's only available on Apple devices. So, if you use Android or a Windows device, don't get your hopes up.
It's Limited On The Mac
Although it's available on Mac computers, its services are limited here compared to those on IOS devices, which is a shame.
How Big Is Its Library?
What's unfortunate is that Apple hasn't released information on how big its library really is. Because of that, we may never know if the Apple Books app has a huge selection or not. However, we do know that there are over 30,000 free titles, courtesy of Project Gutenberg.
It's Expensive?
If you go through its store, you'll be taken back at the price of some books. They're quite expensive if you compare them to other audiobook sites or even bookstores.
Your Books Are Gone Forever
As mentioned, you can download titles in any file you want, saving it to your iCloud. Although the file would be stored here permanently, the moment you switch to an android device, you would lose access to the book. This means it's gone forever and so is the cash you spent on it.
How Are Your Eyes?
If you're using the library to read e-books, you may find it a bit uncomfortable. This is because Apple devices do not offer a backlit screen. This makes reading outdoors almost impossible. However, you could always switch to the audio version of the text, eliminating this issue.
Conclusion
This was our Apple Books app Review. If you take the above points into consideration, Apple Books is a phenomenal app to get free texts. Although large in size, we don't really know how big the library is, which makes it a risky investment.
If you have an Apple device, however, do check it out!