Gate.io Review: About This Exchange
In this Gate.io review, you will find everything you need to know about this cryptocurrency exchange.
Gate.io is among the pioneer exchanges that have been operating in China since 2013. After rebranding in 2017, it's among the fastest-growing crypto-to-crypto exchange platforms with numerous cryptocurrencies to buy and sell. It offers Initial Exchange Offerings (IEOs), several cryptocurrencies, and margin lending or borrowing, among others. In this Gate.io review, you will find everything you need to know about this cryptocurrency exchange.
Gate.io promises to be a one-stop platform for crypto-to-crypto trading. With more than 1000 cryptocurrencies on board, it covers more than 350 markets. Users can easily buy and sell cryptocurrency in these markets. The platform also offers peer-to-peer transactions through its "push transaction" feature.
One outstanding aspect of Gate.io is its security protocols. The platform offers several security protocols to ensure users' funds are safe regardless of the device they use for browsing.
Gate.io Review: Introduction
If you're looking for a reliable crypto exchange platform, Gate.io is among your best options. Unlike other websites or apps that cover only a few cryptocurrencies, Gate.io has hundreds of cryptocurrencies on board and covers hundreds of markets. In this Gate.io review, we expose everything you need to know about this platform.
This Gate.io review evaluates various trading methods, security protocols, and trading fees, among others. The platform brings together uncountable cryptocurrencies under one roof, making it easy even for beginners to trade. Besides, the platform is easy to navigate and even accessible through the Gate.io app.
The "Markets" tab provides a list of hundreds of cryptocurrencies, allowing traders to search for their preferred currencies. Traders can equally view the current order book and prices across different markets and information regarding their preferred cryptocurrencies.
We also recommend: No Lag VPN
Gate.io Review: Platform Features
The Gate.io platform embraces the following key features:
A Wide Selection of Cryptocurrencies
Gate.io exchange is known for its wide selection of cryptocurrencies. Currently, the platform supports more than one thousand coins across several markets. However, the platform deals only on cryptocurrency—no fiat trading.
Platform Functionality
Gate.io exchange allows users to trade in hundreds of cryptocurrency markets where they can margin trade with up to ten times leverage. They can also margin borrow or lend funds while participating in period investment plans. Importantly, the platform offers a low-fee service with various discounts.
Platform Security
Gate.io exchange embraces strong security protocols to ensure that its users remain safe at all times, whether they use the website or the Gate.io app. It's also secure in all locations from Gate.io USA to any other location where one may browse from.
Overall, Gate.io exchange has a friendly customer support system, which includes a 24/7 live chat for all users. Besides, the platform has a FAQ section and a New User Guide for new traders.
Gate.io Review: Platform Fees
Gate.io exchange is very transparent when it comes to fees and the type of trading it offers. With competitive prices, it charges only 0.2% on market activity, with rates ranging from 5% to 18% on crypto lending. Overall, the withdrawing fees on the platform are very low.
With no deposit fee charged and 0.2% on spot and margin trading, the fees are somehow competitive. Withdrawal fees are minimal and depend on the cryptocurrency in question. This makes Gate.io the cheapest platform when trading individual coins like USDT, ETH, and TRX. However, it could be expensive to withdraw mainstream coins like BTC, XRP, or XMR, among others.
How to Get a Gate.io Exchange Account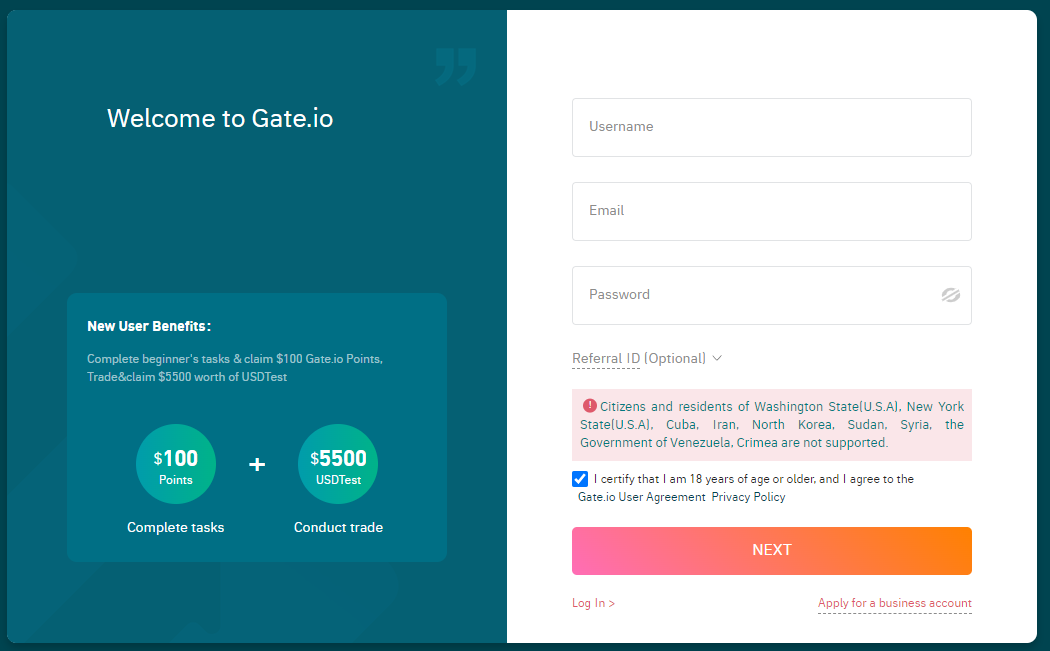 Let's see in this Gate.io review how to get an exchange account. To get started with Gate.io, users simply need to go directly to the official website and hit the Sign-Up button. The next step is to enter details in the sign-up form. Remember to write down your password because you'll need it to log into your account. Similarly, you'll need a Fund password to withdraw funds. Once done, proceed to the Create Account button at the bottom of the form.
After hitting the Create Account button, you can confirm your e-mail, which is the final step to get your account up and running. Go to your inbox of the e-mail you used to create the account and confirm your e-mail. All the same, for full use of your account, you need to do identity verification as required by KYC policies.
You can confirm your identity through your account settings. To secure your account, remember to set up two-factor authentication. This is important before you make any deposit.
Design and Usability
In this Gate.io review, we will talk also about design and usability. Like other mainstream crypto exchanges like Binance, KuCoin, and others, Gate.io maintains a simple design and an easy-to-navigate user interface. It's easy to explore different sections of the site, even with several features on the site. You can view the cryptocurrency markets, Coin List, margin trading, lending, and borrowing, among others.
The markets are easy to find by using the search function on the home page. Additionally, you can easily switch from one market to another by just scrolling the Markets tab on the home page. Even with multiple features, it's still easy to explore each function without a hassle.
Cryptocurrencies Supported on Gate.io
Gate.io exchange is currently home to more than a thousand cryptocurrencies across hundreds of markets. If you're looking for cryptocurrency exchange with multiple cryptocurrencies to trade, Gate.io gives you more than you need.
When you explore the Markets tab, you can find a list of cryptocurrencies available. Besides, you can use the search function to locate your preferred cryptocurrency. Most importantly, the platform allows you to place a limited order, launch basic or professional trading. The following are just some of the cryptocurrencies currently supported by the Gate.io exchange:
Gate Token (GT)
Bitcoin (BTC)
ETH
LUNA
XRP
AVAX
SHIB
DOGE
BNB
RACA and many more
Gate.io Review: Conclusion
Overall, Gate.io stands out as one of the best cryptocurrency exchanges available today. It works best for more seasoned crypto market traders. In addition to its wide collection of altcoins, it attracts investors with its lucrative ten times margin trading, IEO platform, and a lot more. While it could offer too much to digest for consumers, it makes it easy for both professionals and beginners to engage actively in crypto trading.