Trezor vs Ledger – A Detailed Crypto Wallets Comparison
This guide aims at giving you a detailed analysis of the Trezor vs Ledger wallets and the advantages that each has over the other.
Those who have been in the crypto space long enough understand that managing crypto after purchasing them can be a daunting task. In addition, it is common to hear that investors have lost their cryptocurrencies through theft. Therefore, to ensure that yours are kept safe, you have an idea regarding Trezor vs Ledger crypto wallets.
Trezor and Ledger are currently the top two manufacturers of crypto hardware wallets all across the globe. Trezor and Ledger wallets allow crypto investors to send and receive transactions directly from their wallets without risking their security. This guide aims at giving you a detailed analysis of the Trezor vs Ledger wallets and the advantages that each has over the other.
About Trezor Wallet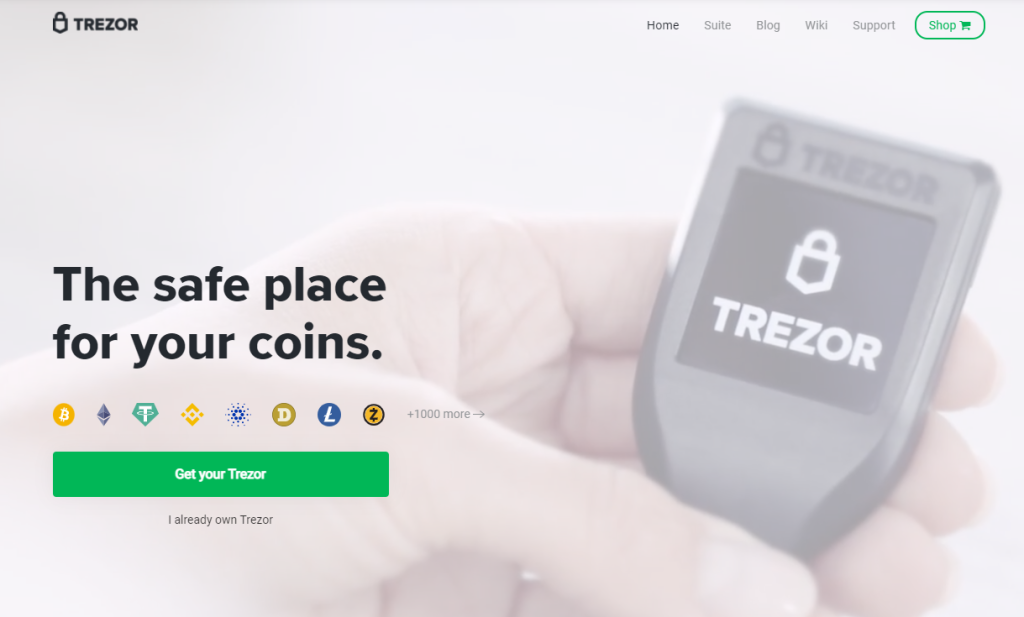 Here are some things to know before choosing Trezor. The Trezor wallet was founded in 2013, with its headquarters located in Prague, Czech Republic. This hardware wallet is famous for its unmatched security and its simplicity when it comes to crypto storage. Trezor wallet owners are most likely to appreciate the fact that it is easy to use regardless of the user's experience in the sector.
The motivation for coming up with the Trezor wallet was to ensure that third-party fraud, hackers, and viruses were eliminated simply and straightforwardly. With the Trezor wallet, you could easily keep your valuable coins offline until when you need them. Since it was launched, the Trezor wallet has built a solid reputation. More about in Trezor review.
About Ledger Wallet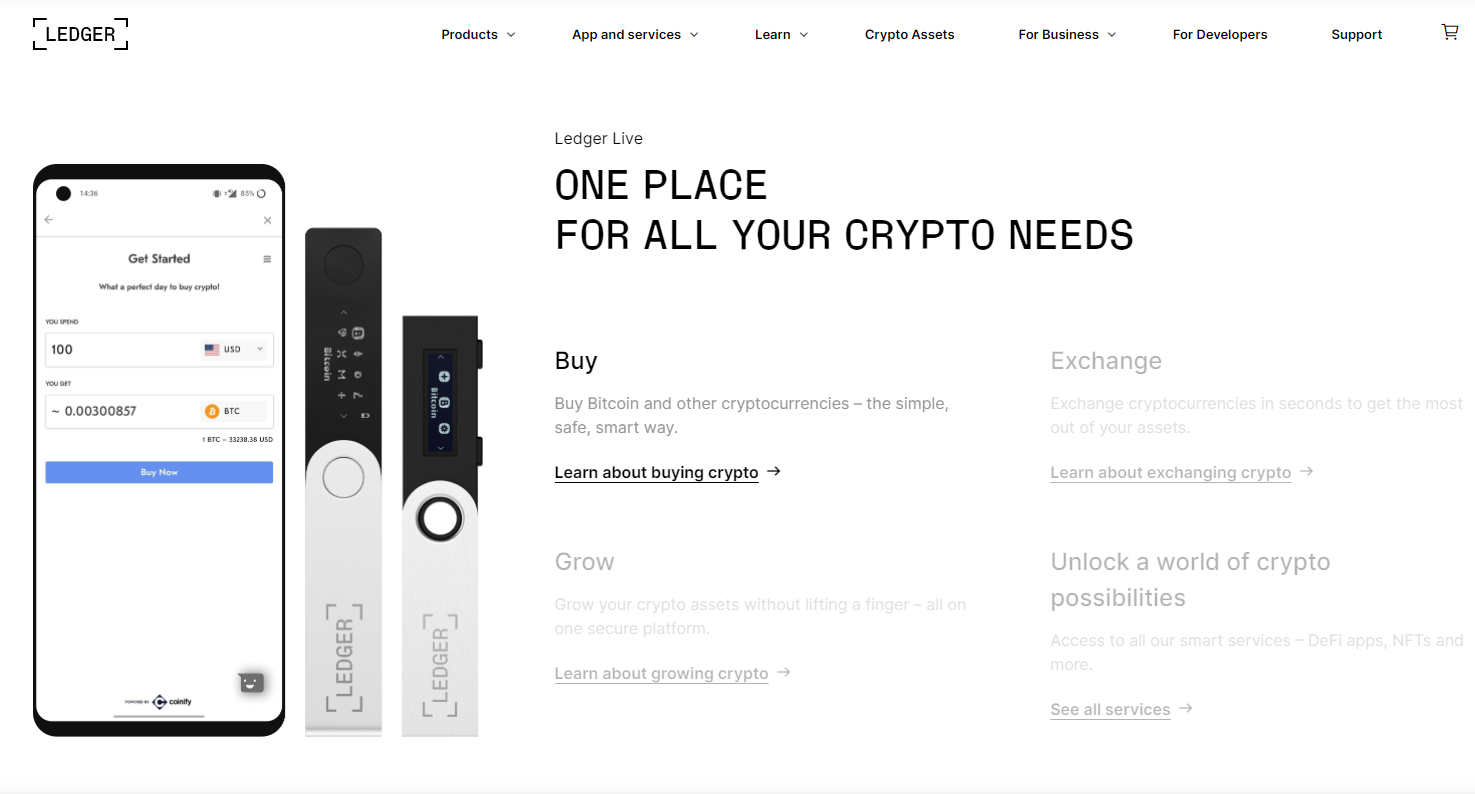 The Ledger came into existence in 2014 through eight individuals with embedded security in crypto and knowledge in finance. The source of their motivation was to increase the security needed in transacting crypto. The best solution for them was to have an external crypto wallet that would guarantee investors of security. They currently have over 80 employees in San Francisco, Paris, and Vierzon. The growth in the crypto world will certainly guarantee them an increased scale-up, leading to more wallets being created. For more information about this crypto wallet, please check the Ledger review.
Features Comparison
Ledger Nano X vs Trezor T Ease of Use and Security
The most compelling feature in the Ledger Nano X vs Trezor T wallets is their ease of use and security. Both wallets are considered fairly easy to set up, as they require the user to go through a thorough verification process, after which they will set up their passphrase to access their Ledger.
The security has been buffed up in both wallets through the additional two-step verification associated with using the wallet. It is important to note that even though both the Ledger Nano X and the Trezor T have the full support of Bitcoin Improvement Proposals (BIPS 39), only the Trezor T has backed up private key security.
It is also significant to understand that there have been security issues with both wallets in the past. For instance, in 2020, there was a security breach with Ledger leading to the exposure of client information.
Apart from that, Trezor's wallets could also be hacked by Kraken through their security test as part of vulnerability testing. Clearly, these security issues should have been dealt with by now, but it is important to note both hardware are not impenetrable. Regarding access, this ease of access only gets the Ledger Nano X so far, as it meets its first block on its button spacings. The button spacings make it extremely hard for the user to read as opposed to the Trezor X.
The Trezor X possesses a color touchscreen that brings to it a fancy feel and ease of access to the user. On the other hand, the Ledger Nano X has been able to counter its limited ease of access through the Ledger live app available for both mobile devices and desktops. Through this application, users can manage and transact crypto in real-time.
Finally, Ledger Nano X has an added Bluetooth advantage that allows users crypto investors to connect to their phones wirelessly, whereas you will need a USB cable to connect to the Trezor T model.
Ledger Nano X vs Trezor T Pricing
The other significant difference occurring between the two models, the Ledger Nano X and the Trezor T, is about their prices. Since both are premium devices, they are not expected to be cheap. The Trezor T model costs 164 Euros, while the Ledger Nano s costs $119. It is clear that the Trezor T model is more expensive compared to the Ledger Nano S due to the special features that it offers its users, such as the color touchscreen, which improves the ease of access.
Ledger Nano S Supported Coins
When it comes to the Ledger Nano X vs Trezor T in terms of supported coins, the Ledger Nano X has the ability to support more coins compared to Trezor T. The Ledger Nano S can support over 1500 coins while the Trezor T supports at least 1000 Coins. However, both wallets can support all the coins that are mostly traded. On the other hand, the Ledger Nano S model also supports several coins, including:
Bitcoin
Ethereum
Bitcoin Cash
Ethereum Cash
Litecoin
Dogecoin
Zcash
Ripple
Stratis, and more
Related articles: Kucoin Review | FTX Review | MoonPay Review
Trezor vs Ledger | Verdict
Looking at the Ledger vs Trezor showdown, specifically on their models Ledger Nano X vs Trezor T, it is clear that both wallets have been developed with the intention of helping crypto investors secure the coins they have in their wallets as well as to conduct easy transactions. Both wallets have also been given investors the opportunity to transact thousands of coins and exchanges.
However, the Ledger Nano X has an added advantage compared to the Trezor T model as it gives its users the opportunity to monitor their wallets through their android/iOS application. In addition, courtesy of Bluetooth technology, Ledger Nano X users can easily link their wallets to their phones and go on conducting transactions, an advantage that Trezor T lacks.
Even with the added touchscreen feature that Trezor T has, it still cannot outweigh the advantages that the Ledger Nano X possesses. In that case, in the Ledger vs Trezor comparison, the Ledger takes the day.