Trust Wallet Review | Fees, Browser, and DApps
In this Trust Wallet review, let's uncover how this startup is redefining the digital currency ownership process from the ground up.
Sailing the high seas of the cryptocurrency market requires a great deal of trust in the institutions that underpin the success of the industry – Trust Wallet empowers people to invest in crypto. Trust Wallet found mainstream success by giving people the power to secure, manage, and invest digital assets without technical requirements. Keep reading this Trust Wallet review to find more.
This startup is making cryptocurrency ownership simple, faster – and most importantly, more accessible to everyone. In this Trust Wallet review, let's uncover how this startup is redefining the digital currency ownership process from the ground up. With over 10 million people using Trust Wallet, crypto investing has become simple, with superior support along the way.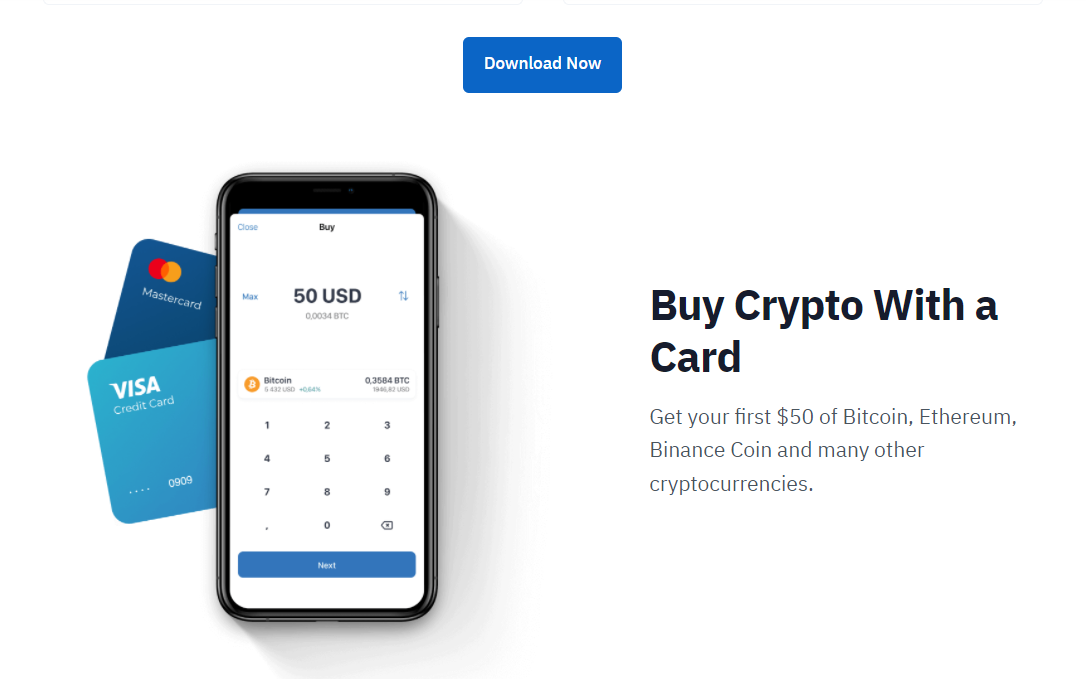 Trust Wallet Review | Introduction
Launched in 2017, Trust Wallet has been looking after the financial best interests of the up-and-coming, beginning with empowering millions to store crypto assets. They provide the global crypto tools people need to adopt digital assets, accept crypto payments, and enable transactions between users. It is reimagining the crypto experience so every user can realize their full potential.
What Is so Attractive at Trust Wallet?
Trust Wallet is a simple, elegant, and secure platform to invest in the crypto industry. The company designs products that empower this new industry. You can literally take part in some of the most lucrative opportunities in the industry, as straightforward as setting up an email address – in minutes, all online. It is a financial operating system to integrate cryptocurrencies into your daily life. 
With its recent acquisition by Binance, one of the world's largest crypto exchanges, Trust Wallet is now a critical pillar supporting a growing crypto ecosystem. Trust Wallet is a high integrity choice of all the wallets available – backed with an impressive record of earning and maintaining the trust of millions of crypto adopters.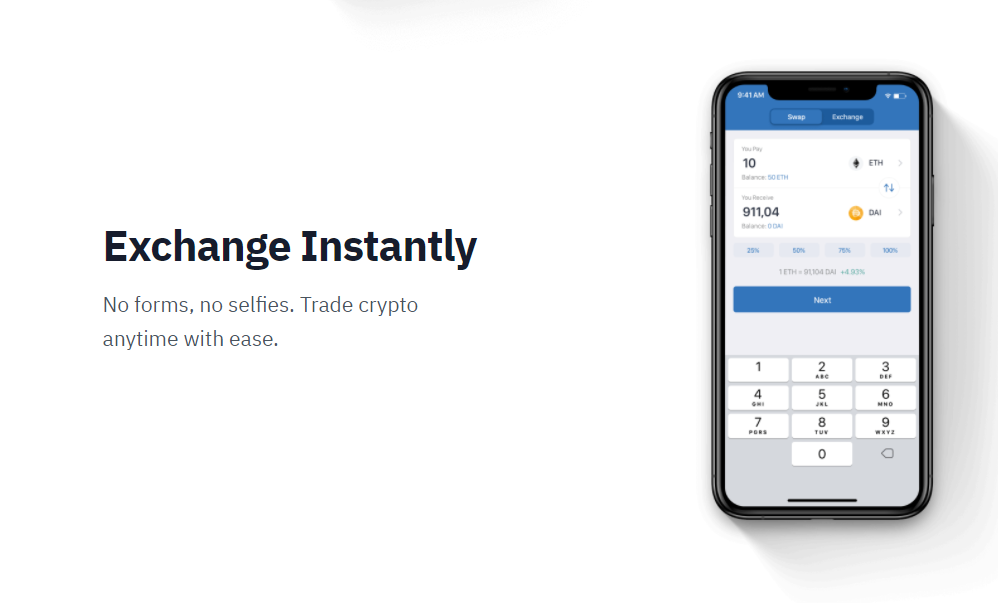 Trust Wallet Fees
The fee schedule of Trust Wallet is unique in the industry because there is none. While other wallets take a small fee every time you send or receive cryptocurrencies to your address, Trust Wallet does not charge the user anything for using the wallet. Trust Wallet is one of the few wallets in the industry that operate under a no wallet fees regime. 
Users can also swap their favorite tokens on the Binance smart chain at no extra cost. There is no reason to leave the wallet every time you want to buy your favorite tokens and no reason to pay for swapping one crypto asset for another. The user can interact with the Dapps browser gives the user access to decentralized applications on BSC free. 
Still, this does not mean using Trust Wallet exempts you from all fees relating to blockchain transactions. In fact, every transaction includes the blockchain transaction fees that are paid to either miners or validators depending on the currencies and blockchain. The cost can be as high as $5 and $10 per transaction. 
We also recommend: Gate.io Review
Trust Wallet Browser
It's one click to interact with decentralized applications on the Binance Smart Chain or the Ethereum Network. Trust Wallet browser is an extension for accessing BSC and Ethereum enabled decentralized applications in a normal browser. This extension injects web3.0 API into websites to read Dapps from the blockchain. 
The browser is the core of Trust Wallet's best-in-class services. It delivers meticulously crafted APIs that allow developers to create a truly multi-chain application. That means users can seamlessly, simply, and securely connect with decentralized products and explore blockchain applications within seconds.
The Benefits of Trust Wallet Browser
With the Trust Wallet browser, you are always in control when interacting with new decentralized web applications. It provides an essential utility for blockchain newcomers, token investors, gamers, and developers. Millions of downloads later, Trust Wallet is the most popular key to blockchain applications and a pillar to the democratized access to the ecosystem.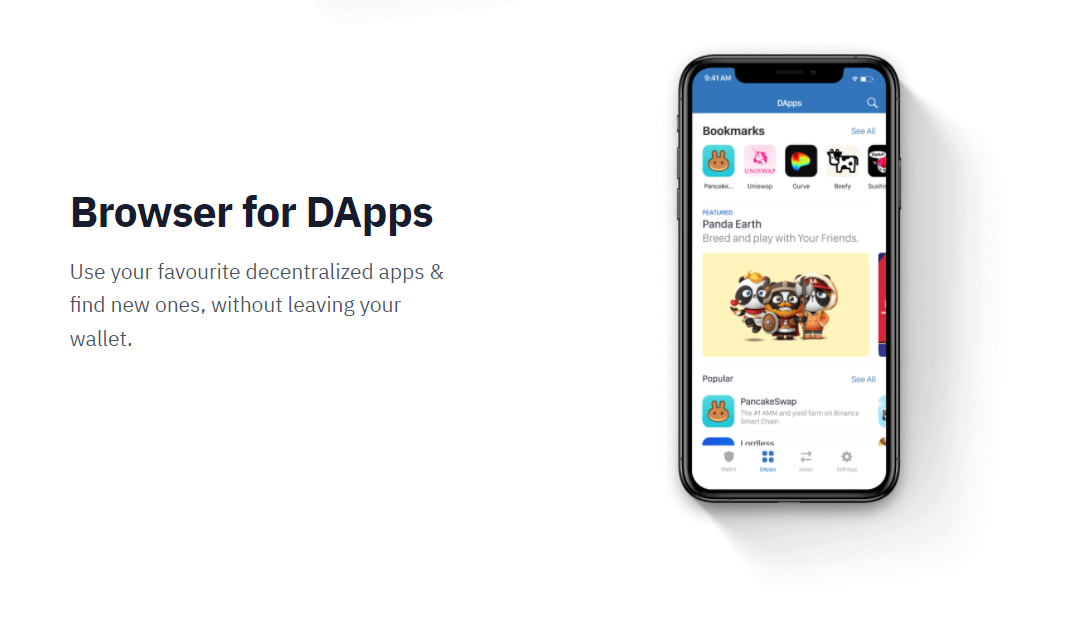 Trust Wallet DApps
If your experience with Dapps hasn't gone well before, or you just have not had access to a reliable marketplace, you should consider Trust Wallet. This dApp marketplace ensures the best experience possible. It is about giving you a greater choice of the best in the crypto world. The future of crypto is consolidated under the Trust Wallet ecosystem. 
What Trust Wallet offers?
Trust Wallet offers a simple, elegant, and secure gateway to accelerate your transition to decentralized products. A world-changing platform communicates the complexities of dApps in a simplified language, which brings clarity of thought to investors adopting one dApp at a time. Such important traits are exactly what people look for in cryptocurrency platforms. 
Putting effort into making things simple and easy to understand seems to be working well for Trust Wallet. This service is concise and articulate. It goes beyond the surface to give access to a wealth of opportunities. Trust Wallet dApp marketplace is the way to get things done with what's available in the industry. 
We also recommend: MoonPay Review
FAQ
Does Trust Wallet have Chrome Extension?
Yes, it does. Trust Wallet Chrome Extension is one of the best. If you want to check on it you can do it here.
Is Trust Wallet Safe?
Trust Wallet is one of the biggest startups for crypto, with a large number of users. According to all the experiences gather together we can tell Trust Wallet is safe. You should trust this Ethereum wallet.
Conclusion
Trust Wallet's only benefits are making your crypto experience faster and simpler. It is more of an ecosystem – never miss an opportunity, get access to the entire world of crypto assets. The app has grown its suite of offerings to empower investors to take the initiative, make the best investments, and act as the growth drivers of the market. 
The industry is a sea of wallets, exchanges, and other products, but this app is in the market's limelight. Trust Wallet is so aggressive about making crypto simpler for the average internet user that in the process, it has become the very first step for getting into crypto. It's loaded flawlessly and enjoys a clean and flexible look.