Top Best DOTA 2 Betting Sites in 2022
DOTA 2 is one of the most played games in the world, spawning leagues, tournaments, and competitions that have attracted millions of players and fans. But another industry that has appeared based on this esport is betting.
DOTA 2 is one of the most played games in the world, spawning leagues, tournaments, and competitions that have attracted millions of players and fans. But another industry that has appeared based on this esport is betting.
After you prepared your game session with a good gaming mouse, gaming headphones, and gaming monitor, you will probably look for the best DOTA 2 betting sites. We will be looking at some of the best sites for DOTA 2 betting that you should check out in 2022.
Dota2Lounge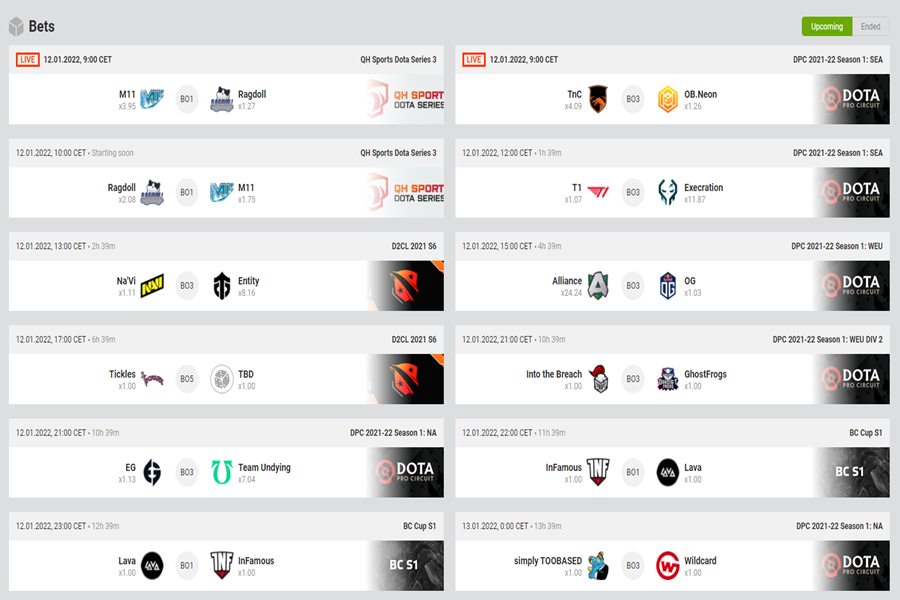 Dota2lounge is a platform where users can bet with their skins on professional DOTA 2 matches and tournaments. The platform is one of the oldest in the Dota 2 betting sites industry, having almost no glitches.
This site allows users to trade with Dota 2 items as well as bet on Dota 2 games. Players also have the option to watch live streams of ongoing matches.
Dota2lounge provides odds that are user-generated, on upcoming games.
Dota2lounge does not offer any quantity bets, only value bets.
GG.BET
GG.BET is an online esports gambling site that was launched in 2016. It has received plenty of praises from the community as it has partnerships with some of the biggest teams in esports.
In addition to DOTA 2, GG.BET also has a betting market for CS:GO, League of Legends, Starcraft 2, World of Warcraft, Smite, Call of Duty, Hearthstone, Halo, Heroes of Newerth, Overwatch, Heroes of the Storm, Vainglory, World of Tanks, Quake.
Here you can bet on specific matchups, map winners, rounds played, or tournaments. There is also the option for players to bet in-play once the match has started.
VPGame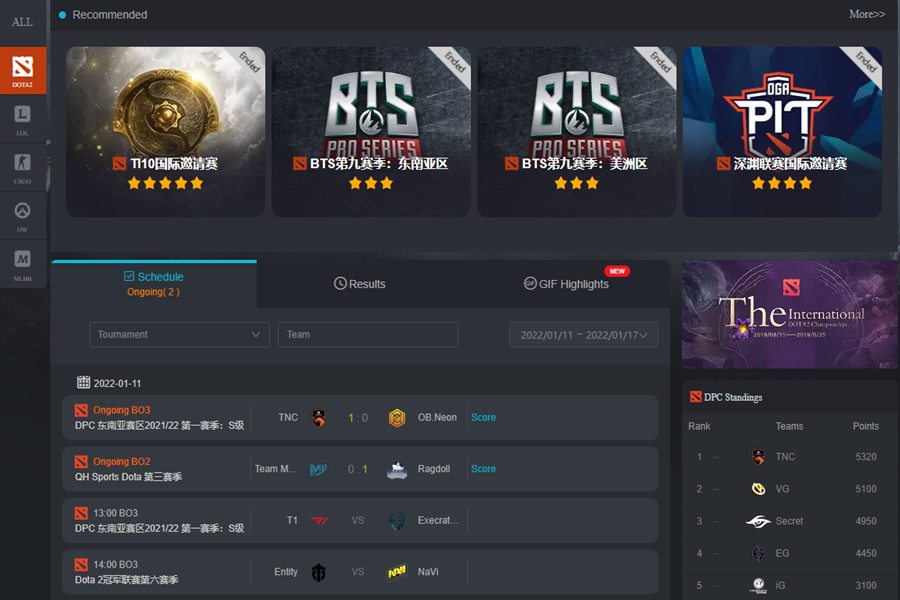 Our next DOTA 2 betting site is VPGame.The platform allows players to bet on almost anything in a DOTA 2 game, such as first blood, first match, etc.
You can also watch the game live on the platform, as it has a built-in stream.
Other betting options include handicap betting, 10 kills, being killed by a teammate or by creeps, and first blood. Big games like tournament finals can feature more than a dozen different betting options.
Their Esports section is mainly dedicated to CSGO and DOTA2 betting, but other games such as LoL have been added.
Rivarly.gg
Rivalry is ideal for betting on big esports matches. the site has betting options not only for DOTA 2, but for Counter-Strike: Global Offensive, League of Legends, and Overwatch.
Rivalry includes standard match winner bets, map winner bets, and first kill or first-round bets. Users can also make combo bets, which here are called parlay wagers.
Deposits support a long list of payment options such as Visa, MasterCard, Maestro, Neteller, Alipay, Skrill, American Express, and Bitcoin, and many more. Withdrawals have a minimum of $5, and usually, and require identity confirmation.
Dota2BestYolo
Dota2BestYolo is one of the DOTA 2 betting sites that accepts both coins and skins for their wagers. They have an arcade section that includes roulette (X2 game, X50 game), Hilo Game, and cases, and a match betting section where players bet on the outcome of a match.
The rate of the match is determined by 2 factors: the number of items and their default listed rate, which changes automatically when the betted item changes. In order to make a bet, you will have to deposit the appropriate items in your betting stash.
Thunderpick
Thunderpick is a popular pool betting site that focuses on esports. Players can deposit Bitcoin and skins into their account with which they can use to bet.
The site does not cater only to Dota 2, their list also includes League of Legends, Hearthstone, Overwatch, HOTS 2, as well as Rocket League and Fortnite.
There are various betting options that are different for each game. Big events such as tournaments have additional betting selections.
Dota2betz
Dota2betz was created by a group of former players that wanted to cater only to DotA 2 fans. This platform of DOTA 2 betting sites was designed specifically to support only this game, unlike other platforms which have a focus on CSGO.
Dota2betz follows matches and tournaments from all over the world, offering information about upcoming matches, news about the players, and also the outcome of these games. This comprehensive website features everything from odds of upcoming tournaments to news articles so that you have all the information you need to make your winning bet.
ArcaneBet
ArcaneBet is an online bookmaker for esports betting which also features odds for Dota 2 punters. This fully licensed website comes with a plethora of betting options for Dota 2.
ArcaneBet offers a variety of competitive odds for all Dota 2 Major competitions. But not only does the site offer odds for Dota 2 Major events, but it also focuses on smaller events such as Epicenter XL Qualifiers.
The betting market for Dota 2 includes bets for each individual match played in this game. In addition to match-winner, you can also bet on the first map winner, first blood, and first ten kills.
CSGOFast
CSGOFast is mostly focused on gambling, having 13 types of roulette games. But this DOTA 2 betting site has an esports bets section for players to make bets on live matches on the outcome of DOTA 2 tournaments and matches. Points are the in-platform currency here, and they can be bought with skins or real money.
The platform also has a store where points can be used to buy new skins. Match bets enable users to place a bet on the team they think will win in the matches.
Betway
Betway is a site that has an extensive Dota 2 betting sites market. They are not only limited to Dota 2, featuring odds on games such as CS:GO, Hearthstone, LoL, Starcraft 2, and Heroes of the Storm.
Players can place their bets on match results and can make use of accumulators to pool several of these bets into one. Bets can be made on the first blood, first to reach 10 kills, correct score, round number, and many others. Betway offers betting markets on all Dota 2 major tournaments.
Pixel.bet
Pixel.bet is a new Esports bookmaker that includes a variety of betting markets for DOTA 2 and CSGO matches. Although the brand is more dedicated to CSGO, the site DOTA 2 betting sites does include a decent range of wagering options for this MOBA.
The "Map Bets" options allow you to make bets on the final number of rounds that will be played in a match or tournament, and if that number will be odd or even. Pixel.bet also enables users to make live bets.
LootBET
Loot.bet is a bookmaker that also features traditional sports in addition to pre-match and lives betting on eSports. But from the site's layout, it is obvious that the brand is more focused on esports betting.
In addition to markets for match and tournament outcomes, users can also bet on the highest total kills, first blood, first to 10 kills, total time and odd/even kills. All betting options can be made on every map during a match, but the number of markets relies on the teams playing. Loot.Bet usually gives more options to matches that involve top-ranking teams.
22Bet
22Bet is also an online sportsbook that includes traditional sports and esports betting services. As well as DOTA 2 betting, the site also has odds for CSGO, Warcraft III, StarCraft II, and League of Legends.
The brand has impressed games with its many live betting odds for each individual match. In addition to match-winner bets, 22bet also lets you bet even on the total number of frags.
We also recommend: The Best Cat Ear Headphones.
Best DOTA 2 Betting Sites | Summary
With this, we conclude our article on the best DOTA 2 sites that users can bet on. With different playthroughs and odds, it is up to you to find the site that is most fitting for you. If you want to access these sites you better use the best no lag VPN for your laptop.