Best AI apps for iPhone
Explore the Best AI iPhone Apps: Free and paid options for a range of uses. Uncover the magic of artificial Intelligence on iOS!
It's no wonder that AI is becoming an increasingly accessible technology, and as such, many AI apps appear daily. Moreover, AI is being used anywhere and everywhere, from streaming services to virtual assistants, from smart home devices to chatbots and productivity apps.
As a result, this increasing technology is the low-hanging fruit of exponential growth, giving us some of the most powerful tools in our smartphones. As a result, in today's digital era, many AI applications aim to improve your life by offering additional features that can only be provided with the help of this innovative technology.
Whether it's a productivity app, a photo-enhancing application, or a virtual assistant to get you on the right track with your business or day-to-day activities, we will delve deeper into this topic in today's article.
Also, be sure to read further and discover some of the best AI apps for iPhone, both free and paid. As we know, Apple is a tech ecosystem that keeps investing in its diverse technologies to provide a better alternative to the essential features everyone wants.
What is an AI Application?
I think by now, everyone knows a bit about Artificial Intelligence and whether it could have a beneficial impact on our lives. As a result, many mobile applications have emerged, promising to improve our lives and alleviate some of the modern world issues.
Simply put, an Artificial Intelligence-based application harnesses the power of machine learning algorithms and data processing to enhance and provide automated features. Additionally, these types of mobile applications have a user behavior knowledge base to provide personalized and entertaining experiences.
Now, let's move further and discover some of the best iPhone AI applications!
iPhone AI Apps to Enhanced Productivity
1. Google Assistant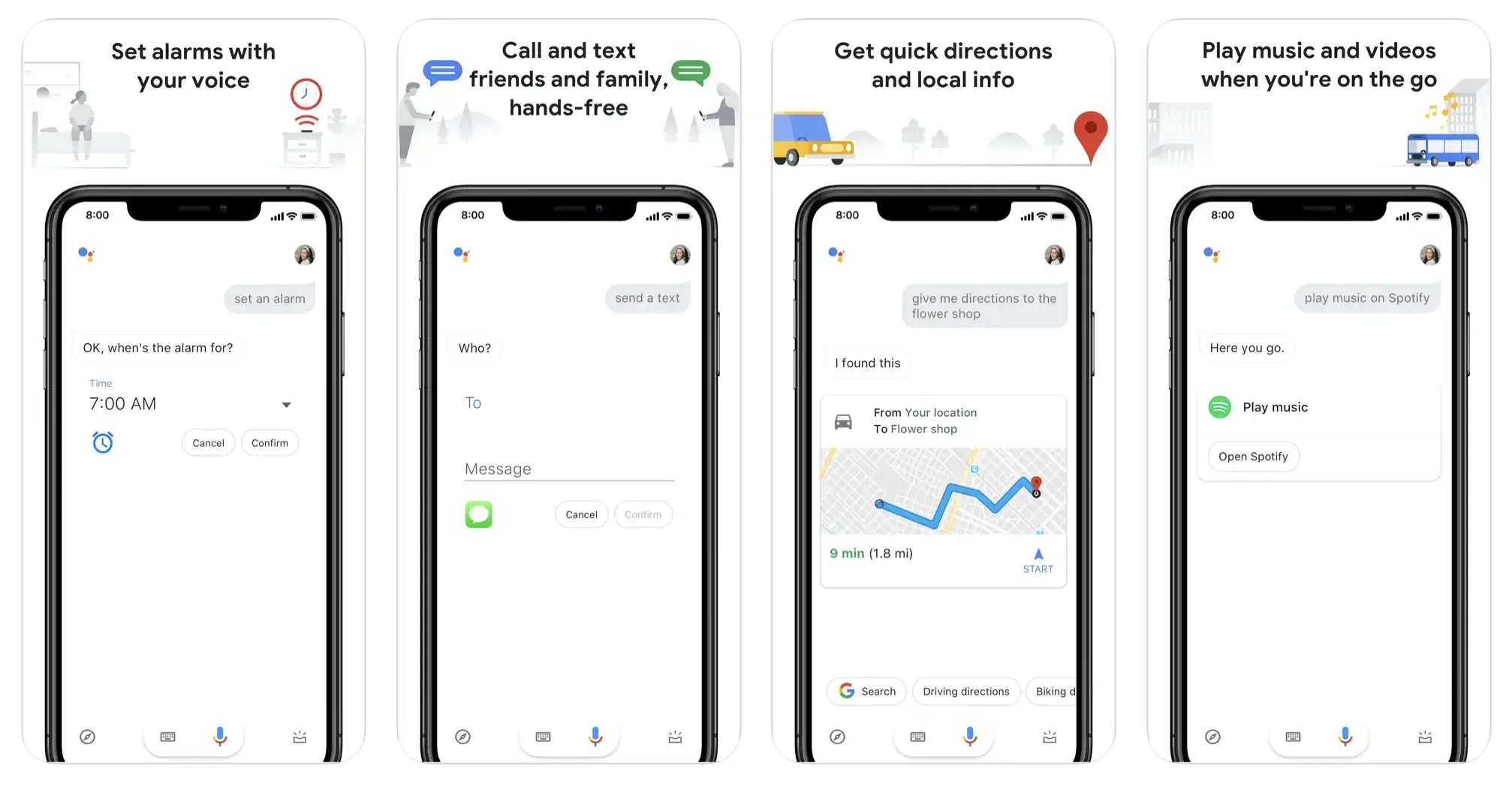 Suppose you want to get things done and find some of the best hacks to keep you on the right track. In that case, you must try Google Assistant. This AI-enhanced mobile application has been developed as part of the Google ecosystem and continues to be at the forefront for virtual assistants.
And while Siri is the default assistant for iPhone, Google Assistant manages to offer superior user experience by understanding context for more natural and conversational interactions.
So, benefit from this AI application to take notes, set reminders, send messages and other features that will boost your day, all with a simple "Hey, Google".
Moreover, this application is available for multiple devices, from iPhones, tablets, smart speakers, and others, to provide a seamless experience. Many partners even integrated this smart assistance to sustain the Google ecosystem further.
Google Assistant Key Features:
Available on iOS and Android, and can be integrated with third-party apps;
Enjoy the seamless voice search and command execution;
Send personalized responses and get additional suggestions;
You'll benefit from deep learning algorithms to further sustain your preferences;
Control your smart home devices and have everything at the tips of your fingers;
Google Assistant Pricing:
2. Grammarly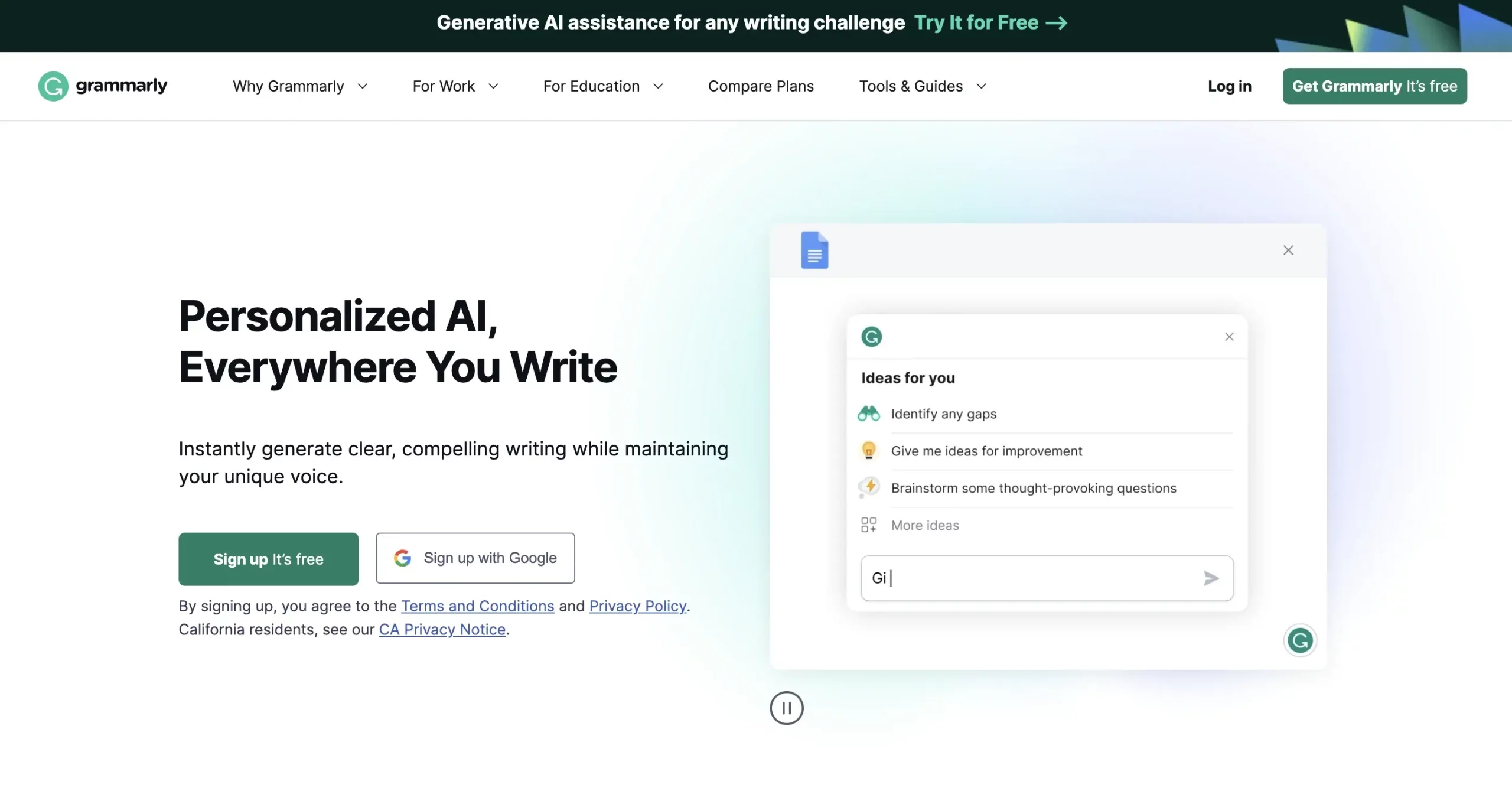 By now most of us have been acquainted with this AI application since it has been on the market since July 1, 2009. This extensive application has been making breakthrough changes to everyday written communication and continues to impact our lives positively.
Available on browsers and iPhone mobile apps and integrated with other 3rd party apps, Grammarly tackles any writing miscommunications and errors by using the power of AI. It even suggests improvements to deliver your message better.
Their application addresses all written communication, regardless of experience, such as students, managers, CEOs, etc.
Grammarly Key Features:
Grammar and spelling checks, as well as context suggestions;
Integration with various platforms;
Brand tone of voice customization;
Grammarly Pricing:
Free;
Premium – €12.00/ month;
Business – Starting at $15.00/ month;
iPhone AI Apps for Health & Wellbeing
3. Youper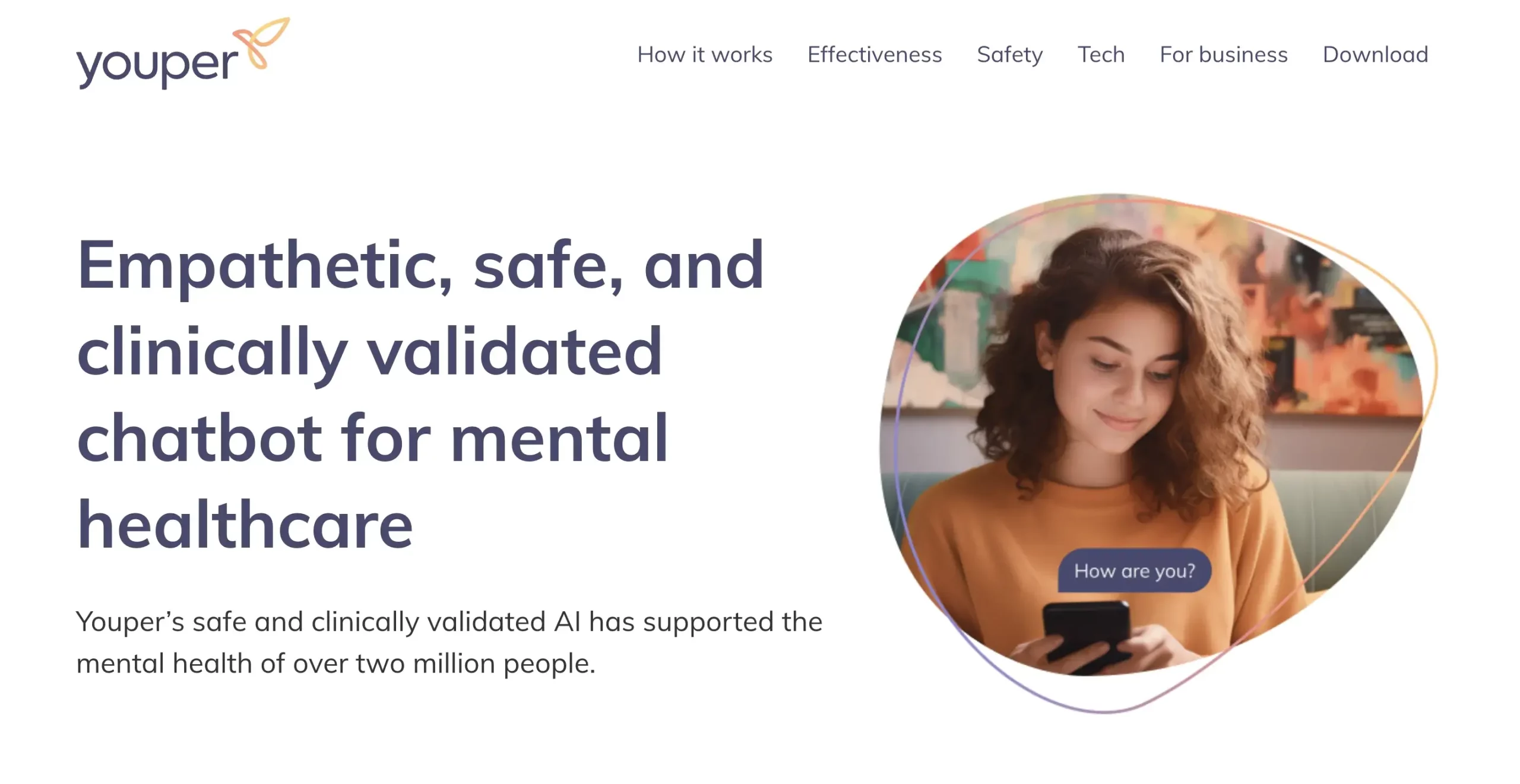 We all know that stress can take a toll on your health and well-being, and as such, many health companies are moving towards implementing AI to offer a digital therapist.
As a result of this necessity, a new application destined to help many in need, Youper, appeared. This AI application offers online cognitive behavioral therapy to anyone in need and could help brighten anyone's mood overall.
Youper Key Features:
Personal treatment programs crafted by therapists;
Get access to weekly sessions with behavioral coaches;
Collaborations with insurance entities;
Complete guidance by AI bot;
Youper Pricing:
Free (In-app purchases start at $9.99);
4. Microsoft Seeing AI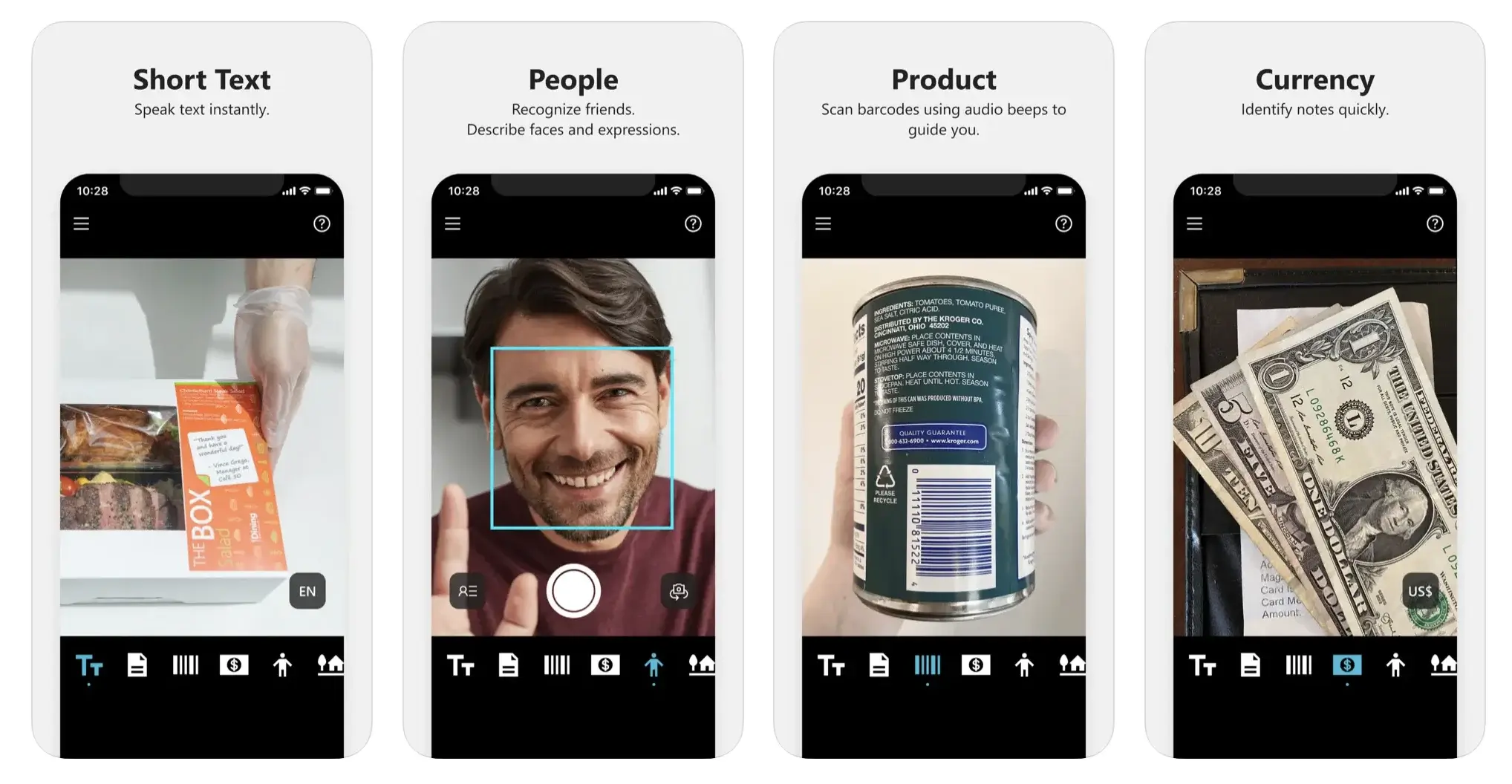 Seeing AI is a mobile application developed by Microsoft to aid impaired people, thus making an iOS device more accessible, and as you guessed, by using Artificial Intelligence.
The app offers multiple modes for impaired users, from recognizing text, to face identification, scenes, currencies, colors, and others, making the external world more accessible.
Microsoft Seeing AI Features:
Numerous scanning modes;
Offers narration in different circumstances;
High-quality optical character recognition modes;
Seeing AI Pricing:
iPhone AI Apps for Business
5. Otter AI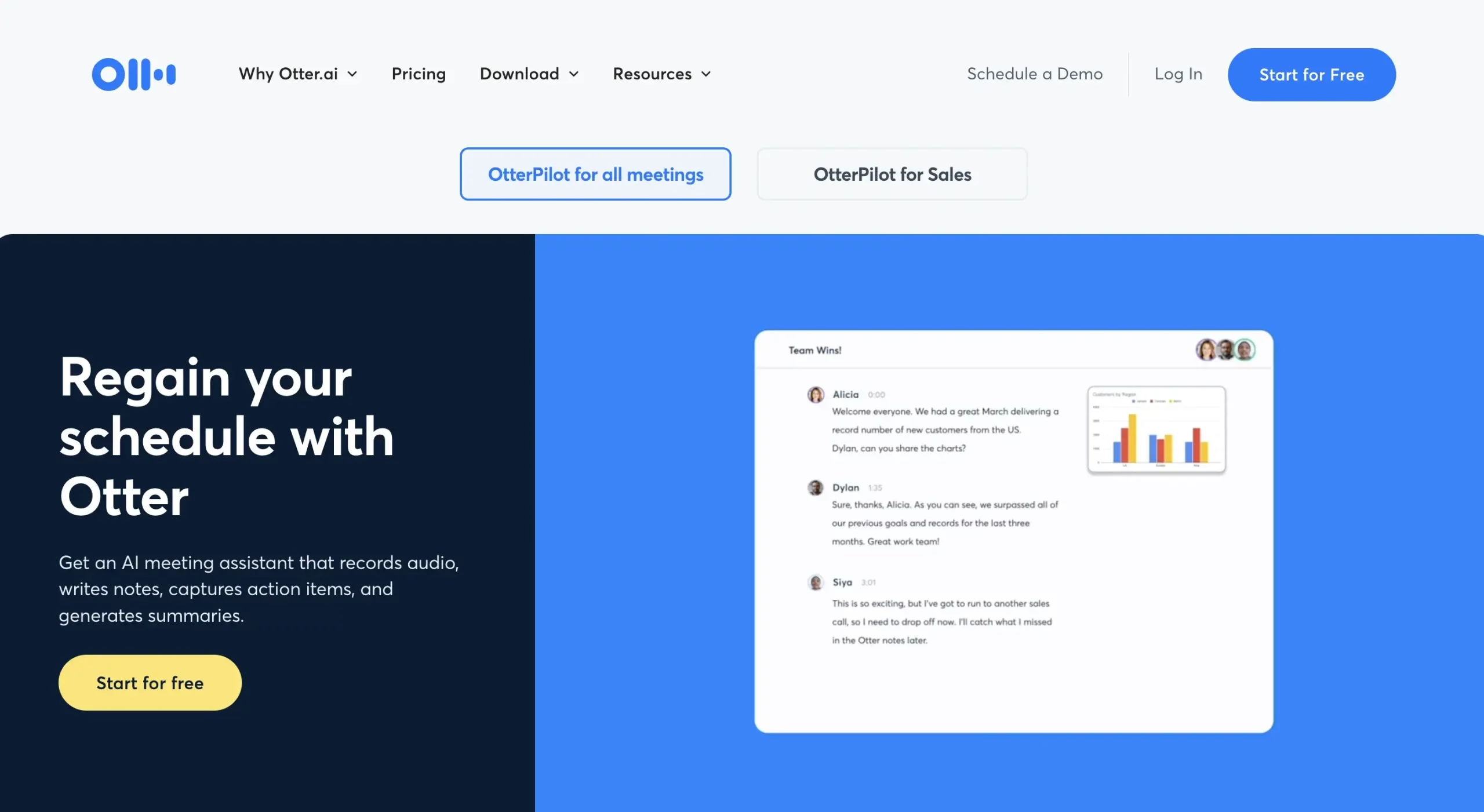 If you're a business owner and haven't heard about Otter AI until now, you better keep reading, as this app is here to blow your mind and kickstart your productivity.
Otter AI aids in cutting unnecessary downtimes, often seen after having productive meetings. Who said what, where was noted, and when is the deadline – sounds familiar?
This AI iPhone application could save the hassle by providing real-time audio transcription and meeting notes. Moreover, the application could be standalone or automated, offering a free 300 monthly minute tier.
Otter AI Features:
Real-Time Transcription;
Collaborative Editing;
Keyword Search;
Secure and Private;
Otter AI Pricing:
Free – 300 monthly minutes;
Pro – $10/ month;
Business – $20/ month;
Enterprises need to contact sales;
6. Microsoft Bing AI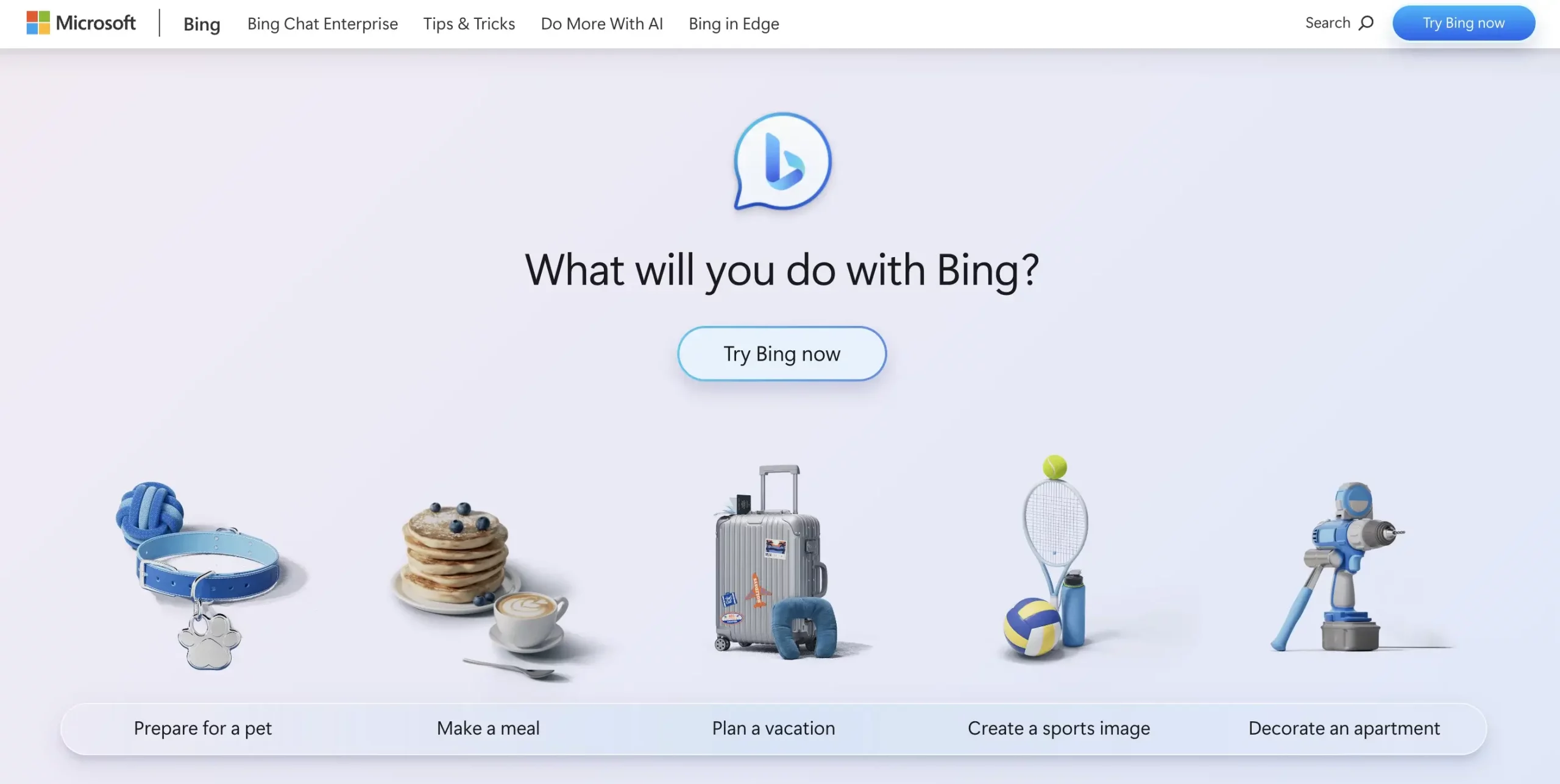 It's been two years since we all heard the buzzwords ChatGPT 3 and 4, AI, machine learning, and so on, but have you tried Bing after its integration with Artificial Intelligence?
Well, as search engines became a mandatory part of our lives, Bing took it up by leveraging AI to offer better outcomes, such as intelligent image search and visual translation.
Bing Key Features:
User-friendly UI/ UX;
Quick results to search queries;
Interactive chat conversations;
Bing Pricing:
iPhone AI Applications for Photos
7. Pixelup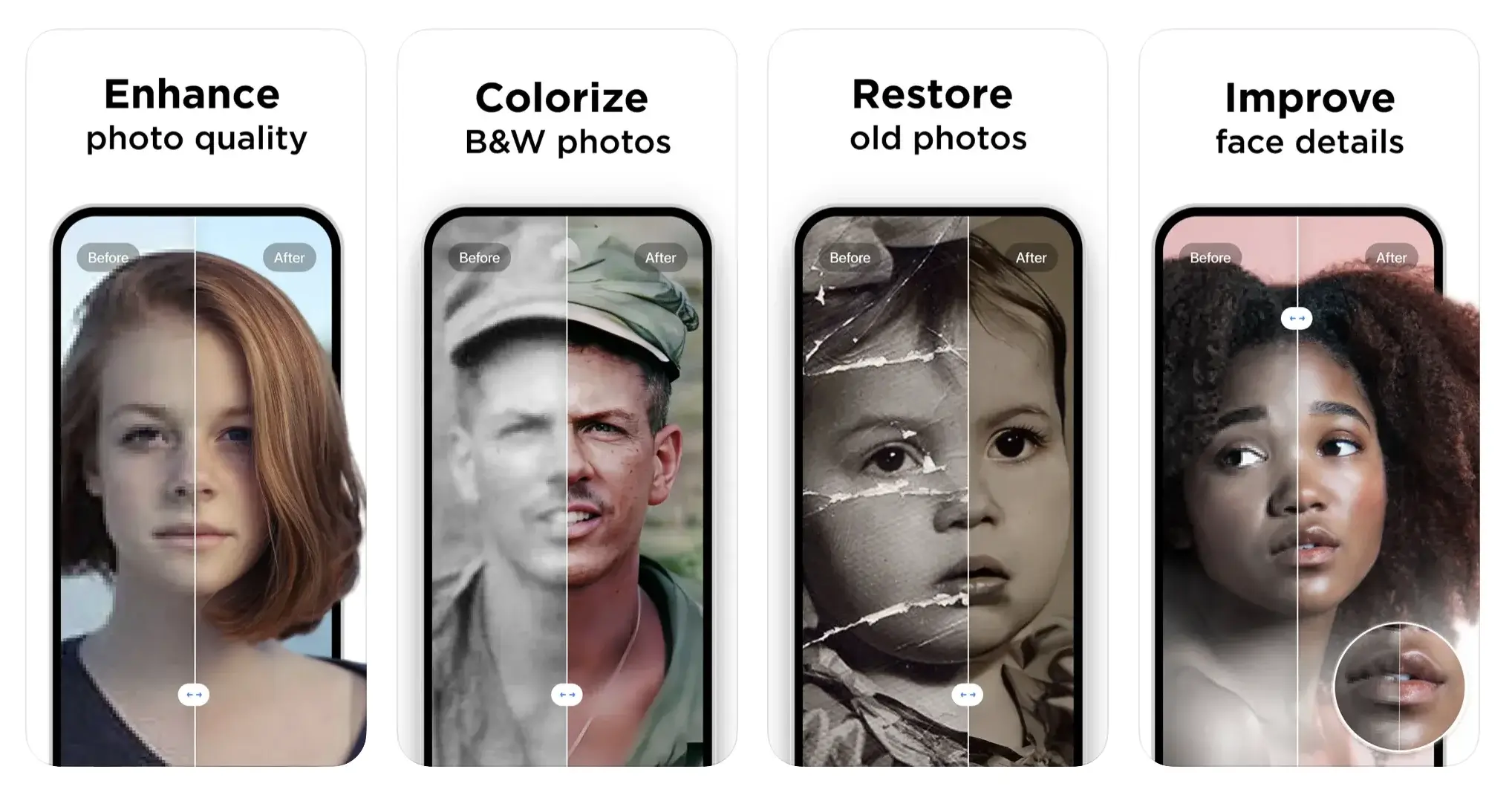 For those wishing to see their old picture enhanced and as good as new, you could benefit from an AI application, such as Pixelup. The app removes stains and scratches, improves your old pictures, colorizes black and white images, and so on, so you can enjoy the memories.
Unleash your creativity and have fun while exploring this AI-enhanced application for iPhones. Moreover, you can instantly share photos and animations to some of the most popular social media platforms, such as TikTok, Facebook, Instagram, etc.
Pixelup Features:
Engaging animations;
Sharing on social media platforms;
Colorizes black and white pictures;
Restore damaged and vintage images;
Pixelup Price:
Free (In-app purchases start at $2.99);
8. Remini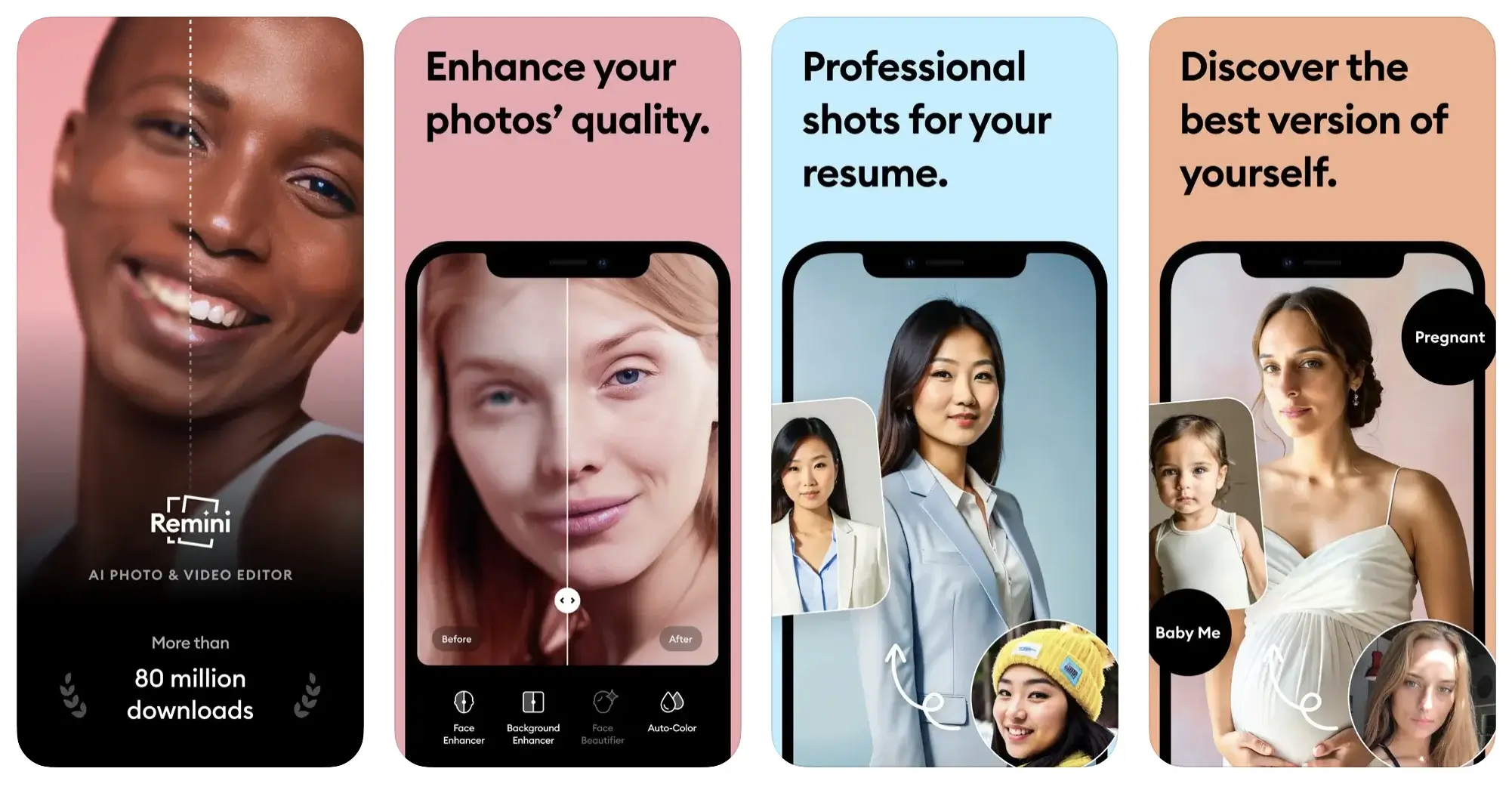 As social media became more about social status, instead of showcasing spontaneous moments, the AI photo-enhancing application market grew drastically. As a result, Remini is another promising app for photo editing.
This AI-based application for iPhones has the potential to turn a basic photo into a high-definition image, no matter how blurry or low-quality it is. Also, it integrates some modules created for e-commerce, educational, and printing businesses.
Remini Key Features:
Integration with social media platforms;
E-commerce features to boost product images;
The "magazine" feature helps you edit your editorial images;
Addresses the issues with low-quality printing images;
Enables you to create engaging educational materials;
Remini Pricing:
Free with in-app purchases;
AI iPhone Apps for Learning
9. Socratic by Google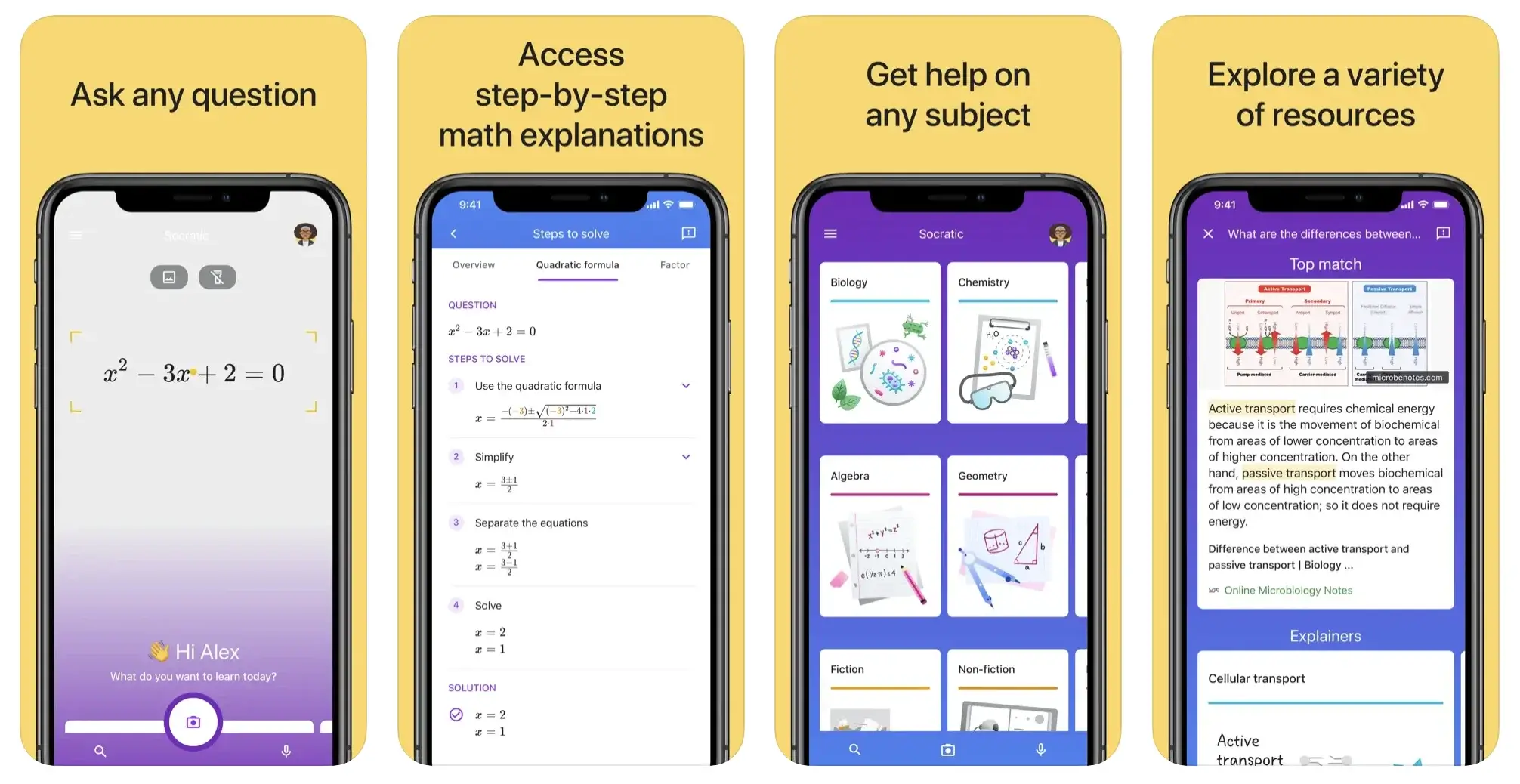 With all the social media craze and the smartphone tech that could significantly impact a kid's life, we're turning our eyes to an educational application that uses AI to help its students learn more on a more advanced level.
As such, Socratic by Google could be the know-it-all virtual partner that has answers to almost all of your questions, as it uses the power of AI to give you helpful results from different subjects, such as algebra, geometry, trigonometry, biology, chemistry, physics, and many others.
Socratic Features:
Use voice and camera recognition to deliver online resources to your questions;
Offers step-by-step solutions or video tutorials;
The app has a partnership with teachers and field experts to ensure the accuracy of the information;
Multiple school subjects, from Algebra to environmental science and world history.
Socratic by Google Price:
10. Duolingo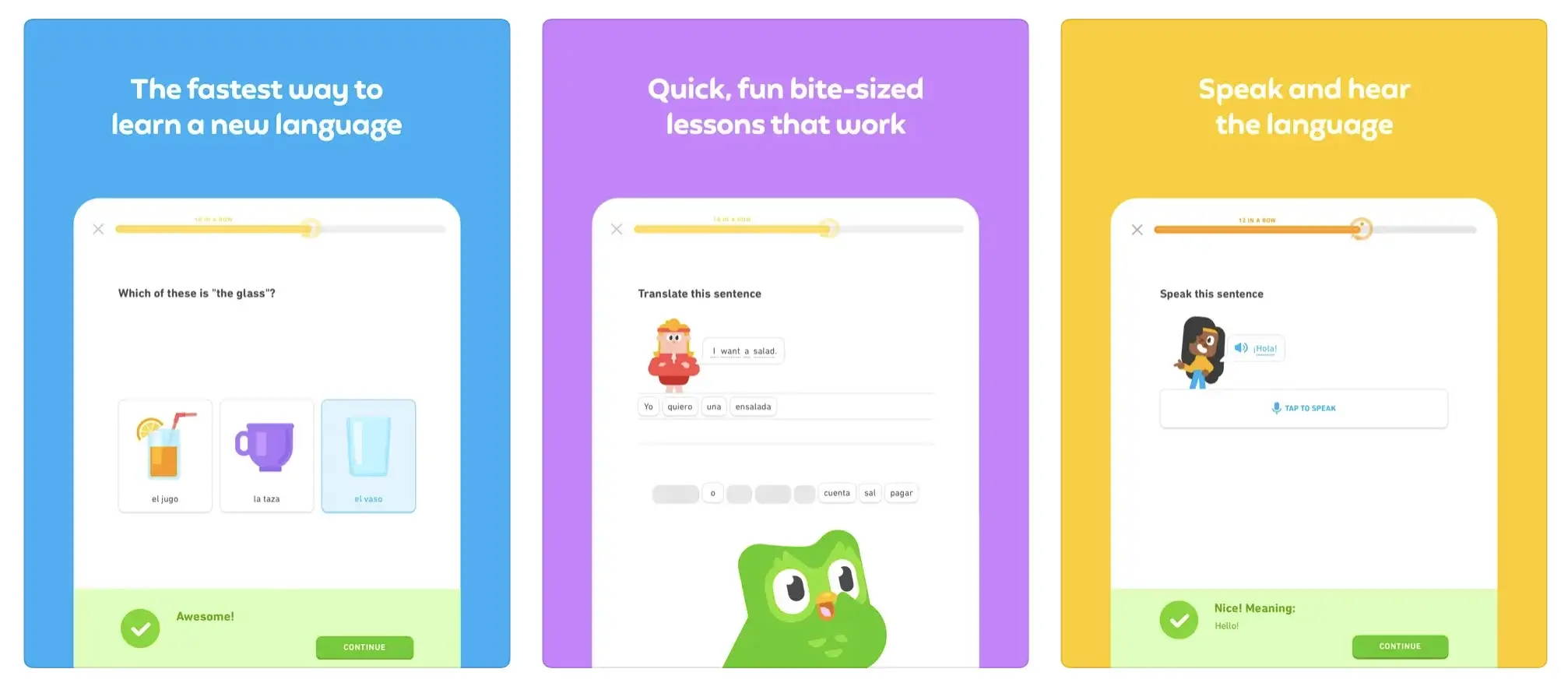 By now, we have all heard at least once about Duolingo, the AI-enhanced application that delivers a seamless and engaging way of learning a new language.
With a user-friendly interface, engaging exercises, and 40+ languages available, Duolingo offers a way to learn how to read, speak, and write a new language. Additionally, you'll learn more on the grammar side and quickly expand your vocabulary with the help of Artificial Intelligence.
Duolingo Features:
Gamified learning experiences;
Science-based teaching methodology;
Achieve learning rewards;
Track your progress and maintain your daily streak;
Step up your game through competitive leaderboards;
Duolingo Price:
Free download, with in-app purchases;
Final Thoughts
We hope you've found the AI app that best suits your needs, whether in learning, health, and wellbeing or a photo editing application. Also, know that such an app could not offer you 100% accuracy since AI technology is still developing, and we live in a dynamic world where things change frequently. 
 
Yet, test and have fun with these AI apps, especially when it is only one download away from your iPhone.