TranscribeMe Review | How to Get Started in 2023 
In today's review, we'll discuss some of the best features, user experience, and overall performance of TranscribeMe to help you make an informed decision. 
As we live in a fast-paced world where every second counts, the demand for accurate transcribing services is at its all-time high. Whether for business purposes, academic research, or content creation, having a reliable product destined for accurate transcription can significantly enhance your productivity.
As such, TranscribeMe is a prominent player in the transcription industry that could be a helpful tool for many, having low-cost services with no commitment.
In today's review, we'll discuss some of the best features, user experience, and overall performance of TranscribeMe to help you make an informed decision.
So, without further ado, let's get started!
What is TranscribeMe?
TranscribeMe is a transcription, translation, data annotation, and other service provider specialized in converting audio and video content into accurate written text for different industries.
TranscribeMe Services:
Transcription;
Audio Transcription;
Video Transcription;
Translation;
Machine Transcription;
AI (Artificial Intelligence) Datasets;
Data Annotation;
TranscribeMe Industry Solutions:
Legal;
Medical & Research;
AI Machine Learning;
Education;
Consulting;
Market Research;
Technology;
Call Centers;
Enterprise;
How does TranscribeMe work?
The company utilizes advanced technology and a skilled workforce of transcriptionists to deliver high-quality transcriptions to its clients.
This hybrid model combines multiple technologies, such as speech recognition technology and human transcriptionists, to provide quality and accuracy.
Moreover, users can upload their audio files, share a web link, or connect to Dropbox, as the platform supports various formats like wav, mp3, mp4, and others.
How Much Does TranscribeMe Cost?
As this platform offers multiple services, their prices vary, from $.79 per minute for transcription to $0.11 per word for translation and $2 for the AI training dataset.
You can check their complete services and pricing on the official website. However, it is essential to note that TranscribeMe is considered to have the lowest prices within its branch.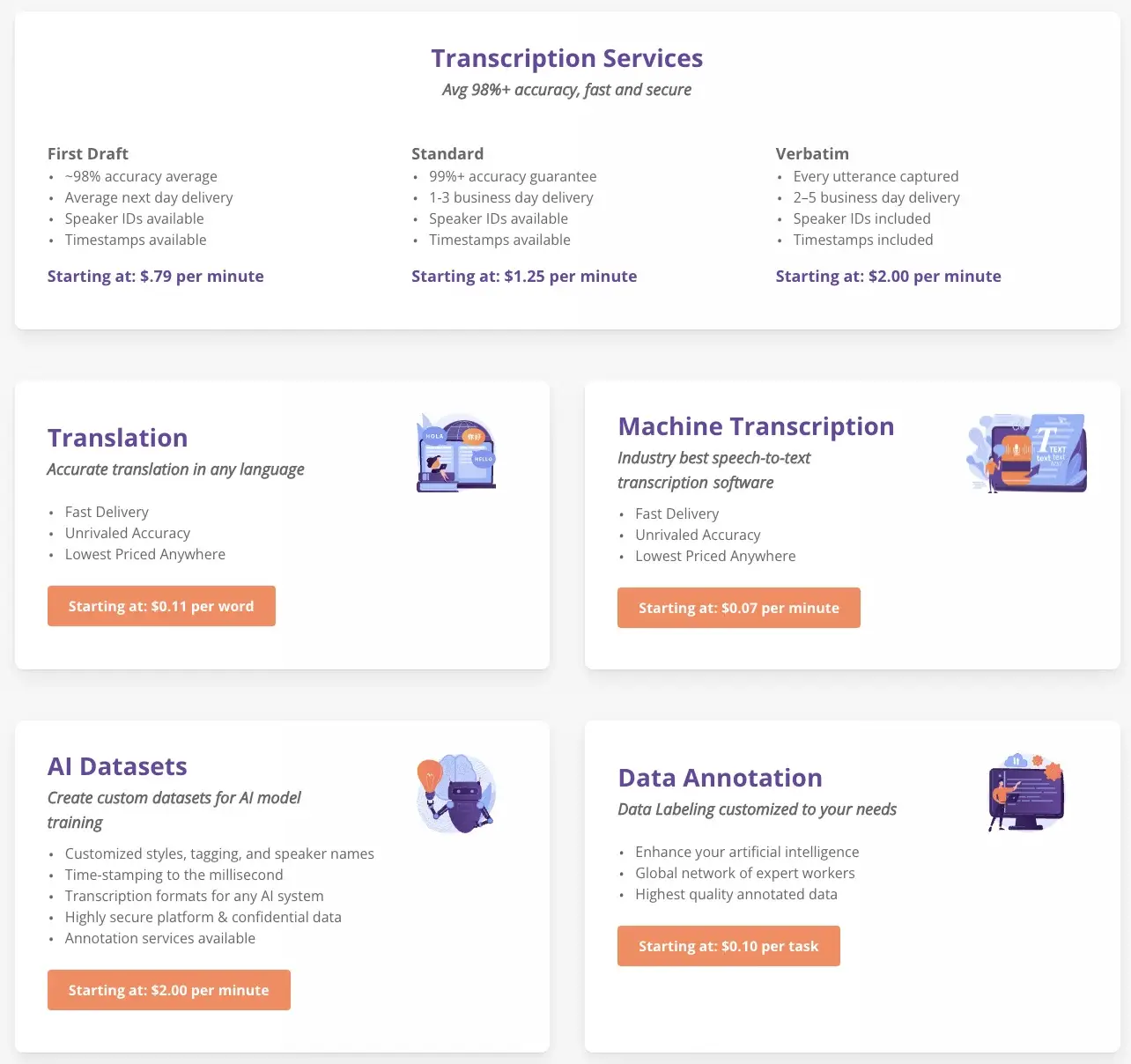 TranscribeMe Mobile Application
In case you need transcription on the go, then head over to the mobile app, available for both iOS and Android. With the mobile app, students or professionals can record their audio or upload from Dropbox, place an order, and receive push notifications when transcripts are finished. However, please note that not all services are present within the app.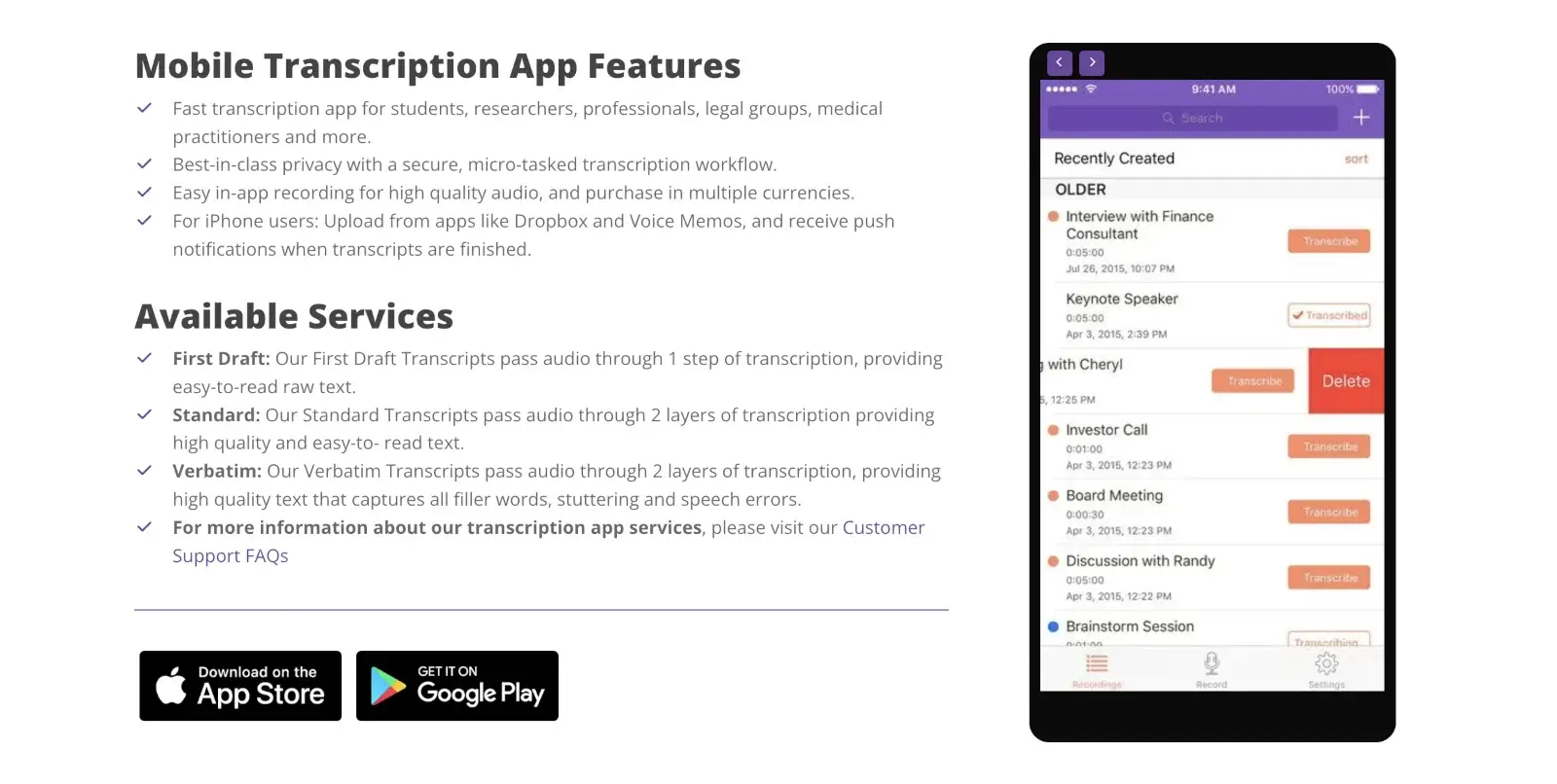 5 Benefits of Using TranscribeMe
TranscribeMe stands out as a reliable and efficient transcription service provider. Its user-friendly interface, high accuracy, quick turnaround, customization options, and security measures make it a top choice for individuals and businesses.
User-Friendly Interface:
TranscribeMe's website offers an intuitive, user-friendly and straightforward interface, making it accessible for both beginners and experienced users. Moreover, the website's clean design and easy-to-understand instructions ensure a seamless user experience from start to finish.
Accuracy and Quality:
Accuracy is one of the key aspects users consider when choosing a transcription service, and as such, TranscribeMe provides a high level of accuracy in their transcriptions.
Speed and Efficiency:
Depending on the selected type of service, TranscribeMe can offer a quick turnaround time. For example, with AI transcription, the turnaround time could be much faster than human transcriptions, which can take up to five days.
Customization and Flexibility:
TranscribeMe understands that different users have unique requirements, and as such, they offer multiple customization options. Users can specify formatting preferences, timestamps, and other details, ensuring that the final transcript meets their needs.
Security and Confidentiality:
Maintaining the confidentiality of sensitive information is paramount, especially when dealing with transcriptions of private conversations or classified data. As such, TranscribeMe prioritizes data security and privacy, employing encryption and secure protocols to safeguard user data.
How to Get Started with TranscribeMe
Head to TranscribeMe, hit "Order Now," and create your account. Once you have entered your account, you can upload your audio files and choose which transcription services best fit your needs. From there, the steps are self-explanatory, and you'll quickly place your order without stress and ease of mind.
Additionally, for freelancers, another account will be required.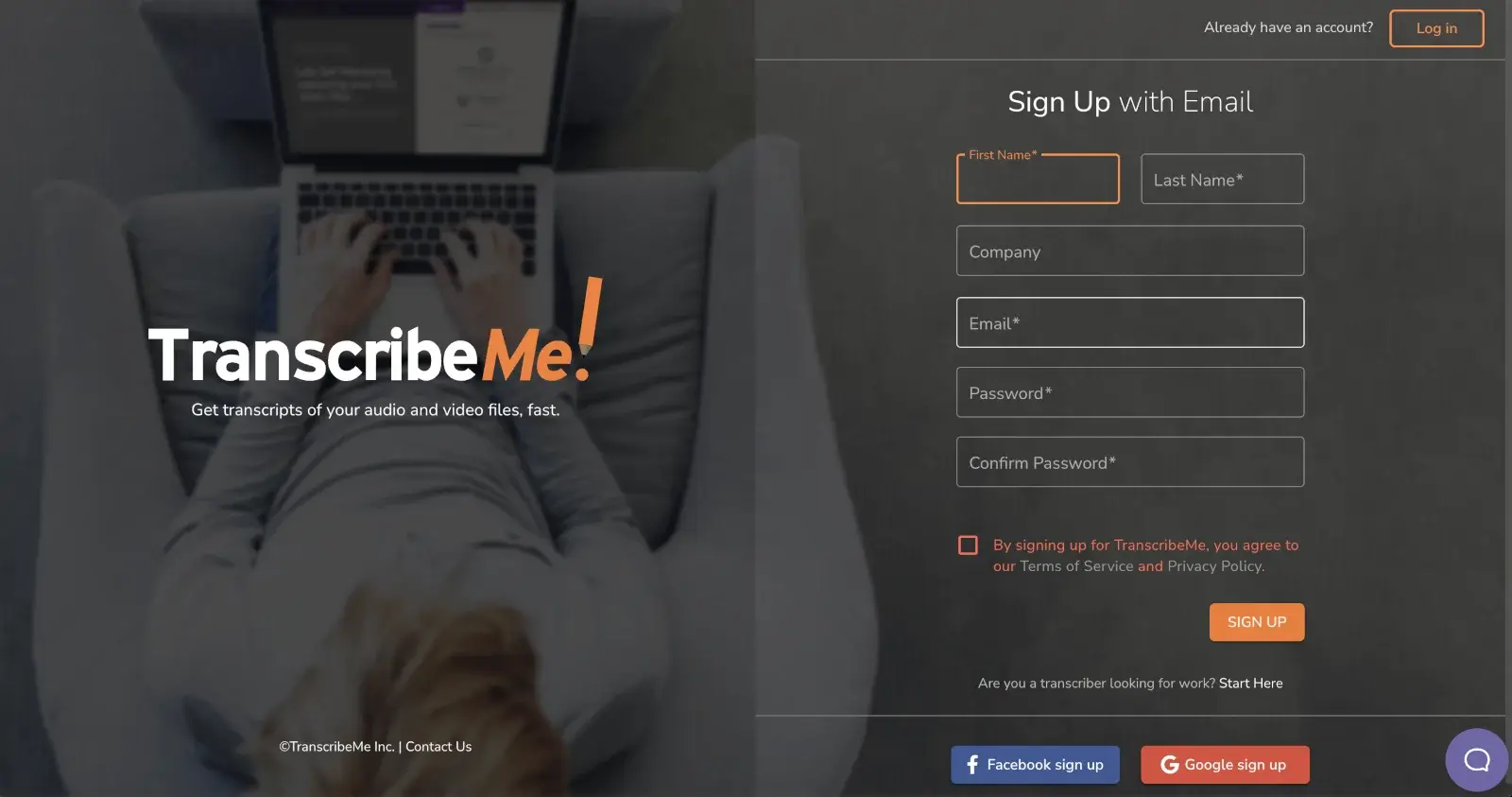 TranscribeMe – Freelancing in 2023

Now that we have discussed the most important aspects for businesses, it's time to move further and discuss more on the freelancing side. As such, TranscribeMe allows content, medical, or technical writers to have a gig on the side.
TranscribeMe's freelancing system works based on an entrance exam to ensure your knowledge and work accuracy since their services are available in 15 languages.
TranscribeMe Pay Rates
As mentioned, the freelancing side is based on accuracy, quality, and exams to ensure a higher rate. As the first level ensures $ 15 – 20 per hour for basic gigs, only after completing several jobs and taking additional exams can you start working on special projects that pay higher rates.
Remember that some projects, like medical transcription, can pay up to $70 per audio hour. In this case, you must complete at least 150 projects and take an additional transcription exam to join the medical team.
How to Get Started on TranscribeMe Freelancing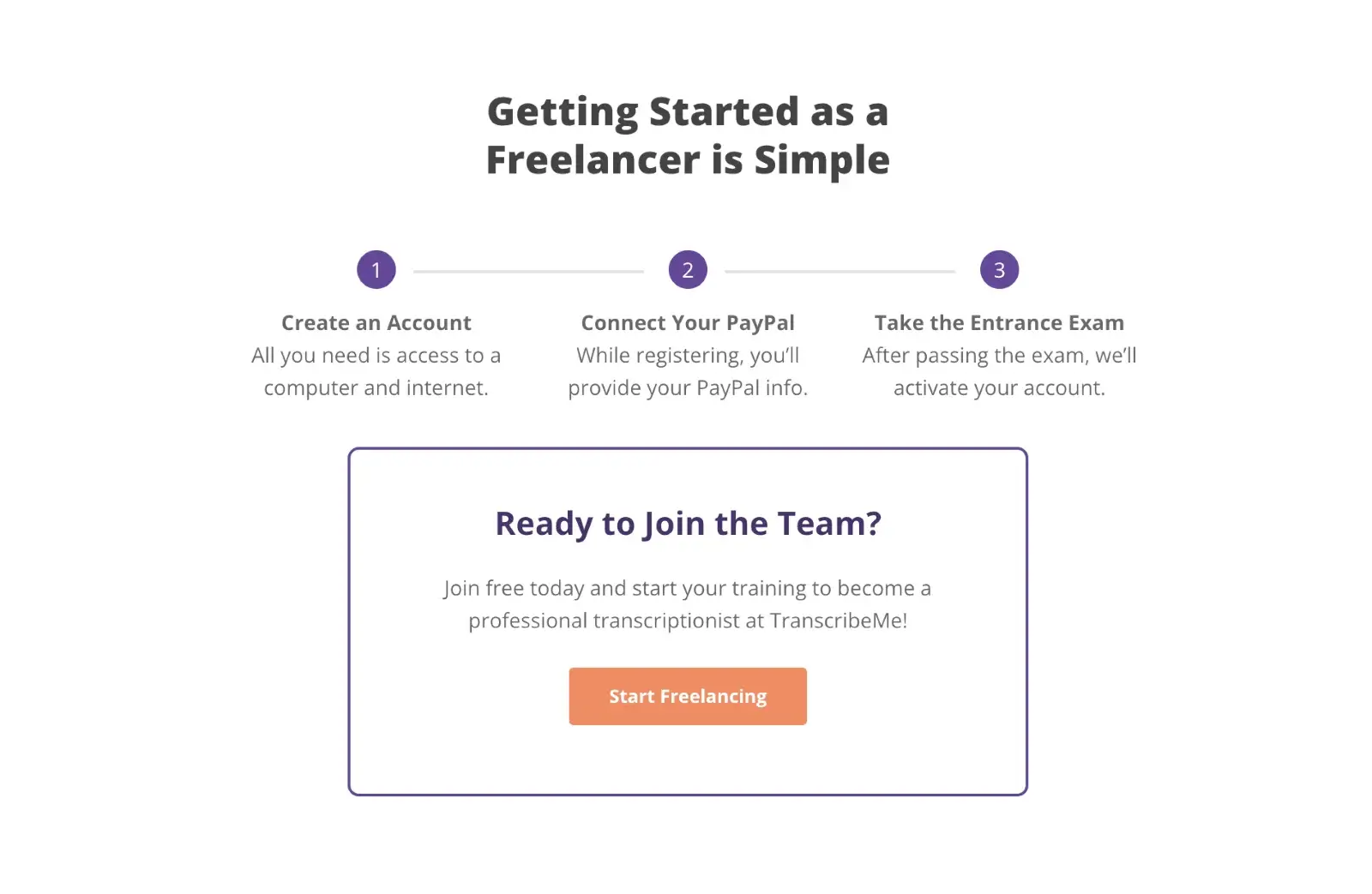 As the work is done remotely, you can work from anywhere and thus benefit from TranscribeMe's flexibility. As such, you need to fill in the application, pass the exam, and you're done – you can start working right away!
Final Thoughts
In conclusion, TranscribeMe could be your go-to solution for transcribing audio and video content into written, accurate text. Combining cutting-edge technology with skilled human transcriptionists ensures a great balance between efficiency and precision.
Moreover, the platform's user-friendly interface, competitive pricing, and diverse services, including transcription, translation, and data annotation, make it a go-to choice for businesses, academics, and content creators.
As such, TranscribeMe's emphasis on customization highlights its commitment to meeting individual user requirements, providing tailored solutions in an era where one size rarely fits all.
No reviews left yet...
Be the first to review Transcribeme!