Phemex Review – Things to Know Before Signing Up
In this Phemex Review, we are going to detail everything you need to know before you use it.
Over the last decade, the crypto world has grown tremendously and is currently a fully-fledged institution whereby crypto enthusiasts can engage in trading activities. Currently, there are several crypto trading platforms, and Phemex is one of the newest and fastest-growing ones. In this Phemex Review, we are going to detail everything you need to know before you use it.
Phemex came into existence when its founders saw an opportunity in the crypto arena whereby there was a lack of credibility, etiquette, and proper customer support and decided to capitalize on it. The mission of Phemex is to ensure that everyone who wants to trade can do so effectively and efficiently without causing any trouble.
Phemex Review: What Is Phemex?
Before we start our Phemex review, we need to see what it is. Phemex is a Singaporean exchange like Binance or Coinbase, launched in November 2019 with its activities focused on crypto spot trading and derivatives. Former Morgan Stanely executives founded it with the sole purpose of providing its users with a safe place when dealing with crypto.
Phemex offers its services using the zero-fee model whereby its users can conduct spot exchanges free of charge. However, looking at how different exchanges work, you will need to incur fees ranging between 0.1% to 0.25% when purchasing or selling cryptocurrencies.
However, Phemex eliminates these transactional fees but offers its users a premium membership that will cost them $5.80 monthly.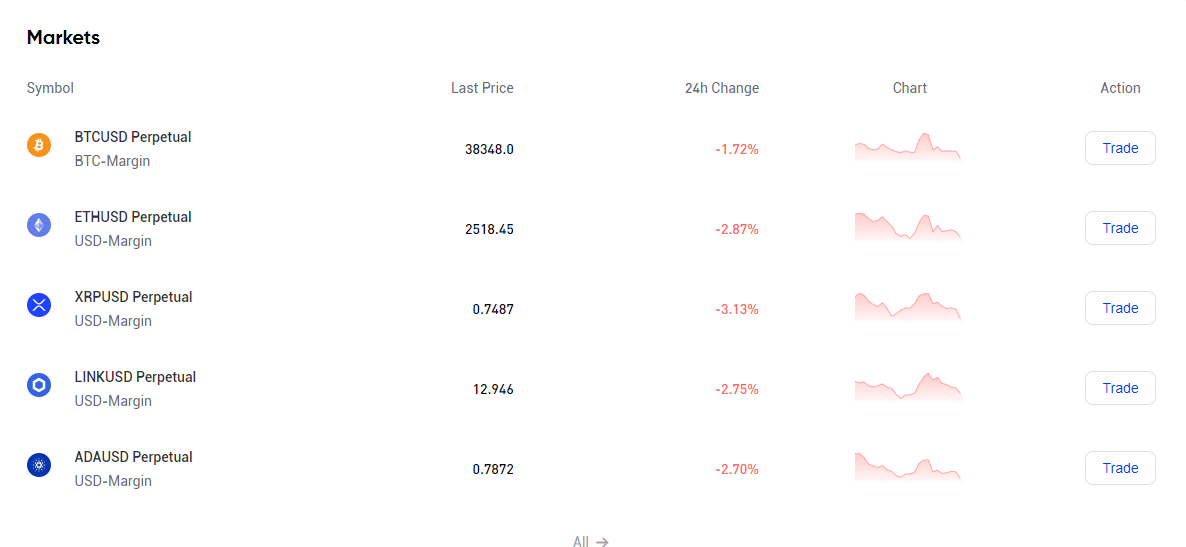 Phemex Features
Let's see which are the features from this Phemex review.
Zero Fees
Several features are associated with Phemex, with the most prominent one being the zero fees that it offers its users when trading. While most exchanges will charge their users a percentage fee, all Phemex's features are free.
Simple and Intuitive Interface
The other feature of using Phemex is its intuitive and straightforward interface. Since the site mainly targets beginners, its user-friendly interface makes it easy for users to maneuver. A newbie will quickly start trading volumes after visiting the site for the first time.
Demo Account
To ensure that users are well prepared to trade, Phemex has the option of using a demo account. The demo account has been designed specifically for those with little or no idea of trading crypto. Using the demo account will trade without being associated with any risk.
Mobility
This Phemex review presents another feature of the platform, which is mobility. Phemex is a mobile application that users can download for iOS and Android devices. This means that users who have Phemex accounts can log in easily using their mobile phones at any time and place.
General Offers
Phemex has outlined several generous offers for those new to the site to ensure that its users are prepared to begin the trading process. In addition, new users are met with different bonuses and facilities that will help them get the upper hand on the platform to keep them going.
Phemex Fees
Now it is time to talk in this Phemex review about fees. As earlier explained, Phemex is currently using a zero trading fees model when spot trading. However, there are charges for premium membership, which is capped at $9.99 for a single month or $19.99 for three months. In addition, those who wish to have an exclusive full-year membership will be charged a token of $69.99.
When it comes to contract trading, Phemex has a separation between takers and makers, and both are charged fees at different rates. For a trade to occur, there will be a need to be a taker and a maker. The maker usually has their order already existing in the book before the trade occurs.
The taker, on the other hand, takes the maker's order. In Phemex, a 0.075% fee is charged on takers, while makers are charged a fee of 0.025%, which can be considered a fair deal. Regarding withdrawal, there are no fees charged when withdrawing crypto. However, a minimum fee of 0.00057 BTC is charged when withdrawing BTC. 
Phemex USA – How to Use
Currently, Phemex does not allow US citizens to use its services. Therefore, to use Phemex in the US, you will need to use third-party applications that will camouflage your location. Here are the steps to go through it from our Phemex review:
Step 1: Choose a VPN
Before you begin the registration process, you will need to decide on the VPN to use. VPNs are private networks that tunnel your internet traffic through a private server, masking your location. Therefore, by choosing the best VPN, you will be concealing your country of origin, which is the United States. Importantly, you should note that premium VPN models with kill switches work best.
Step 2: Connect to VPN and log in
Once you have selected your premium version of VPN and channeled your internet traffic through it, you can then download the Phemex application. Since you are yet to have an account, you can log in to the Phemex Page and click on register. Fill in the required details carefully to avoid incriminating yourself as being American.
Step 3: Load your Account
Once you have completed the registration of your Phemex account, you will be required to add funds to what you will not be able to do using your credentials. In that case, the best option will be to use another crypto exchange to transfer your cryptocurrency to your Phemex account.
Once you have completed this process, you can go ahead and begin your trading endeavors. However, for traders within the US who would wish to maintain their credentials when trading, it would be easier if they would choose another crypto exchange that is acceptable in the US.
Is Phemex Legit?
It is almost impossible for those who have interacted with any crypto exchange platform to find an exchange that does not charge its users any fees. In that case, many may wonder, is Phemex legit? This question is that Phemix is indeed a legitimate derivative exchange. Ever since its launch, there has been growing support and the growth of the platform of crypto traders from all around the globe. The success of Phemex has been attributed to the growth in its user-centered approach to doing business. Traders who have worked with Phemex agree that it has been a great experience trading with Phemex.
Related articles: Coin App Review | Trezor vs Ledger
Phemex Review – Conclusion
The Phemex platform came into being with the sole reason of making sure that those who are new to the crypto arena, as well as experts in the same, will be able to trade with ease. Phemex uses the best technology when it comes to security and web development to ensure that it that the platform is usable to all.
Users also need to understand that the platform has never had any negative incidences concerning internet traffic security, and it should be considered a stable and powerful site. For those who are yet to invest with Phemex, it is worth noting that the platform is prepared to offer a secure, efficient, and safe environment for trading. We hope that our Pheme review helped you to make a decision.
No reviews left yet...
Be the first to review Phemex!