Freetrade Review: App, ISA, and the Plus Version
This Freetrade review will outline the most important features of this service in order for you to make a good decision.
Freetrade is an award-winning financial technology company based in the U.K. It was founded in 2016 by Adam Dodds, Viktor Nebehaj, and Davide Fioranelli before bringing to board Draper Esprit in 2019 for completion of a $15M Series A Financing. The company specializes in freemium share dealing services. These services include the iOS app that was launched in 2018 and the Android version that followed in April 2019. This Freetrade review will outline the most important features of this service in order for you to make a good decision.
Viktor Nebehaj, who was previously a crowdfunding investor, joined Freetrade as the chief marketing officer, while Ian Fuller, who is popular for Snapchat, joined as the chief technology officer. Left Lane Capital led the company's Series B financing worth $69 M, which happened in 2021 with help from Draper Esprit and L Catterton.
Freetrade Review: Introduction
In January 2020, Freetrade faced some accusations regarding a toxic workplace – fostering a culture of fear due to the City A.M. – something the company's co-founder, Adam Dodds, denounced as an honest and candid culture that was uncomfortable with some few individuals.
Being a startup has not been a hindrance to Freetrade's breakthrough in the market. Besides offering outstanding commission-free stock trading services, the company is regulated by the U.K.'s Financial Conduct Authority, making it safe due to its affiliation with the FCA, a top-tier regulatory body.
Besides operating on iOS and Android, Freetrade also allows its users to trade ETFs and equities certified in the U.S. and U.K. This Freetrade review exposes everything you need to know about the company. Freetrade boasts a range of awards between 2019 and 2022 as follows:
2022
Best ISA Broker;
Best Broker for Beginners.
2021
The Best Virtual Trading Platform (British Bank Awards).
2020
The Best Commission-Free Stockbroker (Good Money Guide).
2019
The Best Share Trading Platform (British Bank Awards);
People's Choice (Good Money Guide);        
The Best New Investment Service (Consumer Investment Awards).
Freetrade App Review
A Freetrade review is never complete without the Freetrade app. It is the latest commission-free stock app to join the U.K. market. Since it's commission-free, the app allows users to trade in stocks and shares – buying and selling – without incurring dealing fees. Besides the U.K. and U.S. stocks, the platform also allows dealing in various ETFs and funds while supporting fractional ownership, which is the most interesting aspect of the platform. The latter means that users can buy shares for just £2 without considering the company's stock price.
Any honest Freetrade app review shows that the app is a mobile-only stockbroker covering more than 1600 stocks from the U.K. and U.S. markets. The U.K. market includes shares listed by FTSE 100 and smaller markets such as AIM and FTSE 350. For users interested in U.S. stocks, the platform allows them access to some of the leading American firms listed by NASDAQ and NYSE, including Tesla, Amazon, Apple, and more.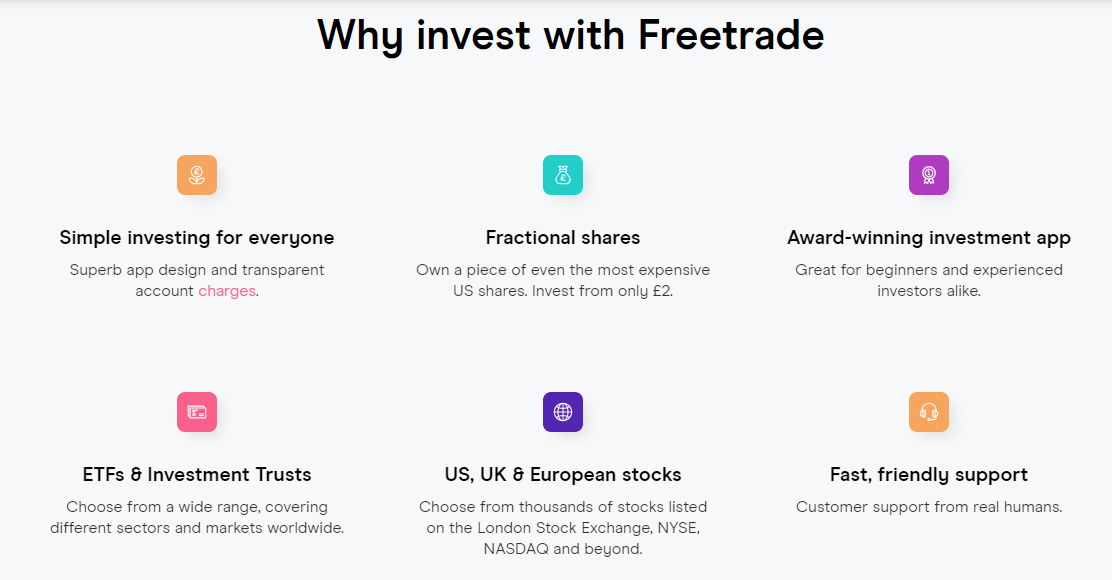 Stocks That You Can Trade in on the Freetrade App
The Freetrade App focuses on two main markets: the U.K. and U.S. stocks. For investors interested in local companies, the FTSE 100 outlines the legible options, including BP, BT, GlaxoSmithKline, and AstraZeneca. There are also smaller stocks available on AIM, FTSE 350, and FTSE 250, ranging from Boohoo to Greggs, among others.
The app is affiliated with NASDAQ and NYSE in the U.S., which allows access to the leading tech stocks such as Twitter, Netflix, Amazon, and Apple, among others. The app also allows users to trade in ETFs and Index funds such as Vanguard, iShares, and SPDR, making them passive stock investors.
Freetrade Review: Freetrade Account Types
Freetrade offers three account types in which users can invest. They include:
Freetrade general investment (GIA)
Freetrade Stocks and Shares ISA
Self-invested personal pension (SIPP)
Besides the above, there is also a premium account known as Freetrade Plus, which comes with additional benefits at higher costs.
Freetrade General Investment Account
It is the company's basic account that allows users to access free and instant orders at no monthly subscription. Most people choose this account after using their ISA allowance for a year, which may require them to pay capital gains tax on the profits earned. The named taxes are payable on gains above 12300 allowance every tax year. The ISA is a more cost-effective option for people who have paid into their ISA in the ongoing financial year that runs from April to April the following year.
Freetrade ISA Review
The Freetrade stocks and shares ISA is a personal account that allows users to invest a certain amount every tax year without paying any taxes on the profits they make. The allowance for the 2021/2022 tax year, for instance, is £20,000, which allows them to invest the same amount in stocks and ETFs and enjoy tax-free profits from the investment.
Opening an ISA account on the Freetrade app costs £3 monthly or £36 annually. The free trades combined with the FX costs on U.S. trades make the account cheaper than Hargreaves Lansdown, among other traditional brokers that charge between £5 and £12 per trade.
Freetrade also offers a limited trading universe making it unsuitable for people interested in holding various products in their ISA account – shares and funds from multiple markets. It is also tough to costs, especially for users looking for a place to invest huge amounts of money over a long period. However, holders of this account are free to transfer their ISA into their Freetrade account.
Freetrade Self-Invested Personal Pension (SIPP)
SIPP is one of the newest additions by the Freetrade Company that allows you a personal pension with more freedom on what you can invest in. It costs £9.99 every month, which translates to £120 annually or £7 for users with an existing Freetrade Plus.
Freetrade Review: Freetrade Plus
This component of Freetrade became live on August 6, 2020, launched by Duncan Leslie, the VP of Freetrade Company. It is the company's premium product developed to allow users easier access to advanced investment tools and was previously known as Freetrade Alpha, even though the name has been scrapped off since.
The account charges £9.99 per month with a 14-day trial period within which users can cancel their subscription cost-free. Users of this account are still entitled to the company's commission-free trading privileges but may incur come small fees for same-day bank transfers. Being a Freetrade Plus member allows premium services and extra features such as exemplary customer support and huge portfolio options.
It also comes with curated stock collections, freedom to limit orders and stop losses, and free stocks and shares ISA. However, the account is currently limited to experienced crowdfunding investors with lifetime access to the company as a pledge reward.
More About Freetrade
Saving is the traditional way of securing the future and that of your future generation. However, investing helps savings grow, thereby giving users more power and financial stability. Besides, people are constantly moving from the traditional ways of investing, such as real estate – which is more demanding and overwhelming.
Convenience and technology have brought immense changes in the world of investment, which explains the tremendous shift towards stocks and shares. If you are interested in investing in shared stocks in the U.K. and U.S. markets, you should try the Freetrade stock app.
Related articles: Cash App Direct Deposit Time | Cash App vs Venmo
Freetrade Review: Conclusion
The Freetrade platform allows users access to more than 1600 stocks and ETFs commission-free. However, users should equally understand that with the platform, it is impossible to deposit funds with an e-wallet or debit/credit card. Besides, they can't apply the short sell or leverage assets, and there is nothing in the way of technical or fundamental research.