Blinkist Review 2022 – The Offers of This Audiobook
Is Blinkist the best audiobook service on the market? Find out in this Blinkist review.
Is Blinkist the best audiobook service on the market? Find out in this Blinkist review. Blinkist refers to a professional book summary service that gives readers a chance to get detailed insights from some of the best nonfiction books around the globe. The services allow users to get all the information from a particular nonfiction book within the shortest time possible. This service is primarily designed for individuals who:
Cannot decide on the best nonfiction book to read;
Struggle to complete reading a nonfiction book;
Feel overwhelmed to read through the newly-released nonfiction books.
The startup was introduced in Berlin and established in the year 2012. Since its launch, it has generated more than $35 million in VC funding up to today. Blinkist has a team of readers that generates valuable insights from some of the best nonfiction books and creates summaries.
Note that every key insight generated is a Blink that fits on a single page. The Blinkist app is available, free for download, and account creation. After creating an account, you will acquire a chance to read the daily picks generated from some of the best books in the world. If you need to acquire full services, you need to pay a certain amount for the subscription fee.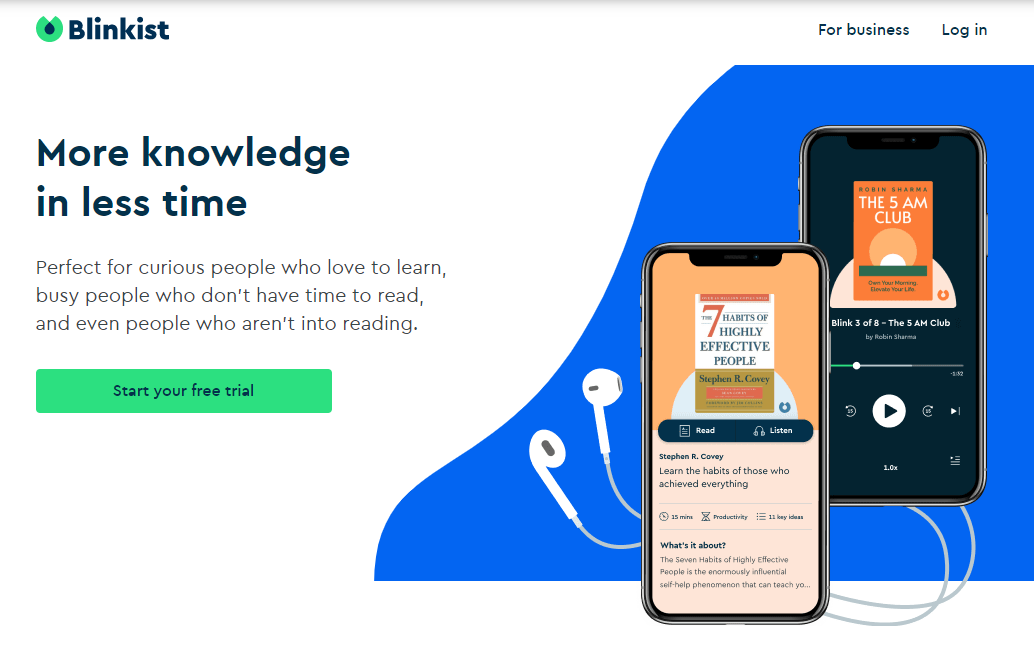 Discover Blinkist
Due to a considerable number of book enthusiasts around the globe, it is no secret many people have heard about Blinkist. Whether you are a student or a book reading nerd, then it is automatic that you understand the impact of an excellent nonfiction book. On most occasions, you will realize that you do not have the whole day to read the book you love.
At this point, all you need is to mine a couple of takeaways or perhaps a summary of the entire book. Note that you need to do this before purchasing the book you would like to read. Many people, especially students, lack time to read the books they need to use in their academic assignments.
Even if you only need to read a specified book to gain general knowledge, you might reach a point and realize that you are too busy to read. You can easily acquire Blinkist review subscriptions and get all the reading stuff sorted to make good use of your limited time. Blinkist review comes in the form of a mobile application that helps you read different book summaries conveniently.
This review incorporates detailed information on Blinkist and how it impacts reading for the reading enthusiasts.
Blinkist Features
Blinkist comes with some of the best features that make it an outstanding one-stop shop for all nonfiction reading shops. Here are some of the top features that make it rock.
Highlighting and Sharing
The Blinkist platform allows users to highlight text using the cursor displayed. It has a comprehensive room with different colors to choose what suits your intent. Besides, you can go ahead and save the passage as a highlight. Alternatively, you can easily share the insights generated from a specific section of the entire surgery.
Reading Summaries
Blinkist has a compelling reading interface free from any form of destruction. The interface gives you a chance to read different summaries from a wide range of nonfiction books. The first blink gives you a chance to clarify whether the review is perfect for your needs or not.
In addition, there is the second blink on the reading interface that covers the book's entire content. The remaining blinks incorporate the recap of the book together with actionable insights referring to the final summary. Combining all these blinks creates a compelling reading environment that gives readers a remarkable experience.
Audio Summaries
At the bottom of each blink, there is an audio player. Once you press the button, the audio will start to play, and the pages will turn automatically. This will continue for some time until you stop the audio. If you are tired of reading through the summaries, you can opt for the audio option and listen to the summary instead of reading.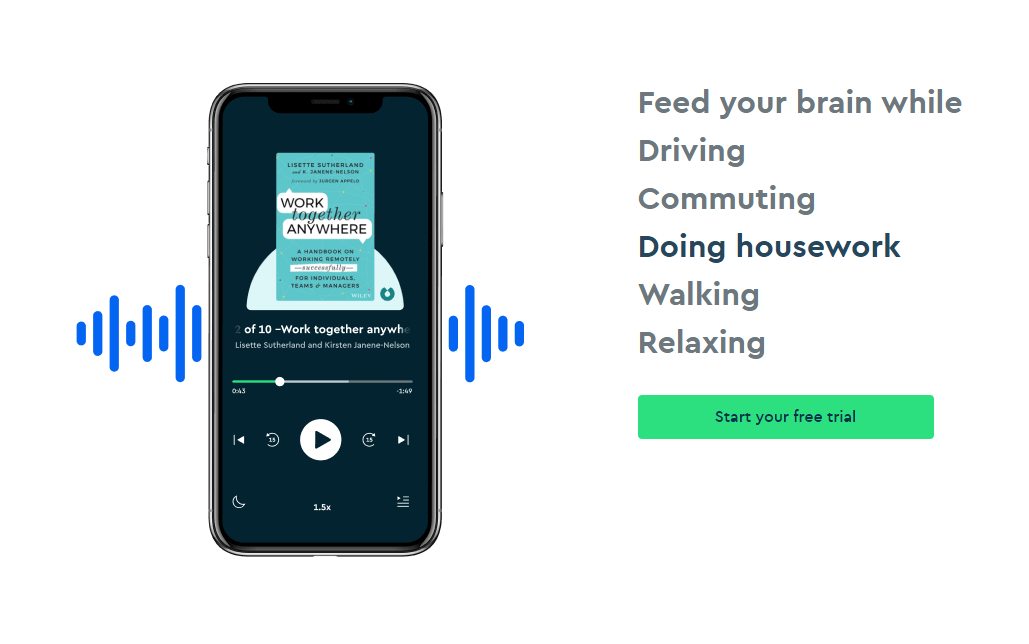 Blinkist User Experience
Blinkist users continues to rise due to compelling customer service.
Every new user who joins Blinkist gets a seven-day free trial premium plan to determine whether the service is worth investing in. If the user does not cancel the premium plan trial within the given seven days, they will be required to subscribe for a premium plan package. However, some users forget to cancel the free trial plan and later end up paying the subscription fee.
Note that most subscriptions are new, and most people do not understand how the criteria work. According to the Blinkist service providers, charging people at the end of the free trial enables them to remain subscribed in the end. The subscription fee is relatively cheap, making users enjoy their reading experience.
With over 2000 videos, audio, and text summaries, Blinkist has every user covered. Besides, the platform can satisfy every user within the shortest time possible. The summaries displayed on the platform are crafted in the shortest form possible that making them easy for readers to comprehend and grab at their fingertips.
Blinkist Library
Blinkist is the cheapest library in the entire collection.
In addition, the platform has more than 5000 complete summaries with insightful details about different nonfiction books. Blinkist outshines all other types of libraries offering nonfiction book summaries. After installing the Blinkist app and paying the subscription fee, you can easily set notifications when new summaries are uploaded.
Besides, you can specify the kind of nonfiction books you would like to read and get alerts when the books are ready. Additionally, the library gives you a chance to request the book you want even if it's not provided in the available books. This is meant to ensure that every nonfiction reading nerd has their back covered.
Note that the concepts displayed in every specific nonfiction book portray tons of advantages after reading through the book. This makes the entire reading experience epic and allows readers to evaluate the advantages of the Blinkist library.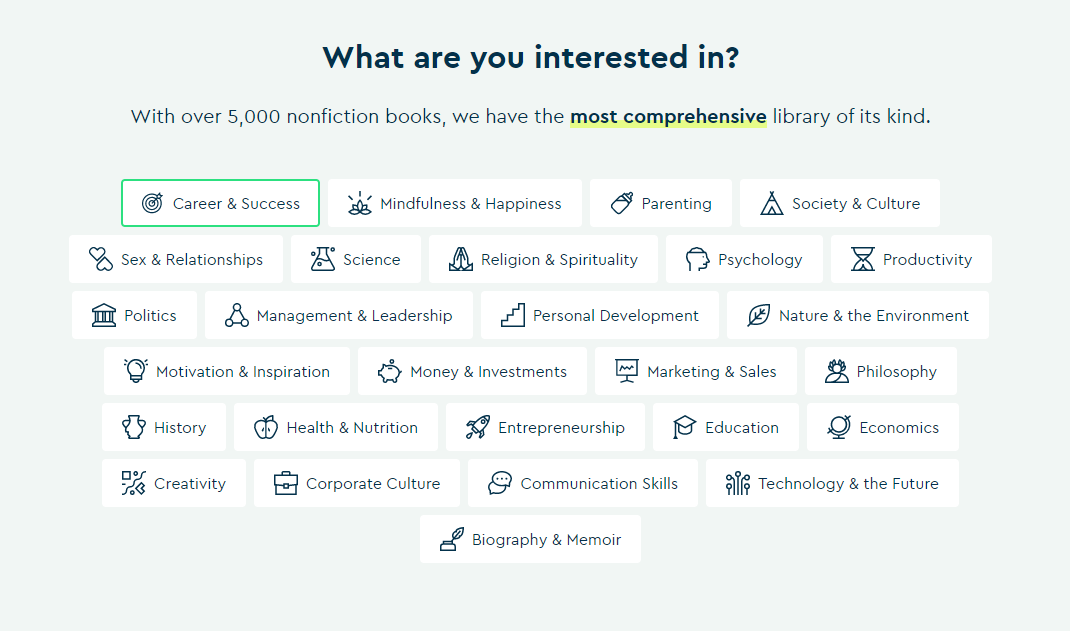 Blinkist Review | The Pros
Now that we've discussed everything you need to know about the site, let's dive into some of the pros of using its services.
1. Saves You Time
The biggest advantage of having a Blinkist membership is that you have access to summaries of the world's best nonfiction books. This is great if you're a student who has to write a report for school or university and need a quick summary of a certain text.
What's more, you won't just be offered a brief overview of the book. Blinkist is known to provide a very thorough summary that is quite detailed and covers the main points and facts. Thus, if you're a student and you have a test to cram for, this service would be perfect for you.
Of course, you don't have to be a student to enjoy the site's services as you can go through books by experts in your chosen field, gathering the necessary information to improve your knowledge or skills. This way, you won't have to waste your time reading the entire thing, and this is one of the most important things from this Blinkist review.
2. Never Read a Bad Book Again
Reading a complicated or tedious book can be a chore, especially if it's quite long and information-heavy. You'll be spending the majority of your time going through it with nothing being retained.
With Blinkist, however, you will be provided with summaries of the titles you find difficult to get through.
3. It's Easily Accessible
One of the biggest advantages of Blinkist is that you can use it wherever you are. Blinklist allows you to access the site through your PC or mobile phone.
4. Appealing Interface
If you were to scroll through their site you'd be blown away by its design. It's very appealing due to its minimalistic feel, with black and green accents. The mobile app replicates the site's ease and design, making it one of the most popular ways users access Blinkist review is also practical and easy for you to read.
5. You Can Learn Easily
The majority of its users have a Blinkist account to help them learn about difficult topics. This is because reading a thorough summary makes it easier to pick up information than going through the whole book. To help with this, the site has modified its interface so that it's not only easy to use but distraction-free as well. This is due to its minimalistic design which is easy to navigate.
What's best about this is that they've made learning as easy as possible. You can access the book wherever you are as Blinkist synchronizes with your account. So, if you've stopped a summary halfway through on your phone, you can pick up where you stopped if you log in through your computer.
6. It's Free
You'd be happy to know that Blinkist chooses it for you.
Of course, you get a paid version of the site which allows you to unlock its audiobook feature. In terms of its subscription fee, you can get up to 20% off if you choose a 12-month membership.
Blinkist Review | The Cons
Now that we've discussed its pros, let's move to the other part from this Blinkist.
1. Its Library Is Limited
When it comes to the library, you can only access 2,500 books. This is quite a limited number compared to what its competitors have to offer.
Also, out of the 2,500 titles available, none are fiction.
2. You Don't Know Which Book To Read
If you were to get a Blinkist membership, you would see that the books haven't been rated or reviewed on the site by users. This makes it impossible for you to judge whether the book is worth your time unless you research it.
3. How Reliable Are The Summaries?
The summaries are written by the Blinklist team. Although the majority are reliable and accurate, some of the summaries are not the most trustworthy as they have wrong excerpts.
4. The Listening Feature Isn't Free
If you're planning on getting Blinkist to listen to book summaries, you will have to pay as the feature isn't free.
This is a shame as most people get a Blinkist account just for one-time use, to access book summaries to help with their learning.
Blinkist FAQs
Is Blinkist Better than Reading?
It is automatic that reading an entire nonfiction book is time-consuming and tiring. Blinkist gives you a chance to read a nonfiction book in only fifteen minutes. Considering that many people are always engaged with other activities, and they need to do some reading, Blinkist becomes the better option when compared to reading.
How Much Does Blinkist Cost?
Blinkist has various subscription options that every user needs to choose from. There is a monthly subscription plan and an annual subscription package. The monthly package costs $16, while the annual plan goes for $100. Before making any subscription payments, every user gets a seven-day free premium trial and access to all the services offered by the platform.
However, you can avoid paying the subscription fee by canceling the free premium trial before the end of the seven days. You need to choose the subscription package that reciprocates your financial and reading capabilities.
Can You Read Full Books on Blinkist?
Blinkist, it begins to search as the entire is saved on your browser in the form of blinks.
This guarantees you a chance to read complete nonfiction book summaries even if you are offline. Besides, the reading interface is clean and from destruction.
Is Blinkist legal?
Many people think that Blinkist still resources from authors. However, this is not the truth of the matter! The Blinkist platform distills main concepts and ideas from the best nonfiction books. Besides, the summaries are original nonfiction works from the team members of Blinkist. Even though the storyline idea is generated from already written nonfiction books, Blinkist has its original writing style.
Is Blinkist Worth the Money?
Blinkist is considered a one-stop library for all nonfiction works.
The subscription payment for Blinkist and the services it offers outshine all its competitors. It has secured a considerable space at the helm of the nonfiction summaries.
Blinkist Bottom Line
It is no secret that nonfiction works have many lovers across the globe. Blinkist has proved to be a reliable one-stop-shop that all nonfiction nerds can visit and camp for reading purposes. The app has all the best nonfiction summaries from some of the best books and authors you have heard about.
The app was developed in a simple but compelling manner that makes it easier for readers to customize their accounts and order what they would like to read. Following the tons of positive reviews given out by the top nonfiction lovers, the app continues to grow and perform better compared to others.
Note: This post has been totally updated for the completeness and veracity of the content on 6 December 2021.