Plum App Review – Features, Savings, and Investments
This app is an intelligent concept, free to set up and use its AI feature, and FSCS protects it, so your money is safe. So give it a try. 
Today in this read, we will talk about the Plum app review, Plum saving app & Plum investment app. 
Okay, so here is something no one has ever told you about. 11.5 million people in the UK have less than 100 pounds saved up  99% of UK saving accounts make less than inflation, and in the last 15 years, UK's households were overcharged by 24 billion pounds on their bills. 
So this can't be right. This is when Plum comes in to fix all of this using something called Artificial Intelligence. Plum is an intelligent assistant who puts money aside for you, invests it for you, and has your back if you are getting ripped off without thinking about it.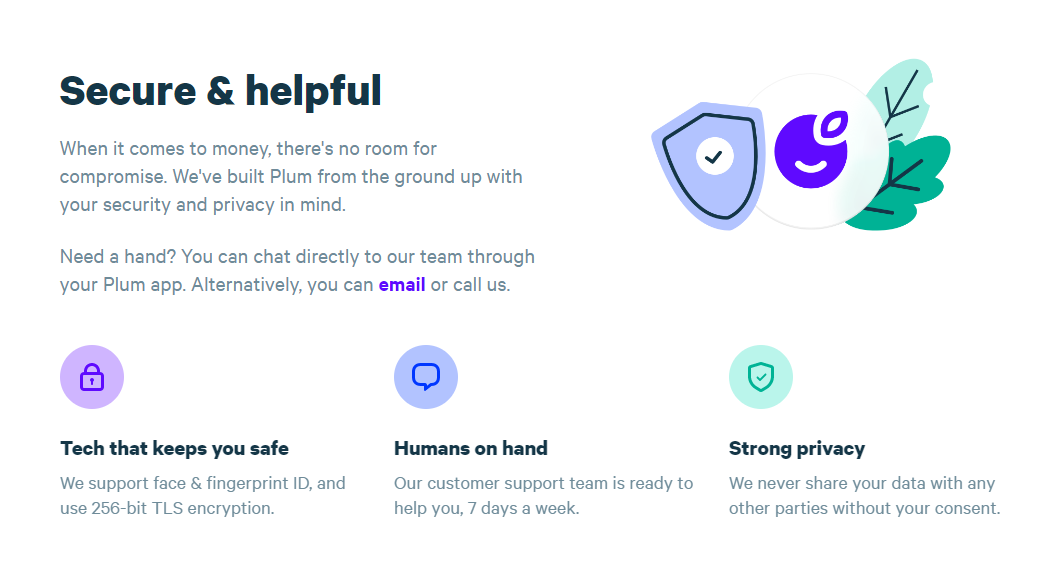 In this Plum app review, we will highlight the main features of this service. First, you plug Plum into your bank account; it then analyzes your income, expenses, and how you spend. Then it figures out the right amount of money you can afford to put aside and move that amount to a savings account every few days, and you can invest in companies like Apple, Google, or Facebook using tracking funds to make your money work for you. Even better, Plum constantly looks into your bills to see if you are being overcharged and helps you easily swap to a better option. Having someone looking for your money only used to be for the super-rich.
Plum App Review – Introduction
We all find it extremely difficult to save money, but what if there is a way to do it without noticing it? Plum takes a very small amount of money from your bank account and keeps it in your Plum pot. So don't think you have to suddenly put aside £100 this isn't the case. A small amount of money will grow into a reasonable sum after some time. This is what people need to understand.
Because over 25% of adults in the UK have no savings, it is a terrifying scenario if something unexpected comes. How long could you stay in your house if you lose your job? That's why it is good to have an app like Plum, and you don't know what the future holds for you. It's best to stay prepared beforehand.
Moving forward with the Plum app review, let's first understand what exactly the Plum app is.
What Is Plum App?
Plum is an Al-powered app launched in 2016 in the UK by two Cypriot friends, Victor and Alex. This app automatically saves money for you with the help of Artificial Intelligence and does the hard work for you, so you don't have to. At first, it was launched as a Facebook Messenger chatbot in 2016, and then it came out as a stand-alone Android and iOS app.
This is an excellent app if you find it very difficult to save money, and the basic version with AI is free. This is the main idea of this app. When they launched it, Alex came up with this algorithm that could save them money without changing their spending needs.
What you need to know from this Plum app review is the fact that Plum works by connecting with your bank; it checks your transactions and decides how much it should save every week. You are the one who controls how much you want it to put aside for you and when you want to stop it. To use this excellent app, you must be a UK resident and have a bank account in the UK. It works with all high street banks in the UK. 
Plum App Features
The features that came in the Plum app are a very significant way to invest and save to turn them on all the time if you want to get the most out of this app. Here are the essential features from this Plum app review:
1. Rainy Days: This is an excellent feature for Plum Pro users. It saves money when it starts raining in your area;
2. Weekly Depositor: This feature, as the name suggests, saves money every week for you according to what you have decided;
3. Automatic: This feature is what the app is all about. The AI will automatically save for you;
4. Pay Days:  This is the feature that works when you get your salary/payment;
5. 52 Week Challenge: This is a good feature; you can challenge yourself to save £1 every week.
Plum App Savings
The Plum saving app is straightforward to use, and it takes just two minutes to get started. So whether you save aside money for a vacation, buy a house, or for some other needs, Plum savings will help you. You can simply create pockets in Plum and then assign tasks to get to your goals quickly.
Several moods in the Plum app decide how you are feeling and how much you want to save. You can select from shy to ambitious to the beast mode, which will save massively. There is no objection to withdrawing money from Plum as well; it's your money, so that you can withdraw it anytime you want. 
Plum App Investments
Let's also talk about the investment program in this Plum app review. With the Plum investment feature in the app, you can invest money with Plum. So if till now you thought it is only to save your money you need to think again. Plus lets you support from the tiniest amount to some of the biggest companies in the world like GOOGLE, APPLE, and FACEBOOK. 
Investment services in Plum cost only £1 per month, and you are all set up. But you need to understand the nature of investing because it is a risky business, so do your research on that before getting in.
There are several risk levels in the Plum investment app in the feature section that you can choose from. You can also have good returns with significant risks, but that also means you can lose big, too, so it is wise to go at your own pace. 
What Else You Should Know about Plum App
Plum gives you free access to the essential app. You can rarely use the AI feature for free and instantly start saving up. But there are other things Plum is good at as well, one being SAFE. Many people ask this question: is Plum safe? So let's dig that in this part of the Plum app review.
Most people are concerned because they're giving their bank access to this app through open banking, but Plum only has read-only access, so it cannot get into sensitive information related to your bank.
It is just as safe as Google Pay or Apple Pay, so you should have peace of mind. If you are subscribed to Plum Pro or Ultra, your funds are more protected with FSCS, which is meant to protect their customers, so even if anything happens, they will return your money to you.
Related articles: Freetrade Review | Cash App Direct Deposit Time | Cash App vs Venmo
Plum App Review – Conclusion
Let's wrap the Plum app review with our final words on it. Plum is a great app and 77% of users rated this app excellent. Some users also rated it harmful and how difficult it is to transfer money from easy access to their bank. But overall, It is a good app if you can't save money yourself and you need some help. 
You can start saving with a very small amount as well, so there is no need to worry about keeping with a significant amount only.
This app is an intelligent concept, free to set up and use its AI feature, and FSCS protects it, so your money is safe. So give it a try. 
Images source: https://withplum.com/