DALL-E vs Midjourney – Which AI Image Generator Is Better?
In this article, we will compare 2 of the most popular and widely used AI image generators: DALL-E and Midjourney.   
AI (Artificial Intelligence) contributes to so many sectors and processes that it is safe to say that it has become a close friend of everyone. While it was hard to get used to it at first, now you can achieve so much with the help of AI-based platforms.
But it's so important how you work with AI, what you ask it to do, and what platforms you choose to explore. While all of them may seem to be doing the same things, it's how they do it that matters.
In this article, we will compare 2 of the most popular and widely used AI image generators: DALL-E and Midjourney.   
About DALL-E
DALL-E is an AI image generator developed by OpenAI, which also launched ChatGPT. The first version was launched in January 2021, and it has now reached its 3rd version. DALL-E 3 was launched in October 2023, surprising users with significantly improved features.
DALL-E 3 is trained to generate images based on users' requirements, called prompts. Once you give it a prompt, such as "a realistic photo of a sunflower in the middle of a poppy field" or "a painting of an ancient Greek god wearing sunglasses, Claude Monet-style," the platform will offer you 4 variations of what you have asked for.
Once you receive those 4 variations, you should be aware that you have just consumed a credit. DALL-E functions based on credits, and each prompt consumes 1 credit. However, it is highly possible that, out of those 4 options you were offered, at least one of them meets your requirements.
This, however, happens if you offer DALL-E all the details and parameters you can. If not, it is highly possible that you might waste credits. So, instead of simply writing "a bear that looks like Winnie the Pooh," you might want to try "a realistic photo of a yellow bear with a red T-Shirt. The bear looks like Winnie the Pooh, and it is holding a jar of honey that has some honey on the edges. The bear is in a forest landscape, next to a linden tree. It is around sunset."
However, if you keep in mind that you have to be as detailed as possible, DALL-E might help you get some truly stunning images.
Midjourney Explained
Midjourney is an AI image generator launched in 2022 that stole the hearts of many graphic designers and AI enthusiasts. The main difference between Midjourney and DALL-E is that the former cannot be accessed by simply searching for it in a browser. Instead, Midjourney is available on Discord, so you can generate images through a Discord bot.
However, this does not stop over 16 million users from accessing Midjourney and enjoying the art it provides. And it is no wonder why. Although Midjourney might have some negative points on the accessibility side, it still provides stunning images and follows the prompts as much as possible.
The process is pretty similar to DALL-E. Users have to enter the Midjourney server on Discord, accept the Terms of Service, and choose a pricing plan. Then, you can start sending prompts.
To give Midjourney a prompt, you have to start your text with "/imagine" and then type your requirements. Just like with DALL-E, it is recommended to offer as many details as you can, including the size of the image, the style, the ratio, a source of inspiration (e.g. Picasso), etc.
Pro Tip: If you want to generate a photo, especially a portrait, you can specify the type of camera you want the bot to imitate.
DALL-E vs Midjourney
Ease of Use
If you know how to use a computer, it is hard to find using DALL-E or Midjourney difficult. The platforms are pretty intuitive, and all you have to do is know what you want from them.
However, when it comes to accessibility, it is essential to note that Midjourney can be accessed by joining a Discord channel. Now, Discord may seem easy to use for most of us, but some users may feel overwhelmed by all the options available on the platform.
DALL-E, on the other hand, looks just like any other platform, actually a little similar to its "brother," ChatGPT. You simply have to access it, log in, and start generating images.
Pricing
You might think that OpenAI would allow users to explore a free version of DALL-E, just like it does with ChatGPT. However, although there was a free version available in the first place, now you have to choose a pricing plan in order to use the AI image generator.
Midjourney, on the other hand, had things straight from the beginning. When it launched, it allowed users to generate 25 images for free. Then, anyone who wanted to use it had to pay.
In what concerns DALL-E, users can purchase 115 credits for $15, 230 credits for $30, 445 credits for $45, and so on until 11,500 credits for $1,500.
Midjourney offers 4 pricing plans:
Basic Plan: $10/month ($8/month if paid annually);
Standard Plan: $30/month ($24/month if paid annually);
Pro Plan: $60/month ($48/month if paid annually);
Mega Plan: $120/month ($96/month if paid annually).
DALL-E vs Midjourney – Prompts
Is there a better way to compare 2 AI image generators than actually giving them the same prompt and letting them do their magic? This is why we chose to compare the images for 6 prompts, each with specific requirements.
Note: The images from the left were generated with DALL-E, while those from the right were generated with Midjourney.
Realistic Generation
Prompt: "An armchair in the shape of an avocado."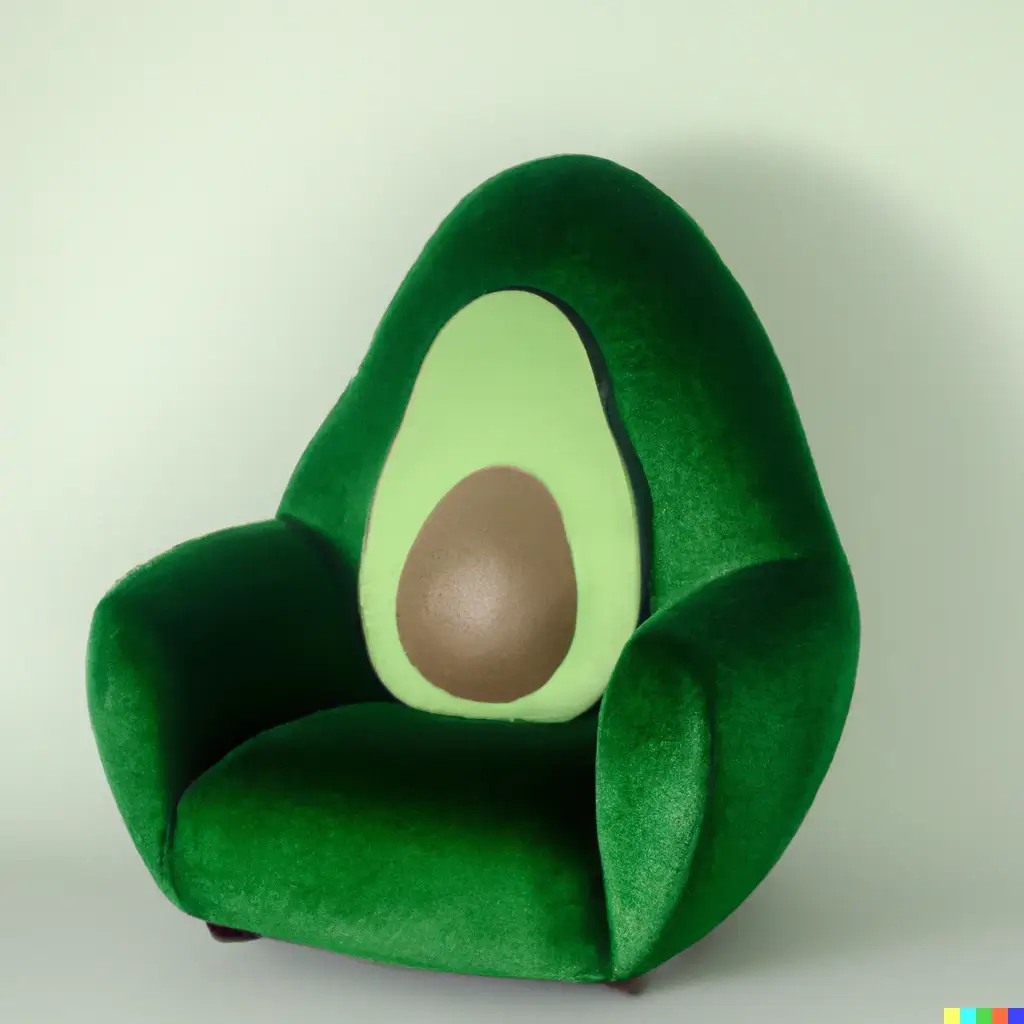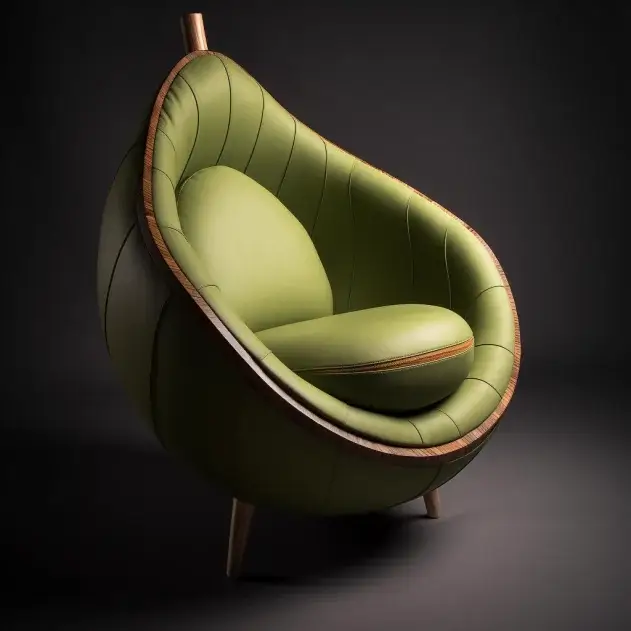 Generating a realistic image should be one of the main things an AI image generator can do. Both DALL-E and Midjourney managed to generate stunning images. In both situations, there is an armchair; it is green, and it has details.
However, it should be an avocado armchair, and DALL-E seems to have understood the assignment better than Midjourney, considering the seed and the various shades of green. While Midjourney's chair seems more comfortable, it is about meeting the requirements, and DALL-E should win this round.
Oil Painting
Prompt: "An expressive oil painting of a basketball player dunking, depicted as an explosion of a nebula."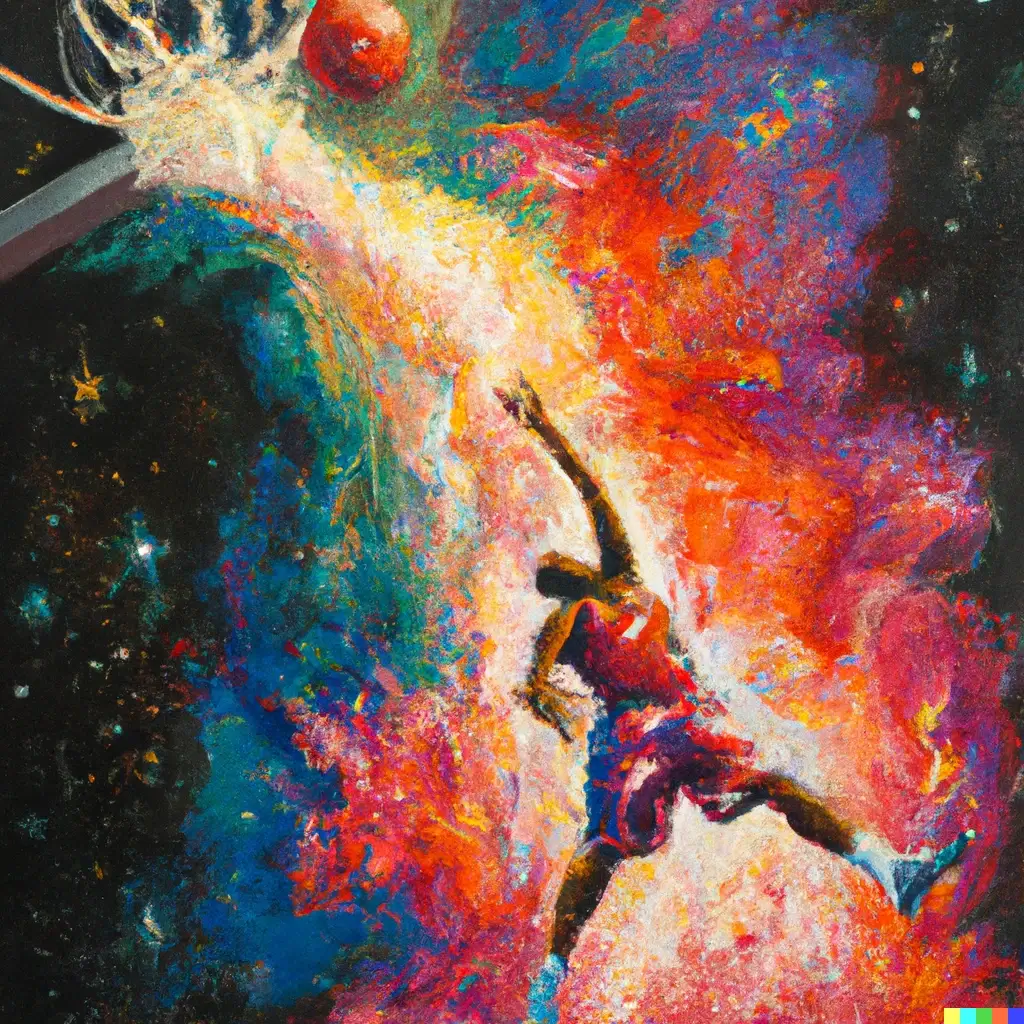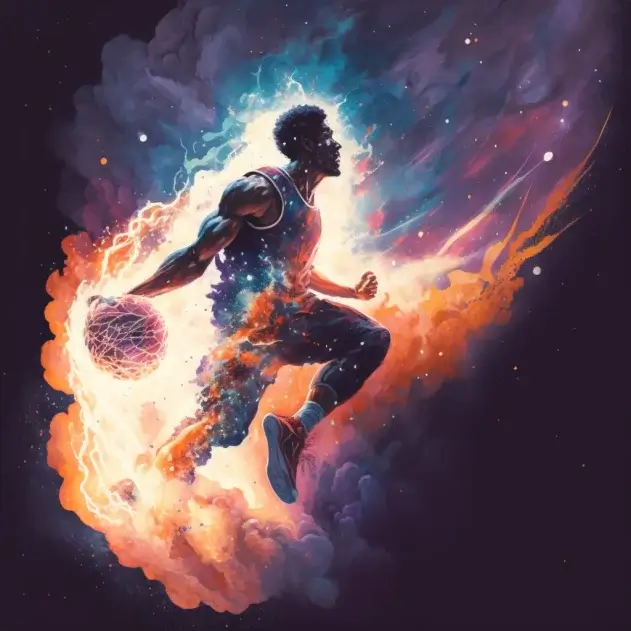 An oil painting has its details; you have to notice the brush strokes easily. Shortly, it must look like a painting. And in this case, Midjourney generated a more realistic image.
In what concerns the details, Midjourney is significantly better. You can quickly notice the basketball player and specific details of the explosion; everything is in place. On the other hand, DALL-E provided fewer details, but you can notice the brush strokes.
Once again, this comparison aims to analyze how well the 2 AI image generators can respect what you give them, and DALL-E is the winner once again.
Abstract Generation
Prompt: "A futuristic neon lit cyborg face."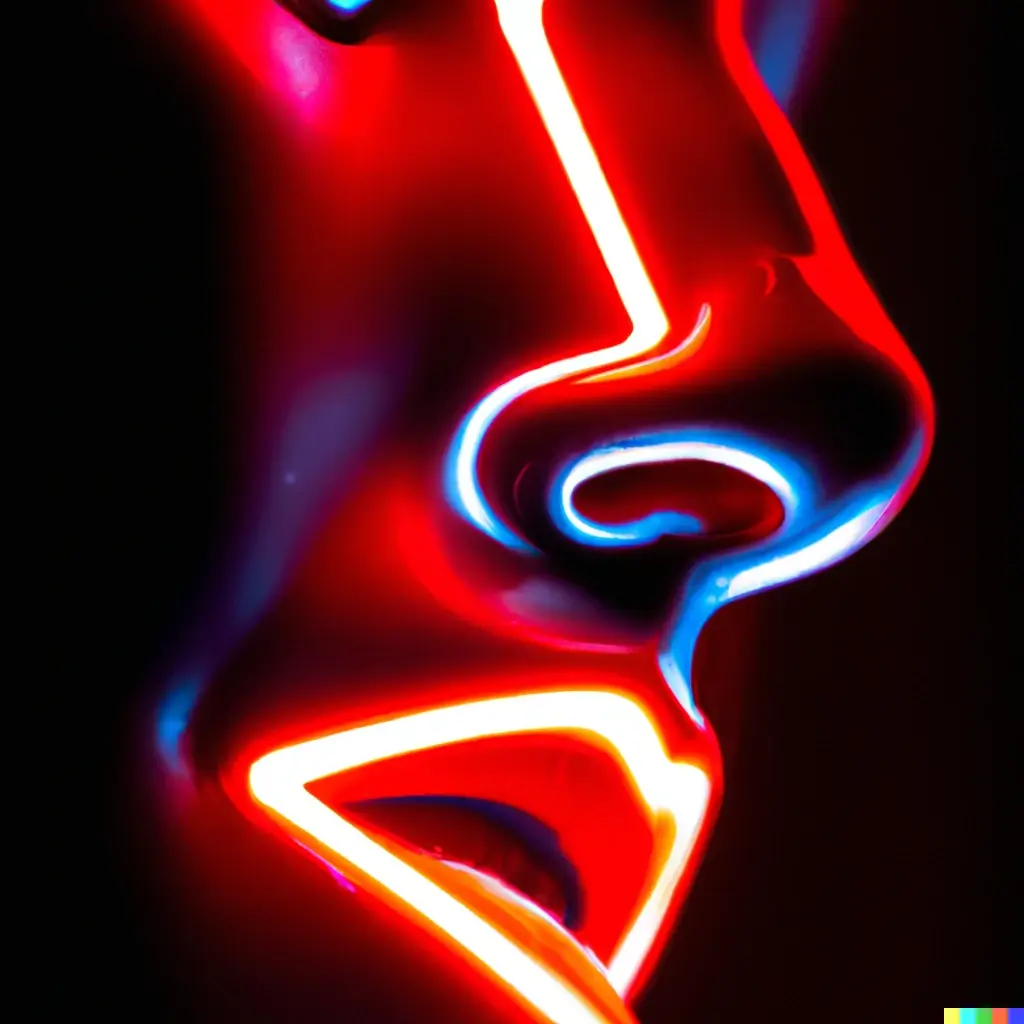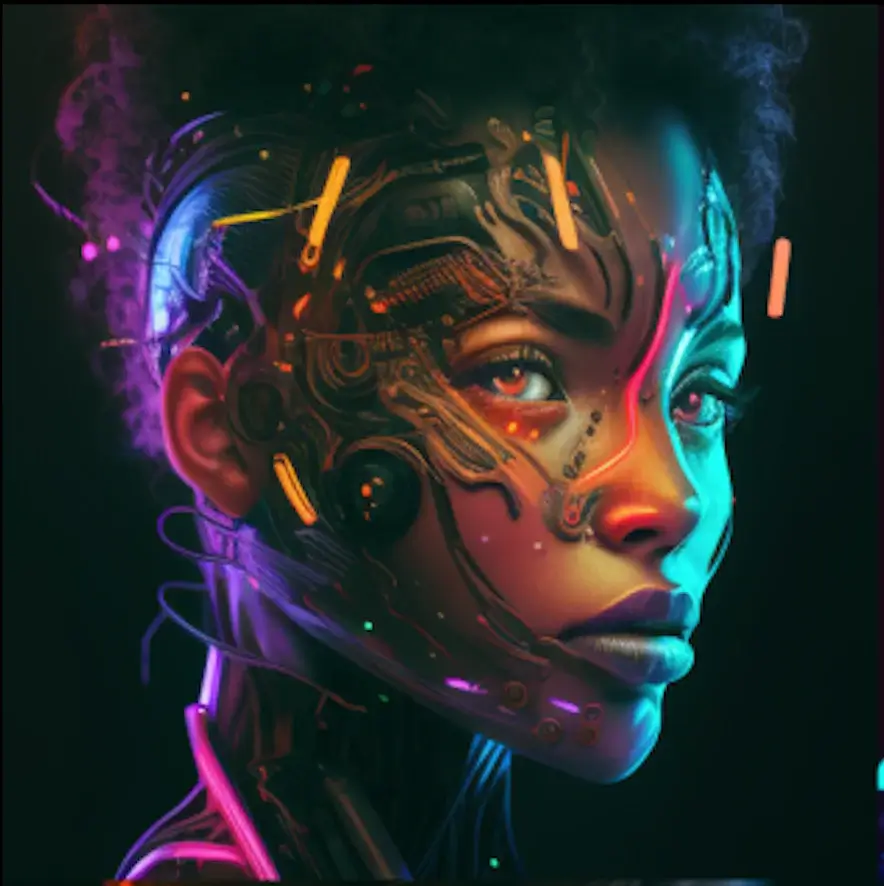 Both images are stunning. They are futuristic, and they meet part of the requirements. You can quickly notice the faces and the neon lights; until this point, you should believe it's a tie. But DALL-E, is that a cyborg face?
The "cyborg face" part of the prompt is one of the most important requirements, and while DALL-E respected the "face" section, you can't actually confirm that it is a cyborg there. On the other hand, Midjourney managed to offer a better representation of a cyborg, and this is why this round has to bring it 1 point.
3D Render
Prompt: "A 3D render of an astronaut walking in a green desert."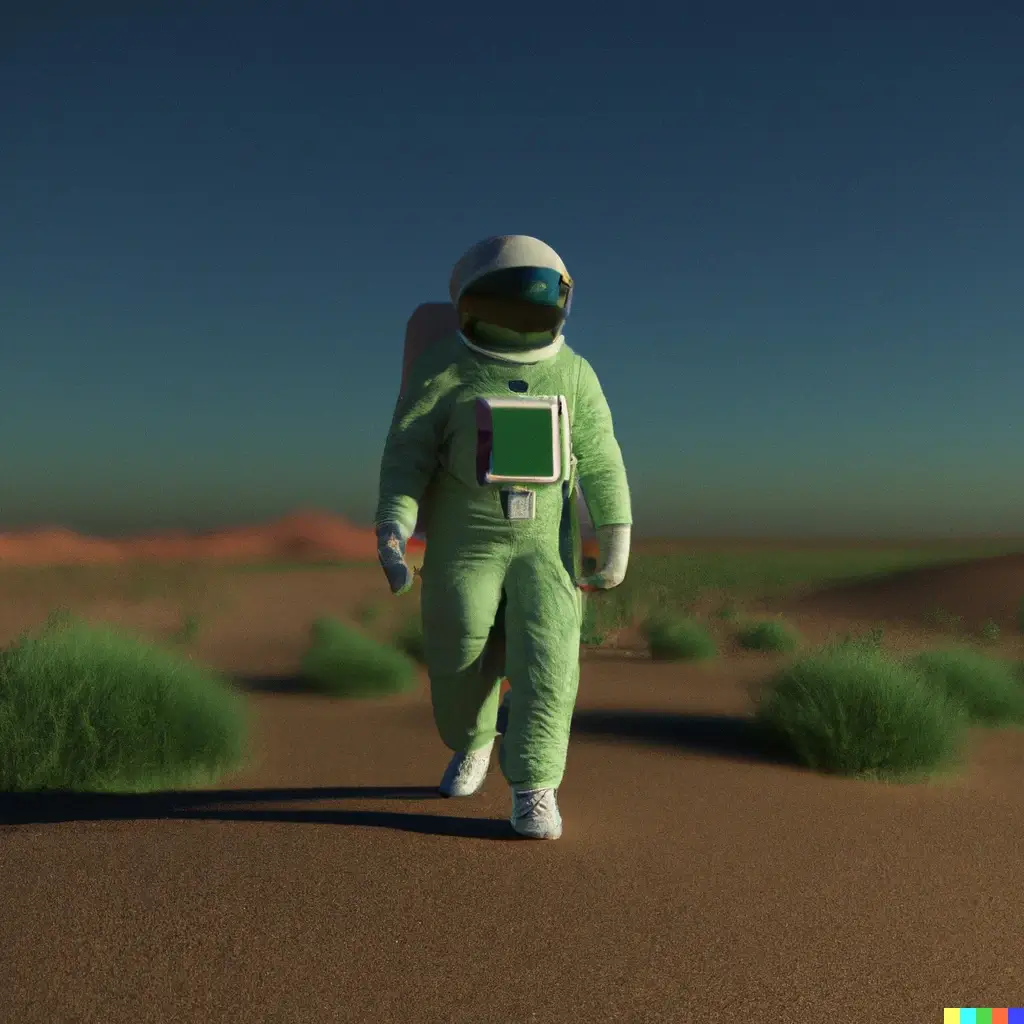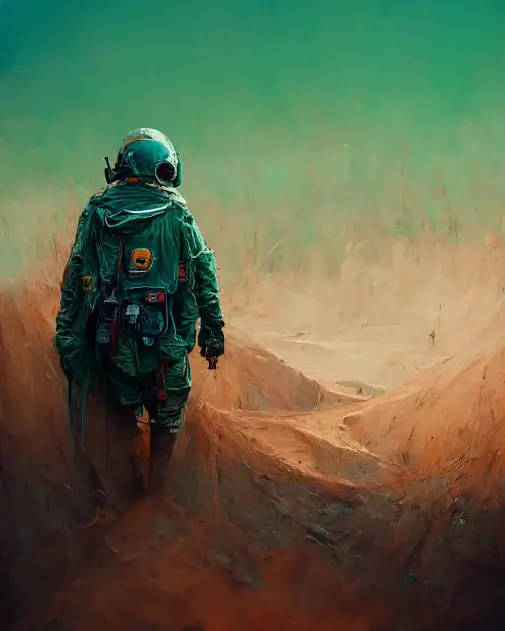 3D renders should clearly show what they offer, with no abstract lines, curves, or shapes. And DALL-E understood this. However, neither DALL-E nor Midjourney generated such a green desert. Indeed, there is green in both pictures, but it's rather the astronauts that are green.
Still, it should be a 3D render, right? While Midjourney's image is truly intriguing, with its vague background and detailed astronaut, it is DALL-E that provided the right type of image.
Portrait
Prompt: "A photo of a Samoyed dog with its tongue out hugging a white Siamese cat."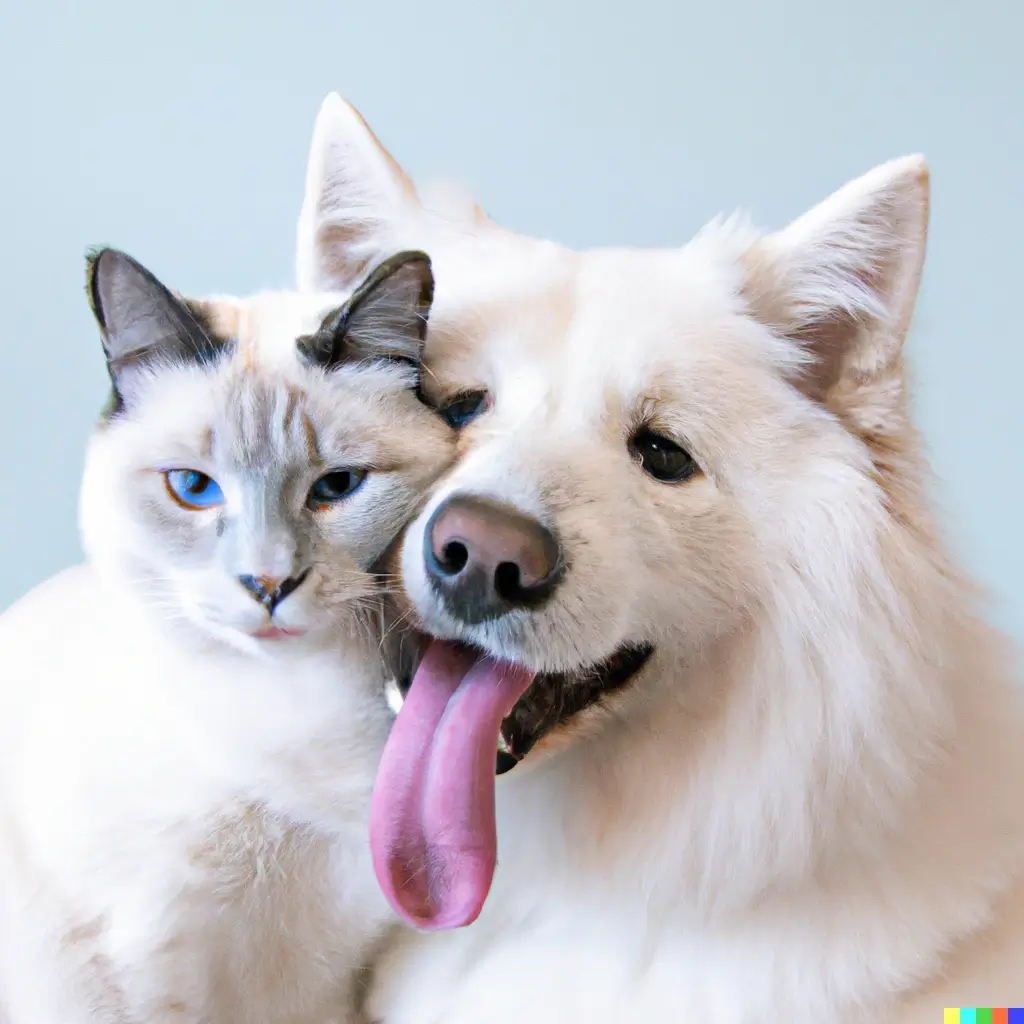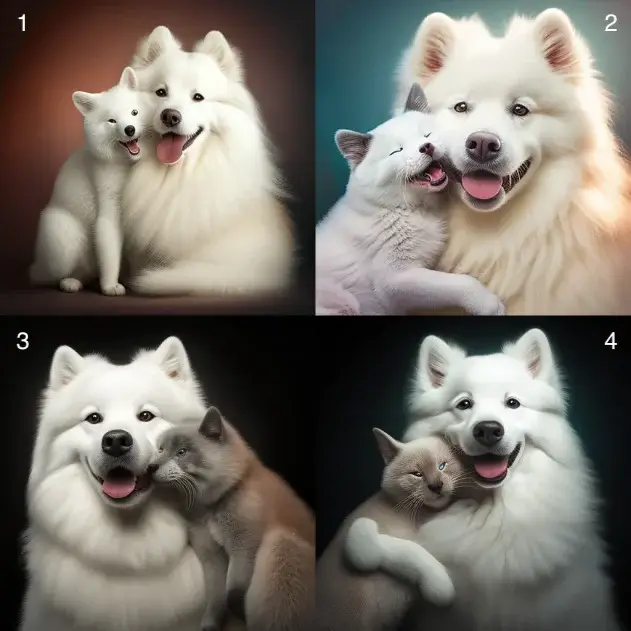 Such a requirement should lead to realistic images with plenty of details and a photo-like theme. So, DALL-E made it as realistic as it could. The dog has its tongue out; the Siamese cat is white; they are authentic and, indeed, utterly adorable.
In this case, we have especially left all 4 options Midjourney provided. And let's analyze all of them.
1. There is a dog that has its tongue out, but its body seems to have experienced some changes. A dog can't stay in that position without its legs appearing. Now, the cat. First, its size is questionable, especially considering the dog seems to be an adult. And the most obvious fact is that it looks a little bit like a dog with eyes similar to cats.
2. The dog looks just right and meets the requirements. The cat, too. The single detail that makes the image not suit the prompt is the cat's nose, which looks a bit like a dog's.
3. This situation is similar to the first one. The dog looks good; it is realistic. However, the cat is not white, nor is it a cat. It looks similar to a fox, however.
4. This image somehow respects the prompt. Still, there is something on the cat that does not seem to belong there.
It is obvious that this round's point goes to DALL-E. Although Midjourney also had an option worth considering, it is that detail that still leaves some question marks.
Low-Context Generation
Prompt: "An abstract visual of artificial intelligence."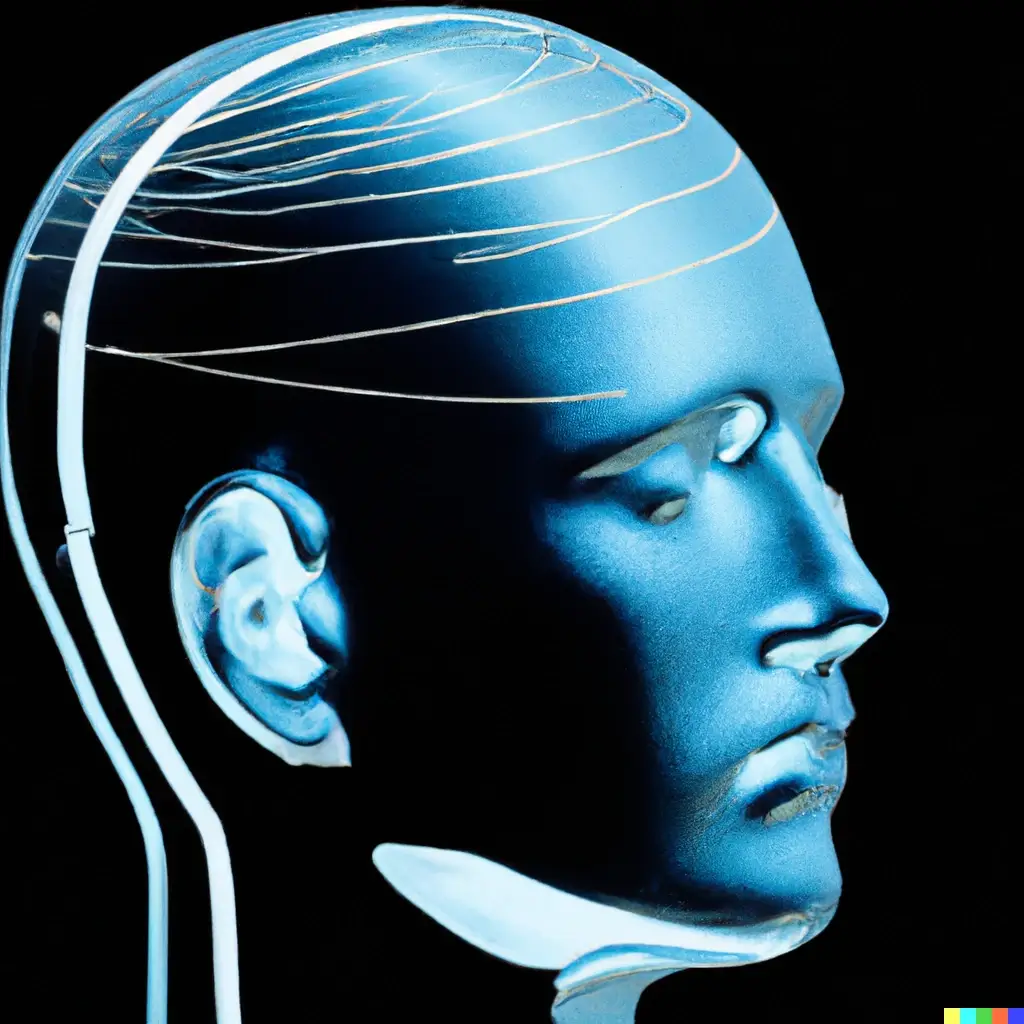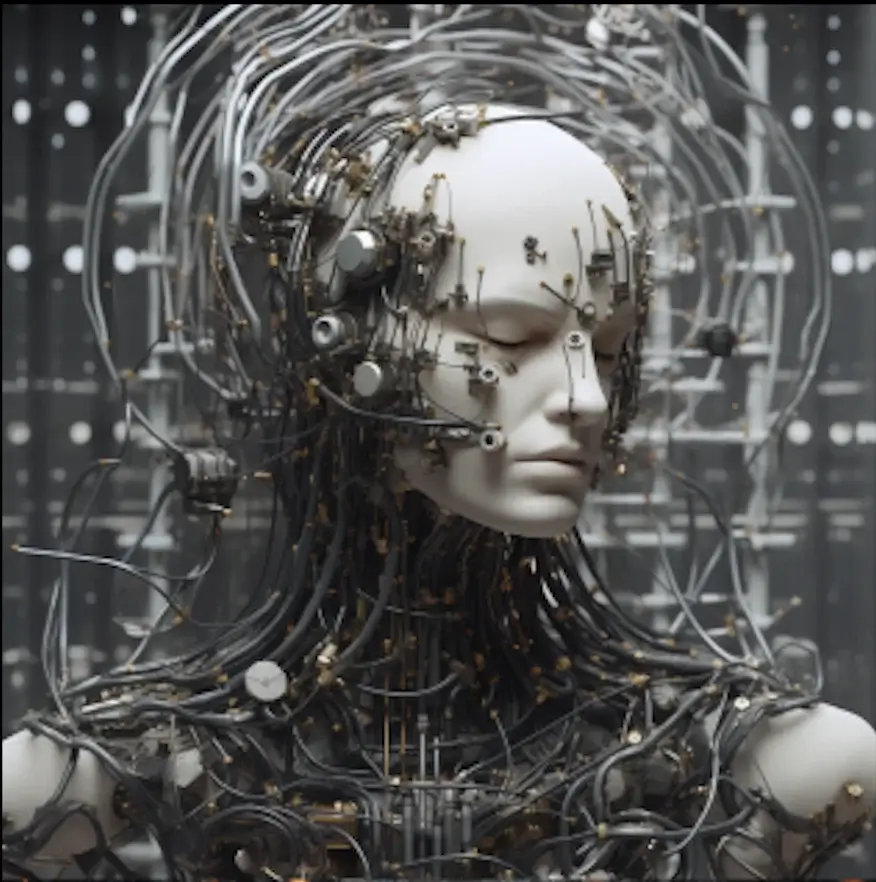 We will start by saying that this round is a tie. It is still a little tricky to define artificial intelligence through images, and when you ask the AI image generators to provide an abstract visual of AI, it becomes even harder.
However, we included this prompt because it shows how differently 2 platforms can process information. DALL-E's image is simpler, but at the same time, it is abstract enough. On the other hand, Midjourney included plenty of details, generating an amazing image.
The main point is that it does not depend only on what you provide to the AI image generator. It is also about how the platform was built and what prompts it has received over time.
DALL-E vs Midjourney – Verdict
If we consider the prompts we analyzed, DALL-E got 4 points out of 6, thus becoming our winner. It provides images as close as possible to what you've asked, and even if it does not meet all requirements, it still focuses on generating high-quality content.
However, Midjourney is not so far from DALL-E. It also respected most of the prompts, and its images are stunning. Furthermore, we should also note that Midjourney is a newer platform, and it still has time to improve the features that it needs.