Moneybox Review – Features, How Does It Work, and Savings
This Moneybox review will go through the features and assess how it works to know more about this application.
Investments are one of the most effective ways in which people can increase their wealth. Unfortunately, complex investment systems have made it hard for individuals to start their investment journey. Technological advancements through applications have eased the workload of investments. This Moneybox review presents the most important features of this service, how it works, and the savings.
Everyone can now be an investor by using their mobile phone and other mobile systems. Individuals can start their investment journey by using the Moneybox application. This is an ideal investment strategy for beginners, as users can create their investments by using their spare change after purchases.
Users do not need to have any investment knowledge to begin the process since Moneybox will be their guide during the entire process. This Moneybox review will go through the features and assess how it works to know more about this application.

Moneybox Review – What Is Moneybox?
Moneybox is a savings and investment application launched in 2016 with a very interesting feature referred to as round-ups. Users could connect their moneybox accounts directly to their banks through this feature. They would then be able to make small but gradual investments using the change they remain with after their daily purchases.
For instance, if a user purchases a cup of coffee priced at $2.60, the application will round off the price to $3, thereby allowing the user to invest $0.40 that would be changed into either stocks or shares ISA. Moneybox is also an award winner, having won the Finder Awards in the innovation category in 2020. This achievement was based on its extra features, as discussed later in this Moneybox review.
How Does Moneybox Work?
To use Moneybox, customers must first download the application and register with the needed details. There are several investment options that users can choose from, including a General Investment Account and Stocks and Shares ISA (more about this on Moneybox lifetime ISA review).
It also includes Stocks and Shares LISA, Junior stocks and shares ISA, and finally, Pension. Once users have selected their account option, they will link a bank card to their accounts. Moneybox will then use its roundoff feature to collect all the spare change from everyday purchases.
Users can top up their investment budget using weekly deposits for more serious investments. Finally, they will select their investment plan from the three options; Cautious, Balanced, or Adventurous, and begin investing. Every week on Wednesday, the user's money will be invested.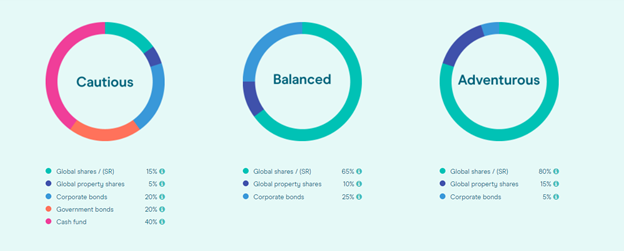 Moneybox Review – Features
Security
Dealing with financial applications can pose a significant risk to the user's financial details, and this could be considered the most important facet of any financial service. Therefore, both the application and the website have been equipped with a high-level 256-bit encryption system that protects all information given by users.
To ensure user financial information protection, Moneybox has been registered as a Data Controller with the Information Commissioner's Office, which is a regulatory board that protects user information. Importantly, Moneybox is regulated by the FCA (Financial Conduct Authority), regulating financial services and markets.
Fees and Charges
Like all micro-investment applications, Moneybox derives most of its revenue from the fees they charge. When using Moneybox, users are not charged transaction fees on normal trades. However, there is a monthly subscription of £1 and a platform fee of 0.45% annually general investment account and ISA.
There is no monthly subscription for pension funds, but there is a 0.45% annual fee for accounts with less than £100,000 and 0.15% for those above £100,000. General and ISA accounts have a yearly contribution of £20,000 and weekly contribution limits of £20,000. While these funds may seem minimal, they make out a significant proportion of the small investments.
Investments Available
Moneybox has an impressive list of investments that its clients can venture in. Users can either choose to invest in Stocks and Shares, public investments, or pensions. A general investment account is most preferred. It is a basic trading account, and users are liable to make payments on capital gains above £12,300.
Moneybox Review – Savings
Moneybox does not offer these services directly to its clients when it comes to savings. Instead, the savings accounts are offered by Moneybox's partners. This means that even though every user taking advantage of the savings account can access them directly from the Moneybox application, their money is not being held by them but by the partner's bank. Moneybox offers two types of savings accounts.
The first account is the Notice Savings Account, which can be opened for as little as £1. However, to withdraw from this account, users will be required to give a 95-day notice. The other account is the Cash LISA account, which is opened and operated by users between the ages of 18 and 39 and saves up to £4000 yearly until they are 50.
In this account, users will be able to withdraw their money without any charges once they are 60 or buy their first house. If the withdrawal is for any other reason, the government contribution will be withdrawn, and the user will pay a fee.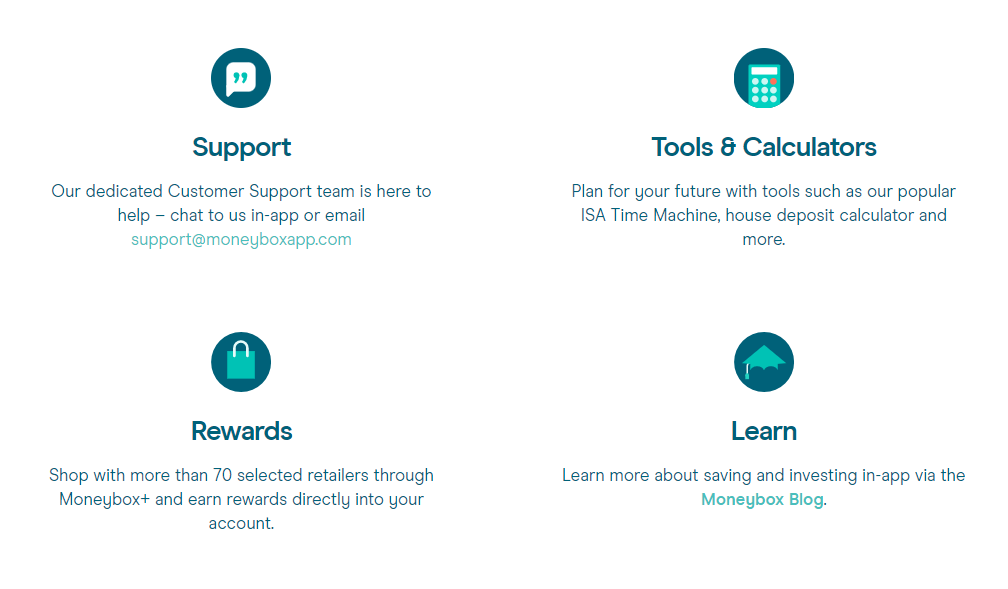 Moneybox Lifetime ISA Review
Moneybox Lifetime ISA has been designed to help its users make investments for their future. With this financial option, users can invest up to £4000 for each tax year. In addition, users will receive a 25% government bonus for every savings made yearly since £1 is given free for every £4 paid.
Users invest their funds in this investment choice and later grow their savings as time passes. This is a better option than earning interest on top of their savings and bonuses. There is an increased risk and reward when it comes to investing.
Moneybox App Review
This Moneybox review could be incomplete without the Moneybox app review. This review shows just how well the application has been designed. The interface that meets the user is a rather friendly one. It is also simple to use, and individuals can easily find their way around the application.
In addition, regarding security, the app has been designed with the most secure security protocols that will ensure customer information is safe. Finally, through the application, users have been given a chance to monitor the progress of their financial decisions and decide on what decisions to make next. Furthermore, Moneybox has integrated the app with services offered by its partners, and all users can access these services.
Related articles: LOQBOX Review | Plum App Review | Freetrade Review
Moneybox Review – Conclusion
Looking at Moneybox's services, we can safely conclude that this financial service is worth venturing into, especially for individuals who do not want to be too involved. However, the deal-breaker may arise in their fees. Even though they may look minimal at first, they are not in proportion to savings, and in the end, they will be too expensive for the user.
With no financial advice offered to its users, those lacking monitoring and evaluation skills would not make proper decisions. Generally, this financial service can be deemed suitable only for investors starting up and looking for something short-term. It would be better for those looking for long-term investments if they look for other investment options.
Images Source: Moneybox
No reviews left yet...
Be the first to review Moneybox!